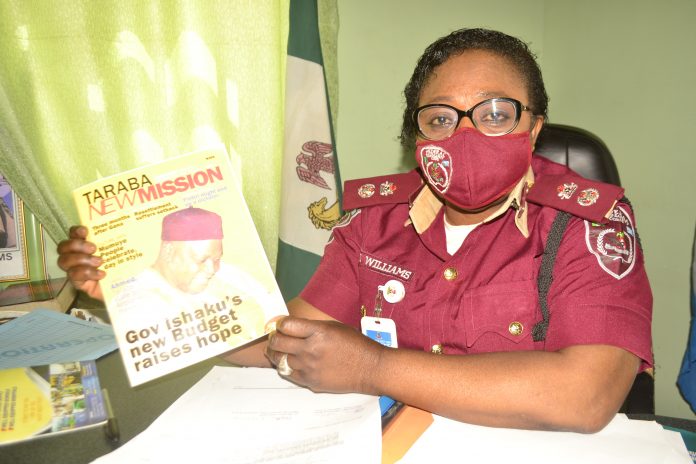 BY Jethro Yerga, Jalingo
In continuation of the Federal Road Safety Corps' operational mandate of clearing of obstructions and relocation of markets on the highways across the country for prevention and reduction of road traffic crashes and fatalities during the post ember months travels and beyond, the Taraba State Road safety Sector Command has begun decongestion and relocation of markets and improper motor parks on the high ways in Taraba State.
Recently, precisely on Sunday 10th January, 2021, selected operatives of RS3.3 Taraba sector command, supervised by the Sector commander, CC Selina Lanre Williams were at the mile 6 market along Jalingo – Yola expressway and Mutumbiu Market, where they decongested and relocated traders as well as improper motor parks to give way for free flow of traffics so as to prevent road traffic, crashes and fatalities.
The exercise which was done with the aid of FRSC customized traffic and safety barricades and warning tapes also extended to filling of pot holes that possess danger to motorists along the mile 6 Road as a temporary measure to curtail accidents while the command engage the relevant authorities on the need to provide a permanent solution to the problem.
During the exercise, the Sector Commander also shared face masks to traders and motorists along the highway, encouraging them to always observe Covid-19 protocol in order to prevent the spread of the dreaded virus.
Earlier in her speech, the Sector Commander Seilina Lanre Williams told traders and members of different transport unions that the major essence of the exercise was to prevent road traffic crashes on the highways, ensure free flow of traffic, and obstructions to safeguarding lives and restore sanity across the highways in Nigeria.