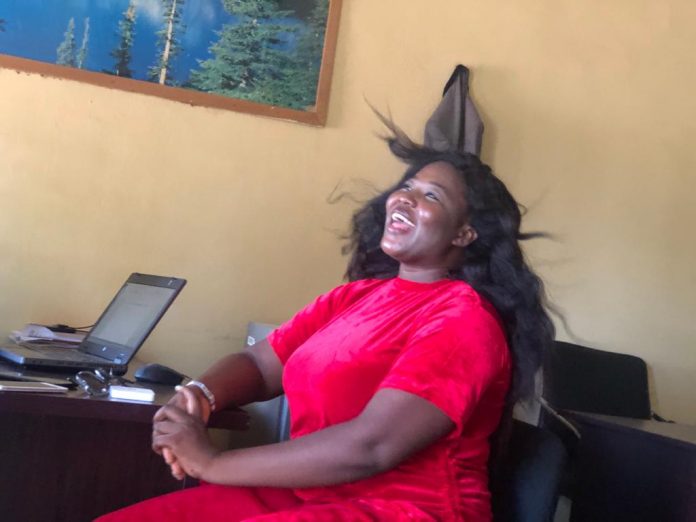 LAGOS HAS THE MARKET, BUT TARABA GOT TALENTS, SAYS JUMMAI, TARABA BORN FILM MAKER


Her name is John Julie Dauri, she is popularly known as Jummai or JJ Dauri. At present, she is studying Theatre Arts at the Taraba State University. But her studies did not deter her from building her career as a movie director and film maker. Jummai is not just coming up with an idea. She is already in the mainstream of her chosen career.
Already, she has shot a film with the title SARAI. Though the film is still undergoing some editing processes, the official trailer has been released on Youtube since last year.
She has also directed a lot of stage plays like Death and the Kings Grey Hair, which most of the viewers described as very complicated play. She is no doubt a shining star in the Taraba State movie industry. It is her belief that the State is hub of talents that are largely untapped and with an enabling environment, lots of talents will be harnessed.
She also unveiled some of the challenges associated with the industry. In spite of these odds, she remain focused to her dream to become the best director in the world anytime soon. "I don't want to stop at anything less. That is how big my dream is." She said.
Jummai spoke with Christiana Babayo exclusively during her familiarization visit to the Jalingo office of the Worldview Magazine.
Excerpts:
I was opportune to watch the trailer of the movie you just mentioned SARAI, what inspired it?
The inspiration behind Sarai is the society; if you have gone through the trailer you will see that it is actually a contemporary story. There are situations, challenges that people are faced with, the widows and the girl child. Sarai is basically the story of a widow who doesn't have food to feed her children. She has a teenage daughter and of course these things happen around us but we look away. Sarai was born out of experiences around my environment. I have seen children who don't go to school and they don't do anything. Most times, when I pass these widows I ask myself how these people feed and take care of themselves. Then I heard of a story where a lady who was forced to marry a man because her father collected debt and couldn't pay. So I grew up with the pain and the joy of wanting to advocate for the junior folks.
Why did you choose the movie industry amongst other professions?
It has always been in me. I grew up and found myself with the ability to act. When I was in primary school, I was the only pupil who acted drama with my seniors. I still have the video clips in my phone. I would have grown up in the movie industry but my parents didn't believe in entertainment, my parents will not let me go into entertainment because they are scared that there are so many social vices there. That was the mentality. So many parents had this impression that once your girl child goes into entertainment, she becomes a prostitute. But acting is an inborn thing and that is one of the fastest means one can use to change society. From the feedback I got from Sarai trailer, I am convinced that lives have been touched through the trailer and lives will be touched by the movie.
What are some of the challenges in the industry, as it affects you?
There are many challenges. Honestly I have taken part in drama as a Teenager. There was a certain time I had to trek miles for auditioning and then I was in Abuja. I hadn't money, I was just in secondary school staying with my elder brother and partially my uncle. They don't really like entertainment, so I hide to go for auditions. In that case, how can one ask for transportation? Then we go there and see hundreds of people and at the end of the day, you won't be picked. It got to a point that I told myself, movie industry is not my place and I am never going to make it there. But after while I came back home and went back to school, gradually the course I was studying was able to imbibe that believe into me.
The challenges we had on this movie Sarai is finance. Before I shot Sarai, I wouldn't say I stopped eating completely, but I needed to save, I had to stop buying clothes and other things just to save and shoot the film. I was into this fashion business. But to shoot the movie, I had to fold my business because I used the whole money. Another challenge we had was managing child actors. If u look at the movies Sarai it has a lot of child actors, we had to become nannies on some occasions. We couldn't shoot sometimes, the whole crew became nannies.
Amidst these challenges, is there any financial benefit? How does the job pay?
This is a carrier and irrespective of how effective the work will be on society, there should be a reward too. For me to change society, movie alone will not do it, we need to educate and empower people. Of course there must be financial expectations, but as it stand now, we have not market the movie but we hope that after this pandemic, we will go out there and showcase our work. For now there is no engagement.
How would you assess the prospects of the movie industry especially in Taraba State?
There's something I always say, if you ask me I will say Taraba state is the heart of entertainment. Lagos has the market but we got talents. I am not even surprised that we have one of the best rappers from this very state. I have spoken to some talented fellows in this town and what usually weakens them is the fact that there are no sponsors so they feel discouraged. I think people should look more into this industry and encourage these young talents.
What relationship do you have with the State Government in terms of patronage?
In my own case we haven't had anything with the government but we are hoping that the good government of Taraba state will look into the entertainment Industry, they should look into the talents of the creative industry.
How far do you intend to go in this business?
As far as above the sky. My dream is to become the best director in the world. I don't want to stop at anything less. That is how big my dream is.
Presently, do you have any movie you are working on?
Yes, I have written about ten scripts in this lockdown and currently I have one very much ready on ground and it is going to be 70 % Hausa and 30% English and it is going to be wonderful. Most of my movies are advocacy films.
How do you balance, education, business and film making?
Honestly, I'm still paying the price. Most times I have to take from the business and put into the film making. Been a student, you know movie making takes a whole lot of time. Balancing all three is very difficult; sometimes one has to suffer to save others.
How do you relax?
I rest behind my laptop, I rest while writing. I don't have the luxury of time to hang out and all that.
What is the motivating factor amidst these challenges? What is it that keeps you going?
Passion and the burning desire to touch lives.
You have been in this business for some time now, what areas do you think you should look at so as to strengthen your capacity for smooth production?
I am looking up to having the support of bodies , NGO's, UNICEF, since most of our stories are advocacy stories and I am also pleading with the Taraba State Government to look our way and support us so that we can grow.