TARABA STATE IS DYING
By Williams Ayooso
The complex of the Taraba State Investment and Properties Limited, supposedly an investment and business platform of the Taraba State Government is presently in a shadow of itself. The complex, which houses Worldview Magazine office as well as other blue chip business concerns like United Bank for Africa (UBA) and Taraba Savings and Loan Limited, is overwhelmed by weeds. Taraba state Leather Company Ltd, which served as another investment of the state, located within the complex is closed down. This was followed by the closing down of the hitherto Taraba State Micro Finance Bank, over managerial crisis.
Adjacent to the Investment Complex is a Trade Fair complex, strategically located along the famed Hammaruwa Way. The Trade Fair Complex used to be a centre of events and public functions in the state. But at present, it is turned into farm lands, where crops like groundnuts, maize Soya beans are being cultivated. This is the window through which the economic travails of the state can be viewed.
But this is just but a tip of an iceberg as far as the present state's economic situation is concerned. At the last count, not less than 90 percent of the state's companies, serving as the Internally Generated Revenue sources, are moribund.
The hospitality industry is the most hit. A three star hotel standard within the Jolly Nyame stadium is rotting away, even as the entire sports infrastructure is on a serious stage of decay. It's taken over by rats, cockroaches and reptiles. As such, the manageable rooms, are occupied by individuals on a casual yearly tenancy arrangement. A similar calamity befalls Jalingo Motel, one of the North East region's iconic hospitality edifice, constructed by the Jolly Nyame administration. Before now, the Motel was a hub of social activities, visitors' accommodation of choice and a reliable revenue source for the state.
It is not only government businesses that are suffering. Most shops are closed down for lack of patronage. This can be noticed by the number of deserted shops and business premises in the city's highbrow areas like Hammaruwa and Barde Ways.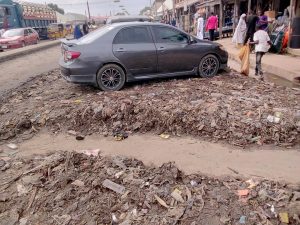 A shop owner, confided in our reporter that he hardly make a sale of five thousand naira nowadays, as against the N20, 000 and sometimes N30, 000 that he used to make in the past.
"We now have on our hands, a situation that some customers we respect come to buy on credit. That is taking a great toll on our business. That is why we are now having empty shelves without cash to replace the goods." He lamented.
The trader, who hails from the Michika LGA of Adamawa State, told our reporter that he lived in Jalingo for the past 15 years and life had not being tough as it had being in the past three years.
If government and private businesses are gasping, the state government's administrative structure is trotting on the precipice of doom. Truancy and dereliction in the civil service, as well as political holders is now the norm. Worldview magazine checks reveals that, some commissioners attend to offices only twice in the month. Worldview checks confirmed that administrative anomaly in the state is propelled by lack of incentive, motivation and oversight efforts by the government.
A serving commissioner, who spoke on condition of anonymity, indicts the present administration of showing no interest in the welfare and development of the state's civil service structure.
"There is no running cost for the ministries and parastatals. How do you expect them to operate? All we do now is to sit down look, wait for the month end and collect our salary and go. Imagine again that you are sitting in your office as a commissioner and you are been besieged by relations, party supporters, trooping in on a daily basis to ask for one form of assistance or the other. And you have to do all these within the ambit of your salary, failure to which will attract a negative impression about you….. If you are in our shoes, as a commissioner, what will you do? That is why many of our colleagues are dodging the office" He said.
Taraba State had a robust civil service system, with job motivation and prompt payment of salary as its culture. But the narrative has changed as the glory of the service and the timely payment of salary, which the state was known for, is thrifting into a state of anomie. As at July this year, some civil servants were owed four months salaries. It is the situation that has seen some of them celebrating this year's Eid-el- Kabir without salary for the first time in the state.
"I have never experienced this sad and daunting experience in my almost 20 years of civil service job in the state." a civil servant in the Taraba state Ministry of information told our reporter.
While complaints and depression trail the state's civil service, Local Government staff have almost come to the harsh reality of the moment that their salary can no longer be paid as at when due, in so far as the Governor Darius Ishaku led administration exists. Some are owed between four to six months' salaries, even as government is spacing payments of across Local Governments Councils in the state.
Taraba State is dying. The state is trapped between the red devils and the deep blue sea. Neither the civil service nor the agriculture activities is save. Taraba is blessed with arable land, suitable for agriculture activities, but kidnappers are on rampage. The farms are no longer safe, just like the civil service is no longer attractive. Excruciating poverty, insecurity and the fear of the unknown, has taken an unshakable stand on the socio-economic stage of the state, a situation that has made the state a breeding ground for criminals.
As if these situations, which are dragging the feet of state on a life support machine, are not enough, insecurity have permeated every corner of the state, pushing the state on the threshold of oblivion. An average of five people die in Taraba, daily. It's either they are killed by bandits or unknown gun men. Tribal crisis which has been the state's hydra headed malady is bourgeoning, increasing its velocity in the destruction of lives and property.
At the time of going to press, some communities within Takum and Ussa local government areas of the state are under the siege of killer herdsmen. The casualty figures are yet to be ascertained, but a local told our reporter that not less than 600 people have been killed or missing, while property worth millions of naira are destroyed. There is nothing to show that the carnage will stop anytime soon, if government approach is anything to go by.
This is not to talk of Internally Displaced Persons (IDPs) who have now lost hope as to when they would return to their ancestral homes following some communal crises in the Southern Zone of the state.
Bandit's attacks on hitherto peaceful communities have resonated. Gassol, Bali, Gashaka to Lau local government areas are nightmares. There is hardly a day that passes by without killings, arising from banditry attacks.
Comrade J.J. Kataps captured the unfortunate Taraba State situation in an exclusive chat with our reporter, when he lamented that every sector has collapsed under Governor Ishaku's administration.
"Every institution has collapsed, local governments staff salaries are owed, pensioners are owed, the worst hit are those retiring from the Primary Schools, university lecturers are not been paid, ministries and parastatals are complaining of running cost. Even the creation of chiefdom that we lauded in 2018 has collapsed. For example, in my Local Governments, they have bastardised the exercise by removing this one and appointing this one tomorrow, court injunctions here and there, so many things are simply wrong.
"We pride ourselves with road network, where is the one in Bali to Gembu, Jen to Karim, has it been completed? If the 4 billion wasted in the green farm was utilized, they would have done wonderful things.
"What was this Governor's contribution to Taraba before 2015. You cannot feel pain for something you didn't labor for. The NLC here has collapsed. He has wrecked the NUT in Taraba state, and they even sponsored the creation of a union which doesn't fall under the concurrent list. He is just busy doing what he wants and the House of Assembly is not doing anything about it, it has become a House of approval.
"Tarabans are not fools. For me, it is very sad. Whoever will succeed in 2023, I pray for the person because there is a big task at hand, fixing the mess on ground will take a lot.
"I cannot sit and sing praises when people are wallowing in abject poverty. The families of pensioner are wallowing in poverty, sickness, diseases and death while the person presiding over the state who swore to protect the interest of the people is there." He lamented.
JJ Kataps, a former Chairman Nigeria Union of Teachers, NUT, Nigerian Labour Congress, NLC, Local Government Service Commission, sees no hope in the Governor Ishaku led administration's political will in making a positive impact on the state.
Taraba State is already on a life support machine, panting and gasping for survival. For now, there is no hope in sight that it will recover and get back to the condition it was before the Governor Ishaku led administration took over.
Additional Reports from
Jethro Yerga, Christiana Babayo