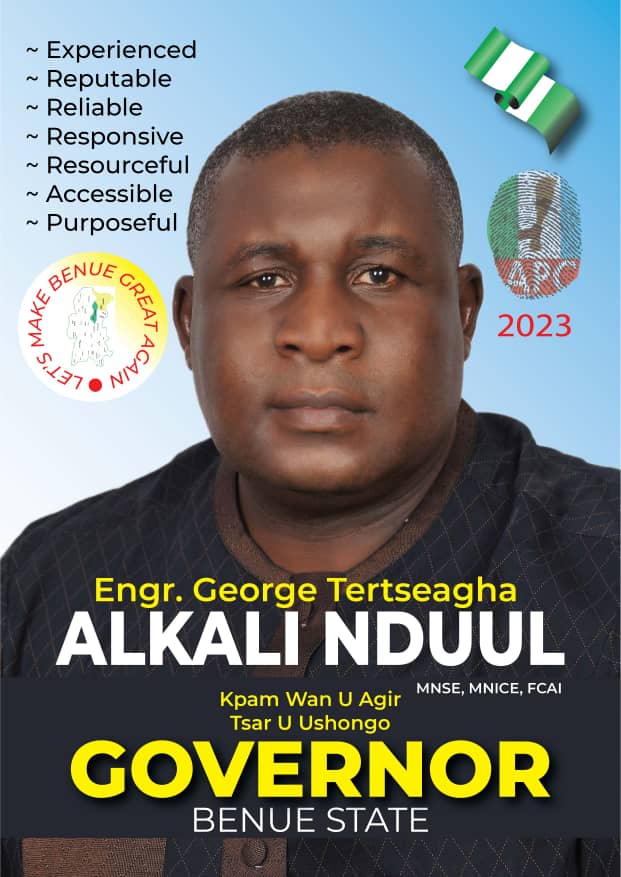 He is truly a "Tertsegha" for Benue people.
 Over the years, there has been a popular debate in the public domain that one's name follows the way he lives his life. Though there has never been any empirical proof in respect to this assertion, one is sometimes tempted to align himself with proponents of this debate following the way few people around him live their lives.
One of such persons whose life can easily convince you to join supporters of this debate is Engr. George Tertseagha Alkali Nduul, MNSE, MNICE, and FCAI.
Hails from Waapera Mbaanyam Village of Agir (Mbaanyam) Council Ward, in Agir District, Ushongo Local Government Area of Benue State, Engr. George Tertseagha Alkali Nduul, has been able to convince the entire people of Benue State that he is truly "Tertseagha" for the state.
The name "Tertseagha" is a native name in Tiv Language which can be interpreted as "the Lord's chosen for a purpose."
Those who have come in contact with this erudite figure by virtue of one reason or the other will attest to the fact that he is an emotionally intelligent, matured and courageous leader who possesses the uncanny ability to hold his own anywhere and at any given time.
No wonder, upon his graduation, Engr. George Tertseagha Alkali Nduul, discovered that potable water was one of the major problems Benue State as a whole was facing, in his little way, he immediately embarked on drilling of boreholes for his immediate community as part of his mollifying measures to ease difficulties associated with water in the community. This all important project goes a long way to save the lives of his people as it prevents the risk of contracting water-borne diseases and travelling distances in search of water for domestic use.
 Also, to further prove that the engineer is truly a "Tertseagha" for the people of Benue State, the professional graduate is always in the habit of committing his hard earned resources to see that young people acquire higher education. To this date, dozens of Benue youths have had the benefit of university education through his sponsorship.
 That is not all, Engr. George Tertseagha Alkali Nduul designed the road infrastructure for the massive construction and rehabilitation of 3,157 km urban and rural roads connecting all the Economic constituencies across Benue State, which was to be implemented by the administration of Senator Gabriel Suswam in his administration's "Our Benue, Our Future" agenda on assumption of office in May, 2007, as Governor of Benue State.
He also handled the design and construction of the "T – Junction (Zahankhan) – Kparevde – Zaki Nduul – Iorhuna Nduul – Laadi Ugee Market – Orya Compound"  Road in Ushongo Local Government Area linking Mbaanyam, Ugee and Mbagen Communities.
Furthermore, in the course of his service as a resourceful and experienced civil engineer with good knowledge of labour relations,    Engr. George Tertseagha Alkali Nduul has cut his teeth in the design and supervision of a large number of strategic highways and bridge projects across Nigeria.
Not oblivious of his roots, the energetic Engr. brought both his professional and humanitarian touch to bear on his home state of Benue and his immediate community of Waapera, Lessel in Ushongo Local Government Area as he showed his responsive ability by committing his resources for the design and construction of Posu T – Junction Awangba – Ortese Ugee (Market) – Kaamem (Market) -Tri-Junction (Ashibi, Nyamatsor and Leghem) Road, linking Ushongo and Buruku LGAs to boost movement of humans, goods and services in order to impact positively the local economy of the area.
More so, in his undying quest to serve his people better, Engr. George Tertseagha Alkali Nduul offered himself to represent Kwande/Ushongo Federal Constituency in the House of Representatives in the year 2015 on the platform of the greatest party in Africa, the All Progressive Congress (APC) but was unsuccessful. Despite that, he continued his strides in the party being a party loyalist.
No doubt, his native community of Mbaanyam and Mbaivende as well as Mar U Ushongo duly and consistently observed resourceful, coherent, value driven son of theirs and considered him worthy of so many awards including Kpam Wan u Agir, Tsar U Ushongo and Excellence GOLD Award respectively.
Upon graduation in the university, Engr. George Tertseagha Alkali Nduul was enrolled in to the National Youth Service Corps (NYSC). He served the people of Yola, Adamawa state for one year after which he began his professional career with the Federal Ministry of Works and Housing (FMW&H) in February 2001.
Having the working experience which spans over two decades, Engr. Alkali Nduul was employed as Senior Highways Engineer on salary Grade Level 10 in the year 2001.
He has held several key positions of responsibility including Senior Civil Engineer, Federal Ministry of Works & Housing(FMW&H), Planning & Design Department, Headquarters, Abuja; Senior Civil Engineer, Federal Roads Maintenance Agency (FERMA), Principal Civil Engineer, Federal Ministry of Transport(FMOT); Highways Management Services, Headquarters,  Abuja; Principal Civil Engineer, Federal Ministry of Works & Urban Development(FMW&UD); Highways Management Services, Assistant Chief Engineer, Federal Ministry of Works(FMW), Highways Planning Headquarters, Abuja; Chief Engineer Federal Ministry of Works(FMW), Highways Planning, Headquarters, Abuja respectively.
Following his reliable, responsiveness and experience, Engr. George Tertseagha Alkali Nduul has been called on several occasions to attend national and international assignments, among which are Committee in all Inland Container Depots in Nigeria (ICD), Highways Intelligent Unit, Federal Roads Maintenance Agency (FERMA), Transportation Growth Initiative (TGI),
Nigeria-Chad Joint Commission, Nigeria – Niger Joint Commission (NNJC), Hq in Niamey, Niger Republic, Trans-Saharan Road Liaison Committee (TSRLC), Hqtrs in Algiers, Algeria, National Highway Maintenance Programme tagged "Operation 500 Roads" Design & supervision of strategic Highways and bridge projects across the nation, including . Rehabilitation of Olowo – Irele – Ajagba – Agadagba road in Ekiti State, Calabar – Ikom Road and Adiabo bridge projects in Cross River State, Benin –Asaba road dualisation project in Edo State.
Other Federal roads which he has supervised included, Yola – Hong – Michika road in Adamawa state, Gusau – Talata Mafara road in Zamfara State, Panyam – Bokkos road in Plateau State, Sokoto-Goronyo Damsite road Sokoto – Ilella Road projects in Sokoto State,  College of Agriculture – Lafia – Obi Junction road in Nasarawa State, Abuja – Keffi road Dualisation in FCT/Nasarawa State,  Jos – Bauchi road in Plateau/Bauchi state, Tombia Bridge in Bayelsa State,  Makurdi – Yandev – Gboko – Ihugh – Tse Mker road project in Benue State,  Katsina Ala – Zaki Biam – Ugba – Buruku road project in Benue State.
The technocrat and seasoned bureaucrat began his Primary education at Luggere Primary School, Jimeta – Yola in Adamawa State where he obtained his First School Leaving Certificate (FSLC). He proceeded to William Michael Bristow Secondary School, Gboko Benue State where he successfully completed his secondary school and obtained his Senior Secondary School Certificate (SSCE).
His insatiable quest to acquire more knowledge took him to several great citadels of learning after his secondary school. He attended College of Preliminary Studies, Jimeta – Yola, Adamawa State where he gained his General Certificate of Education (GCE) and proceeded to Federal University of Technology also in Yola, Adamawa State and obtained a Bachelor degree of Engineering in Civil Engineering, B. Eng. (Civil).
Engr. George Tertseagha Alkali Nduul  further studied at the University of Maiduguri, Maiduguri, Borno State, Thames Valley University, London, United Kingdom (UK), University of Birmingham, United Kingdom (UK), London School of Business & Management, London England, International Road Federation, Orlando, Florida, United states of America (USA)
Alexander Brookes Associates, Lombard, London, United Kingdom and Nigeria Institute of Transport Technology (NITT), Zaria, Kaduna State respectively. He also holds a Post Graduate Diploma in Industrial Relation (PGDIR) and a Master degree in Industrial Relations (MILR).
To further gain mastery of his profession and career, Engr. George Tertseagha Alkali Nduul  went through some Professional Courses among which are Media Management Techniques (Road Construction), Road Maintenance Management Engineering, Road Fund Management Engineering, Road Financing Engineering,
Re-structuring Road Management Engineering, Public Private Partnership (PPP) – Contract Management, Rural roads and Low Volume roads engineering, Public Private Partnership (PPP) and Concessioning, as well as Engineering design soft wares (Computer Aided Cad) – Auto Cad.
 The thoroughly-bred and highly trained professional Highway engineer is a member of some professional associations such as Registered Engineer Council for the Regulation of Engineering in Nigeria (COREN), Member, Nigerian Society of Nigeria (MNSE), Member, Nigerian Institute of Civil Engineers (MNICE), Member, Nigeria Institute of Transport Engineers, Member, Inland Container Deports Committee for ICDs, Member, Charted Institution of Highways and Transportation, London, United Kingdom (MCIHT), Member, Institute of Highways, Engineers, London, United Kingdom (MIHE) and Fellow, Chartered Institute of Administration of Nigeria (FCAI).
This is the kind of leader Benue State deserves at this time to make the state great again. A man who can give meaning to his people; a man who will restore their decency and pride as Benue people, a man that can revive Benue State to her rightful place in the comity of states in the country.
A closer look at Engr. George Tertseagha Alkali Nduul revealed that he is an accomplished leader in public service, public policy formulation and implementation and a consummate engineer with the requisite political clout both national and international.
His conviction "Let's Make Benue Great Again" is that, his people deserve a better deal. And up his sleeve, stand a genuine persuasion and the commitment for a paradigm shift in delivering to the people of Benue State dividends of democracy and return the state to her rightful place.
If at all, experience and exposure is anything to go by in respect to leadership, Engr Alkali is the best choice and truly a "Tertseagha" candidate for the people of Benue State comes 2023 Governorship election.
The Engr. is a successful family man, happily married and blessed with children. He is also a committed member of the Catholic Men Organization (CMO) of Nigeria. A baptized Christian and a devout Catholic. He is a successful family man, happily married and blessed with children.