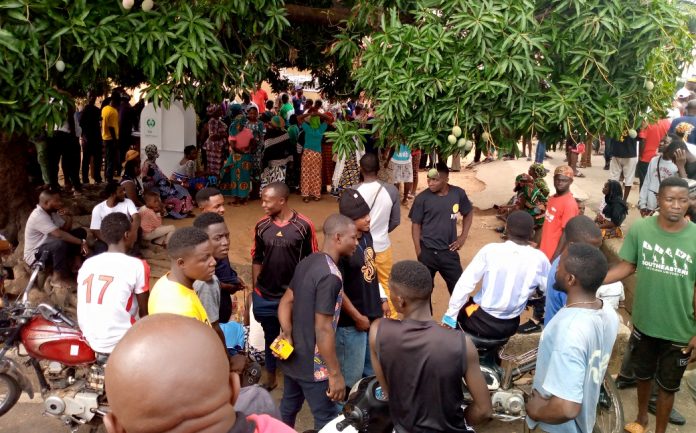 Polls: The voice of the People is the voice of God- Sen Bwacha
By Christiana Babayo Jalingo.
The Gubernatorial candidate of the All Progressives Congress in Taraba state, Senator Emmanuel Bwacha has expressed confidence in the voting exercise, stressing that the exercise is the voice of the people and that the voice of the people, is the voice of God.
Bwacha stated this in an interaction with newsmen shortly after exercising his franchise in, Yaba Ward, Marraraba, Donga Local Government Area of the state.
"My aim at the end of the day is to see a better Taraba state. A state devoid of insecurity, unemployment and other issues that bothers on development. And we can achieve that.
"My expectation by the end of this exercise is that by casting their votes, the people have spoken, and when the people have spoken, God has spoken" He said.
The Senator who also commended the efforts of the Independent National Electoral Commission INEC said that the there is visible improvement compared to the last Presidential polls although some glitches were pointed in the House of Assembly Ballots papers.
"We can see visible efforts on the part of INEC compared to the last elections. Except for the issues with the House of Assembly ballot which we were told will be worked on. That aside everything is good and the atmosphere is calm" He said.
The Senator commended the peaceful conduct of the electorates in his polling unit, Yaba Ward and urged them to maintain same spirit even after the polls.
At Gankwe Assen 003 and Assen 001 polling units, the atmosphere remained calm irrespective of the issues raised concerning the House of Assembly ballots which was being rectified according to the Presiding officer, Khalid Dalhatu.
Some of the voters who spoke to our Correspondent expressed confidence in the outcome of the elections, adding that all they hope for is a new Taraba where development and the economy will bloom.