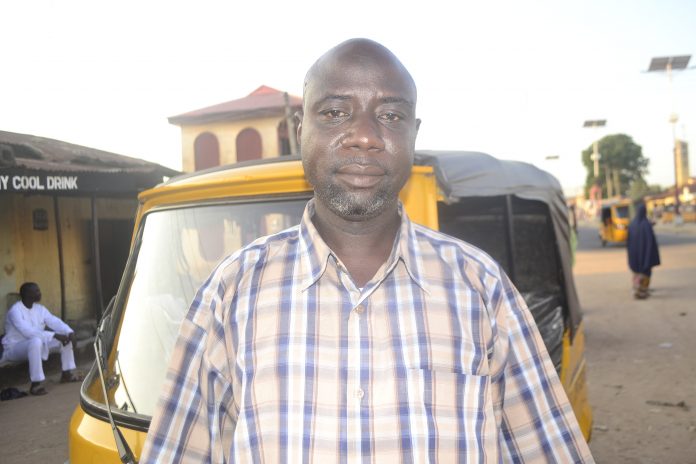 Tricycle Riders lament Distress, Increase Transport fare
By Jethro Yerga
The National Commercial Motorcycle Owners and Riders Association (NACTOMORAS), Taraba State Chapter has lamented distress ranging from increase in the cost of tricycle to increase in the cost of pomp price of petrol, tax and prices of tricycle pair parts.
The association has consequently, increase the price of transport fair in the state.
In an exclusive interview with our reporters in his office in Jalingo recently, the State Chairman of the association Salihu Bala Rabe, said there is general obnoxious increase in everything that has to do with their operations such that they could not helped but increased the transportation fare in the state.
According to him, sometime in 2012, the price of tricycle stood at 410,120 naira but presently, even 700,000 naira cannot earn you a new tricycle. Those lending the vehicle for hire purchase give it out at the rate of between 1000,000 naira only to 1,150,000 naira only.
He said the most painful part of it is the daily balance to the tricycle owners. He noted that those riding on hired purchase pay 3,000 naira while the rest pay 2500 naira daily.
"I just want to tell you that aside all these, the price for everything that we use ranging from the pair parts of our tricycles to daily ticket has increase in price. Our ticket fees used to be only fifty naira per day but now the government has added hundred naira as part of its revenue generation bringing it to a total of 150 naira daily. The tricycle tires that we used to buy at the rate of 2500 naira is now 5000 naira". He added.
Mr. Salihu said it was in respect to all these challenges that directors of all their units had sat down and came up with a request that the transport fare be increased to enable them remain in the market to serve the people.
He also pointed out that the government approved closing time of 8:00pm is also too short and had paused a great challenge to their members. According to him, most members hardly meet up with their daily balance before the closing time and appealed to the government to take a critical look at the issue and extend the time to at least 10:30pm to help their members and even late travelers.
The chairman further appealed to some of the security officers who have taken advantage of the closing time to immersed wealth illegally from their members to shun brutality, fear God and remember the oath they took during their inauguration and avoid harassment of their members.
Mr. Salihu lauded Governor Ishaku's efforts towards rehabilitation of roads within and outside Jalingo Metropolis. He equally commended the governor for drawing their ears over the evil activities of few "bad eggs" among them but noted that, most of the people who perpetrate unscrupulous activities using tricycles are not their members and pleaded that they as an organization, would join hands with security agencies to fish out the bad eggs among them and bring them to book.
While calling on members to avoid riding around dangerous places in the night, the chairman urged them to cultivate the spirit of making sacrifices as they convey people from one place to another and to always pray thoroughly before going out for work especially that these days are bad days.
When contacted, the Taraba State Police Public Relation Officer, David Missal says his command is determined to fighting crime in all it ramifications.
He dismissed the allegation of his officers brutalizing or harassing any tricycle rider and asked the association to report any of such acts to them as their doors are always widely open to handle such cases.
"The NACTOMORAS official all have direct contact with me. But as I speak to you now, nobody has reported any of such cases to me. We also have a public complain box here in our command and nothing of that kind is reported there" he said.
The PPRO reiterated that his command's efforts has yielded positive results in the recent times as the issue of crime is tamed to the barest minimum.