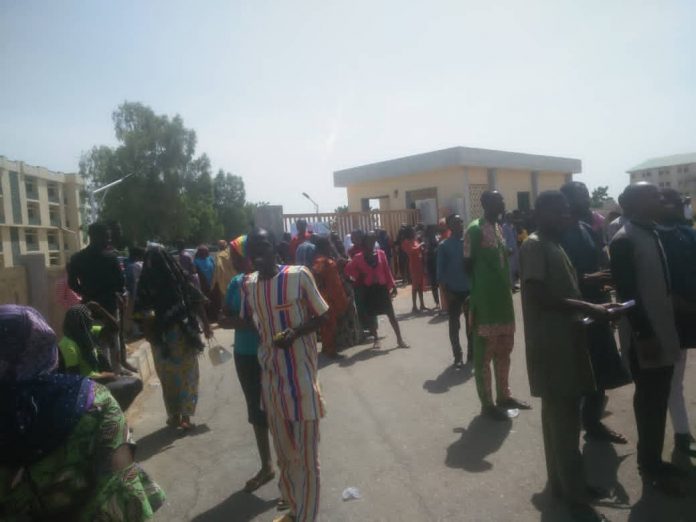 Taraba Varsity staff blocks Senate Building over nonpayment of salaries
Jethro Yerga, Jalingo
The Non-academic staff of the Taraba State University, comprising of Senior Staff Association of Nigeria Universities (SSANU) and the Non-academic Staff Union of Nigerian Universities (NASU) under the umbrella of Joint Action Committee, Taraba State University Branch, today barricaded the Senate building of the university in protest to the nonpayment of their October and November salaries among other issues.
The nonacademic staff who vowed not to vacate the area until their salaries are been paid, prevented entrance and exit of vehicles and staff members working in the Senate Building.
Briefing newsmen at the event, the chairman, SSANU and Joint Action Committee (JAC), Taraba State University Branch, Comr. Linus Williams Naiman said the unions had two weeks back decided to call off a one month strike they embarked upon following a meeting they held with the chairman of the university council, Ambassador Idris Waziri.
The chairman who expressed dismay over the careless attitude of the school management on the plight of members of the unions noted that they suspended the strike base on conditions in which the management was in turn intentionally derailing.
"We suspended a one-month strike because the School management had agreed to attend to our demands within a shortest possible time. We were convinced because they expended 32 million naira in payment of our promotion allowances.
They had paid earned allowances and also released APPER form to our members for promotions. This compliance is not even up to half of our demands but we felt that the management would continue to be sincere.
"To our greatest dismay, they in turn deprived us of October salaries. They have alleged in the last letter they sent to us that our members are not coming to work which is a blatant lie.
They also stated that there was no meeting between our union and the school management so they will not sign the MOU we presented to them.
"This is also not true. We had a formal meeting with the school management through the chairman of the university council, Ambassador Idris Waziri.
"So as we have barricaded this place, the Vice Chancellor must come out and tell us why he would not pay us our salaries. They are alleging that it is the Governor that asked them not to pay us our salaries so we will continue to lament until the governor hear our plight". He narrated.
Also lamenting, a member of one of the unions, said "they refused to pay us our October salaries. Our children are starving some of them who are also students of this institute were driven out of exam halls. Where did they expect us to get money and pay the children's school fees? I have about seven children in this institution. I normally pay more than three hundred thousand as school fees for my children in this school every semester. Where did they expect me to get that huge amount of money?
"It's quite unfortunate that this is a community university in which every citizen is expected to feel its impact but to our greatest dismay, the reverse is the case. For us, they must pay us our salaries else this Senate Building will remain closed forever". He added.
All efforts to see the Vice Chancellor of the university, Prof. Vincent Ado Tenebe proved abortive as he zoomed out of the university shortly before the protest and did not show up at the time of filling this report.