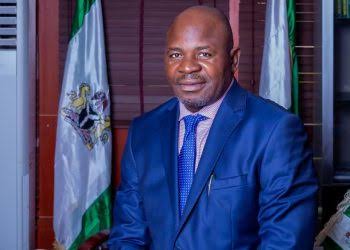 Taraba Speaker Charges academic authorities, parents to rescue dying languages
Jethro Yerga, Jalingo
The speaker, Taraba State House of Assembly, Prof. Joseph Albasu Kunini has charged parents and academic authorities especially those of the Department of Languages in the various tertiary institutions to come to the aid of the dying languages spoken by the numerous ethnic groups in Nigeria.
The speaker gave this charge in Jalingo while speaking at the occasion of the one-day symposium on Creative Writing, Poetry and Film Production organized by the Department of Languages and Linguistics, Taraba State University, Jalingo.
Represented by his Chief of Staff, Mr. Sukuji Bakuji, the speaker expressed displeasure on the manner numerous languages are disappearing by the day in Taraba State in particularly and the whole country in general.
Making reference to UNESCO Atlas of the World's Languages in Danger, the speaker noted that between 1950 and 2010, about 230 languages went extinct and today, a third of world's languages have fewer than 1,000 speakers even as most Linguist had predictated that 50 percent of the World's 6,500 languages would begone forever by the end of this century.
Prof. Albasu who was the Special Guest of Honour at the event, said in every two weeks, a language dies with its last speaker in the country.
He challenged parents and guardians to step-up and teach their children their mother tongues, pointing out that language, convey unique culture and serves as a conduit of human heritage.
"Though it is believe that some languages are in danger of extinction because of globalization, imperialism and neocolonialism, in our case, the blame should be taken to the door-steps of parents who deliberately refused to teach their children their languages at infancy because of modernity and cultural assimilation.
"Some parents decide not to teach their children their mother tongues because they believelive it is a potential hindrance to their success in life.
"They prefer teaching them dominant languages thereby, religating their own languages to the background. Even those that teach their children traditional languages, some lack proficiency as sometimes they are adulterated with foreign words and this is not in any way, healthy to our cultures and languages". He stated.
While applauding some notable scholars who made valuable contributions towards propagating languages in the state, the speaker, applauded Robert Koop, an European Scholar whom he said had lived among the Kuteb people of Southern Taraba for several years to study their language and later translate the Old Testament Bible into Kuteb Language.
He equally applauded C.K Meek, who spent many years in Nigeria to study the languages of different ethnic groups to later write the Book "A Sudaneese Kingdom: An Anthropological Study of the Jukun-Speaking people of Nigeria".
The Speaker charged authorities in Linguistics Departments of Nigeria Tertiary Institutions to encourage their students to shun arm chair-research of rehashing other scholars's works but emulate these scholars to save Nigerians from deservice to posterity.