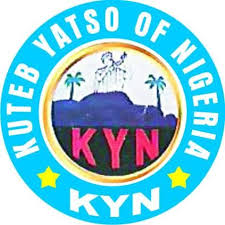 Proposed Turbaning, an attempt to fuel crisis in Takum- Kuteb Group.
By Christiana Babayo
The Kuteb Yatso of Nigeria, KYN, Akenten, Acwumam and Likam clans of Takum have described the proposed turbaning of Alh. Yaro Garba Maigyada with the tittle 'Makama of Takum', as a deliberate attempt to fuel crisis in Takum local government and it's environs.
The President of the Kuteb Yatso of Nigeria Mr Emmanuel Ukwen kicked against this act while addressing a world press conference in Jalingo, the state capital this Friday.
According to him, this is an outright disrespect to the state Government's directive calling for the suspension of appointments or coronation of district heads, village heads and all traditional title holders in the state.
The President also raised concerns over what this proposed turbaning will entail if nothing is done, especially considering the prevailing security challenges and the controversies surrounding the vacant Ukwe Takum stool, and the recent banditry attacks in some communities in the area.
"The proposed coronation to say the least is grossly provocative and an invitation to fuel further crisis in Takum. We must emphatically state that Takum is not a free land for all where the Takum Traditional Ruling Houses will sit and watch while various unknown traditional tittles are dished out by unauthorized persons.
"Takum Chiefdom has been bedeviled with numerous crisis attributable to the absence of a paramount Traditional ruler, the most recent being the ongoing banditry attacks on some communities in Takum Ussa and Yangtu Special development Area"
The Group described the proposed tittle of "Makama Takum" as alien to the Takum Traditional Institution, explaining that the phrase implies a person who selects or recommends the next successor to the traditional stool.
They noted that since the demise of Ukwe Takum Alh. Ali Ibrahim Kufang II in 1996, the stool has remained vacant following controversies surrounding who should succeed the deceased.
As a matter of urgency, the group called on the state Government to intervene by taking proactive measures towards halting the coronation slated for 22nd of July 2023 as well as security agencies to take necessary measures in ensuring that nothing disrupts the relative peace in Takum and it's surroundings.