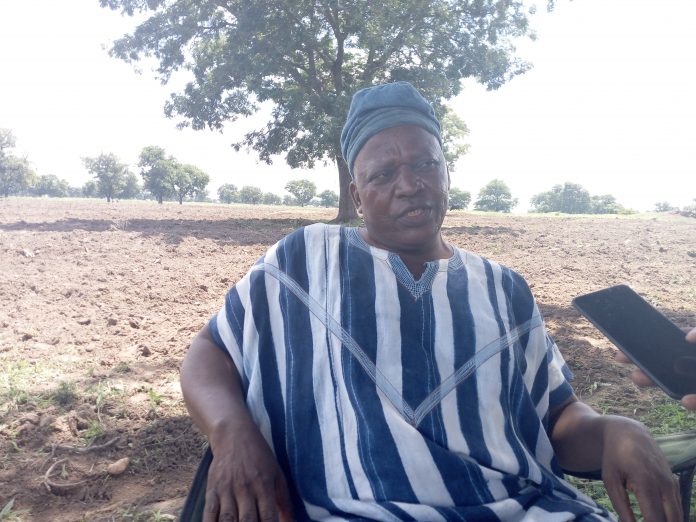 IT IS UNPATRIOTIC TO CRITICIZE LEADERS, SAYS HRH KAIGAMA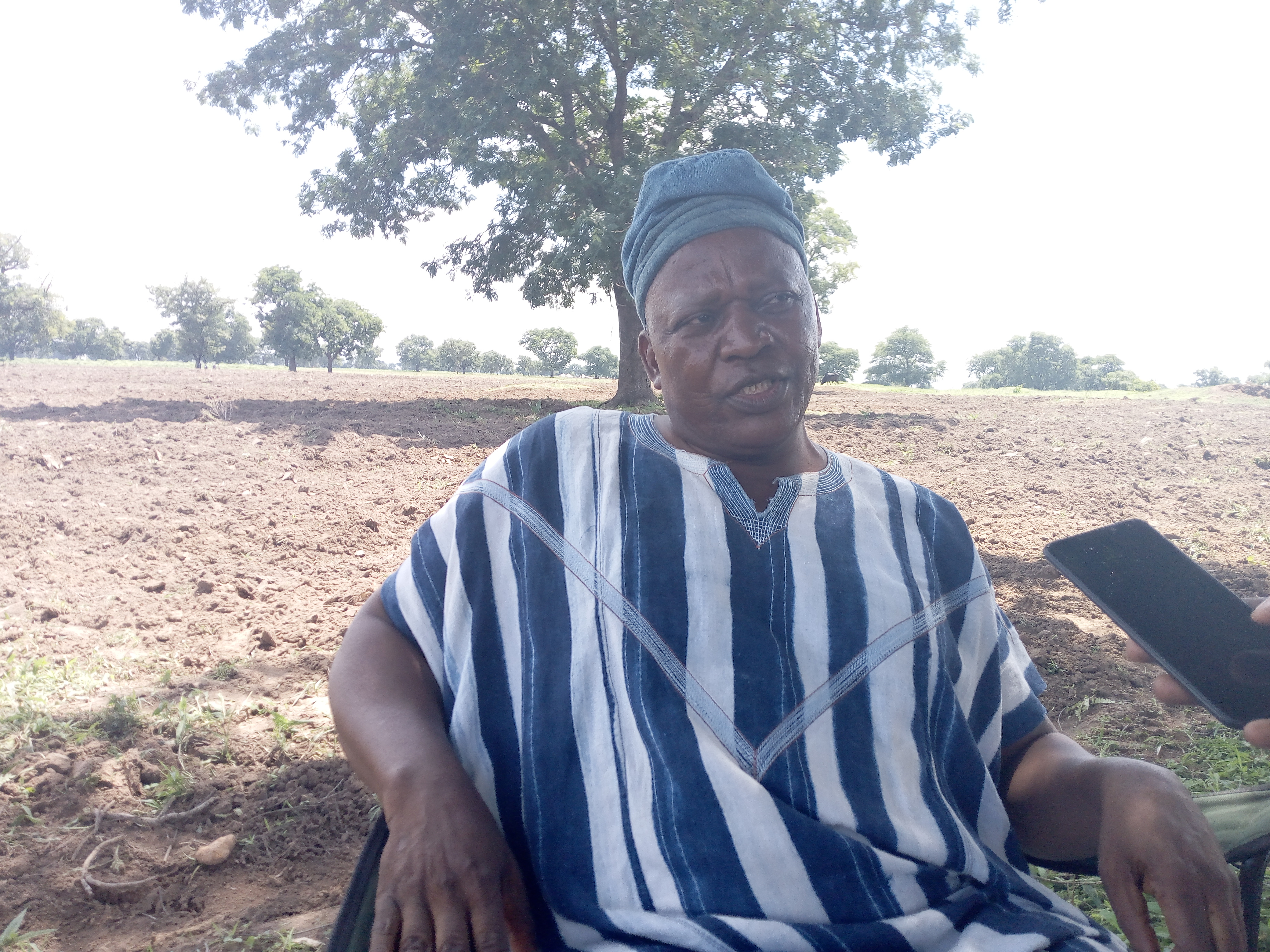 His Royal Highness, Alhaji Maigandi Manu Kaigama. Chief of Kaigama, Kam Chiefdom in Garbachede, sat on a portable arm chair, in the midst of few people in a location along Bali and Jalingo high way.  Behind him was a bustling farming activity on a large expanse of a cultivated land. It was strange to imagine how a Royal Father of his status would be sitting in a place that can best be described as an unsafe jungle, with just a few domestic staff. That was what caught the attention of our team of reporters as they were passing by.
Our reporters' approached was like an ambush, nevertheless, the Royal Father did not reject a request for a media interaction. He spoke on several issues of state and national concern, including agriculture, security, role of traditional rulers and many more.
But what would make a high profile personality to operate without a security operative in today's world where communities are permeated by insecurity?
"I have no fear to go alone. It's only an offender that is afraid. Mostly I go to my farms in the bush alone. The people know me and I know them. What have I done to anyone that will warrant them hurting me? Sometimes I place my mat under a tree and sleep." The Royal Father told our reporter.
At least, Kam Chiefdom is one of the few communities in Taraba State with a history of peaceful existence and low crime level. Therefore, the Chief's lifestyle, towards security, is not a surprise. But what is the secret?  "I hold meetings with the leadership of tribal and all shield of interest groups in my Chiefdom at the interval of two weeks to discuss and remind them of the importance of peace in human existence. Sometimes, I lead operations just to keep watch on our community and ensure that there is no any security breach.  When you see me operating, you will not believe I'm a Chief.  I'm in constant touch with my people and they are cooperating with me accordingly. Security operatives have noticed our body language and they are giving us their support. These are some of the measures we take to ensure that we live peacefully and harmoniously in the Chiefdom. Our name has entered the book of history as one of the most peaceful communities in the North central sub region of Nigeria.
"I wish to use this medium to advise my people in this chiefdom that each time they see a new person around, they should quickly inform me so that we can look into the person and know whether he can stay or should go" He stated.
From security matters, our reporters took on His Royal Highness, on his penchant for farming, the breakthrough he has made in the area, as well as the secret of his success.
"The secret is that, this is a business that we were born into. I will rather be denied every other thing than be denied the right to go to farm. Most times, I invite people to the farm when there is a matter to settle, we settle it there while working. It's from farming that I get my own income. I don't go around disturbing anyone to help me out. I have thirteen children, all are in expensive schools and what I earn from this farming business is what I use to pay for their tuition. I have large farm lands at several locations in this community. As I talk with you now, other farm lands are undergoing the process of cultivation, on others, the crops are glowing, while others, like the one behind me, we are planting the crops. I farm Beniseed, Soya beans, Maize, Rice, in large quantities." He said.
The traditional ruler advised farmers to work hard and be committed to their jobs so that they can reap the fruits of their labour. He also advised that government should help those who don't have enough capacity.  And as for those that has the capacity, government should strengthen them and mobilize them, so that they can educate others on the pros and cons of farming. He appreciated the efforts of the Executive Governor of Taraba State, Arch. Darius Ishaku, on the support that he is given to farmers in the state.
"There is a place up here that the Governor has seen and because of our dedication towards farming, he has requested that 30 people should be given to him, he will fund them so that they can farm Soya Beans. These are of the initiatives that we want government to be taking, we are happy that our Governor is doing it already" He said.
The traditional ruler gave a piece of advice to chairmen and councilors that are elected in the recent local government election in Taraba State. "They should consider their victory, as a test of their integrity. If you are given any position, just know that it is both difficult and easy. That depends on how you deal with people. They always remember that the positions they now occupy did not start and end with them. They should serve their people diligently, fulfil their campaign promises and be humble." He said.
He commended the progress and achievements recorded by the Architect Darius Ishaku led administration, even as he advised the people of Taraba State to show love and understanding for the administration.
"I am a member of Arewa Consultative Forum, I know what is happening in this country. There is a short fall in revenue generally. This is being worsen by the prevalence of the Covid-19 pandemic. This situation has slowed down the tempo of development in all facets of economy in the country, not only in Taraba State. Despite, this condition, Governor Darius is doing his best. Take for example, in the whole of North East, there's no fly over, but the Ishaku led government is constructing one for the state.
"The irony is that, some people are using it to ridicule the government. This is very unfortunate. Leaders need us support and prayers.
"It is therefore unpatriotic act to start criticizing the government without recourse to glaring realities. Talking bad about leaders as if there is no death is bad and unpatriotic.  It is God that placed leaders in the positions that they hold. What they need is prayers to help them lead the people rightly." He said.
He advised traditional rulers in the country to be good and treat everyone with respect so that they will relate well with their people.
"For myself, I'm a big time farmer. That is my source of livelihood. I earn respect from my subject because I don't expect any material patronage from anybody. It is my candid advice that traditional rulers should do same by defining their source of income that is sustainable and credible." He told our reporters.
His Royal Highness, Alhaji Maigandi Manu Kaigama, has a lucrative civil service, political and professional career that spanned across many years, before coming home to preside over the traditional and cultural values of his people. He started work as a Clerical Assistant, Bali LGA in 1977.  From there, he punctuated his civil service career with schooling, training and retraining, settling down with a degree in Business Management in 2013. He worked as a Vice Chairman and Chairman, Bali LGC. He also served as a Senior Special Assistant in the Governor Darrius Ishaku led administration.
HRH Maigandi Manu Kaigama, was crowned the Chief of Kaigama Kam Chiefdom on the 23rd July 2018 when his brother, who was on the throne died in the Holy land of Medina.