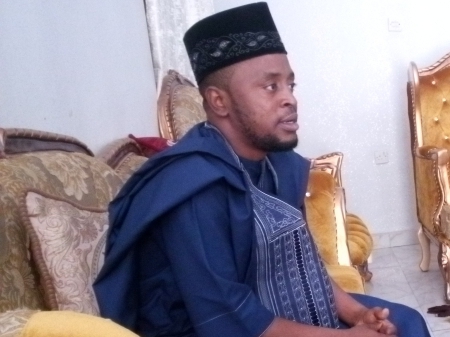 Taraba Commissioner lauds Gov Kefas over youths inclusiveness in governance
Jethro Yerga, Jalingo
The Taraba State Commissioner for Science and Technology, Hon Muslim Usman Abdullahi has commended the Executive Governor of Taraba State, Dr Agbu Kefas for given large percentage of positions in his administration to vibrant young men and women of the state.
The commissioner was speaking to journalists in Jalingo shortly after assuming office as the new commissioner at the Taraba State Ministry of Science and Technology.
He described the gesture as a wonderful development that would eventually turn around the fortune of the state as the chosen youth were vibrant enough and ever ready to collaborate with his Excellency to take dividends of democracy to the door steps of the good people of Taraba State.
Hon. Muslim also appreciated all the 'movers and shakers' of Taraba State including political leaders, stakeholders and all other authorities in the state for collaborating with the Executive Governor of the state to bring the youth on the corridor of power in the state.
"I want to also commend our stakeholders who worked collaboratively with our Governor, His Excellency Dr. Agbu Kefas to bring us on board. We are here today not by our might. Our Governor in collaboration with stakeholders of our dear state have deliberately decided that they will include reasonable number of us in this government to allow us explore our knowledge towards building our state.
"They want to build us practically so that we can replace them effectively even when they are no more. I want to particularly thank stakeholders in Gassol Local Government. They were unanimous in the decision of bringing me on board. I want to tell them that we are proud of them and we will forever remain grateful.
"We also want to assure the Executive Governor of Taraba State, His Excellency Dr Agbu Kefas that we will not disappoint him. We will apply all our vibrant, youthful ideas in our various Ministries to ensure that his moving forward mantra is executed effectively". The commissioner stressed.
While commending Governor Agbu's enthusiasm towards revolutionalizing the state at his early days in office, Hon Muslim noted that even those who were against his emergence as the Executive Governor were now thanking God for giving Taraba State such a caring and development minded leader.
He called on the people of Taraba State to give the governor and his cabinet, maximum support to enable him deliver dividends of democracy to their door steps.