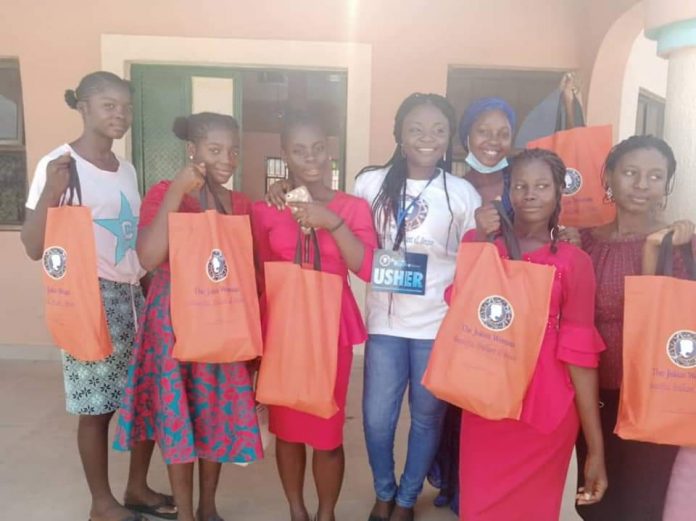 Nigeria @60: The Jukun Woman Reaches out to Teenagers in Taraba.
By Janet Nyajon Audu.
In the spirit of Nigeria Independence, A group known as [The Jukun Woman] has distributed assorted gift items to over 200 teenagers.
In her maiden ceremony of the Jukun woman health and hygiene out reach held in Wukari, the visioneer Favour Wazota Agbu who is based in the United State of America disclosed that the group deems it fit to touch the lives of teenagers on the day Nigeria is celebrating her independence as a mark of respect to woman-hood.
She stated that the core mandate of the group is to see that teenagers gets former guidance, learn about sexual harassment, learn different skills, and the purpose is to bring together all women in the Kwararafa Kingdom.
She further disclosed that the vision is to see every Jukun woman discover her uniqueness and reach her full potential, adding that the mission is to provide resources that will equip the Jukun woman to find her voice, and empower her to break every gender limitations the society has placed on her way,
Her word, '' We are out to better the live of a girl child because in every ugly situation, women are at the receiving end, on that note, the group is out to help the women discover their full potentials, this is our maiden ceremony, and we decided to start with health and hygiene, because health is wealth, we taught the girls to take good care of themselves during menstruation, we educated them on sexual related issues, we hope to have a teenage club where carrier mentorship service will be rendered, we hope to have a hospital where our women will be taking care of , build school, skill acquisition centre, empowering the widows, so I am very happy with our outing today, as you can see the smile on the faces of our teenagers, we have distributed sanitary pad, hand sanitizers, toothbrushes and toothpastes, Face masks, roll on and lots more, this is a dream come true, and I pray that will be sustainable because there is no better way to celebrate Nigeria Independence than this to make our women independent''.
In an interview, Nwukabu Nuhu Ashu said, she learned a lots and she is excited describing the program as the best thing to have happened to her as a teenager, and prayed that should continue every month.
Also speaking, Happiness Nyajon commended the convener of the meeting by showering encomiums on her for bringing the Jukun woman to limelight.
According to her, she is now transformed and better informed believing she is not going back home the same, reiterating that with a platform such as [ The Jukun Woman] the future of teenagers in the society is certain.
Our correspondent reports that there was paper presentation by the resource person Mrs. Joy Elesha and health talk from specialists on health and hygiene.