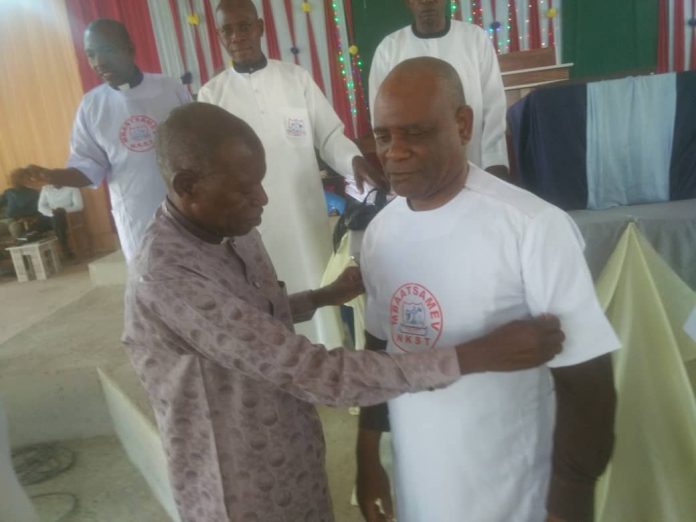 NKST inducts TSHA Clerk into Choir Section
Jethro Yerga, Jalingo
The Jalingo consistory of the Universal Reform Church of Christ (URCC) fondly called NKST, has inducted the clerk of the Taraba State House of Assembly, Hon. Orngu Mella into the choir Section of the church.
Amidst hailing and jubilation by the church members, the clerk who was inducted alongside four other distinguished personalities was adorned with the special attire of the Choir Section of the church by Rev. D.T Ayua before pastors, elders and other members of the congregation who were in the church to round up the yearly Consistory Choir Conference of the Church.

Speaking shortly after the induction, Rev. D.T Ayua congratulated the clerk as well as the other newly inducted persons for honouring God's invitation into the choir Section and encouraged them to stand firm as they use the avenue to serve God in the rest of their life time.
The pastor equally urged the other members of the choir in the church to increase their commitment to activities of the choir to glorify God and attract people to God, emphasizing that God takes so much delight in songs and praises.
Also speaking, the chairman of the choir, URCC Jalingo Consistory, Mr. Benjamin Andoor who was visibly overwhelmed with joy for the unprecedented development, congratulated the inducted members and prayed God to grant the clerk and his colleagues good health and all the enablement to serve God through songs and praises as they await the rapturous day.
In his speech at the memorable moment, the Clerk of the Taraba State House of Assembly, Hon. Orngu Mella appreciated God for inspiring the choir committee of the church to find him and his colleagues worthy to serve God through choir at the level of stake holders of the Consistory Choir and pledged that they would not relent their commitment for God's service as long as God grant them the grace to live on earth.
Earlier in a sermon, the Resident Pastor of the URCC, Jalingo Consistory, Rev. O.M Amah JP, charged Christians to remain steadfast in their service to God. The pastor who frowned at a situation where Christians sometimes backslide as a result of mundane things of the world, encouraged Christians to always mend their ways in order to attract God's blessings.
Reading from the book of 1sam 15:11 and Matt 26:70-74, the man of God challenged Christians to desist from the attitude demonstrated by soul and peter towards their masters as written in the scriptures and serve God with all their sense of seriousness, maintaining that God would not hesitate to punish those that are still wallowing in sinful acts.
Meanwhile, the choir conference was commemorated by songs and praises by both the English Choir and the Tiv Choir Section of the church.