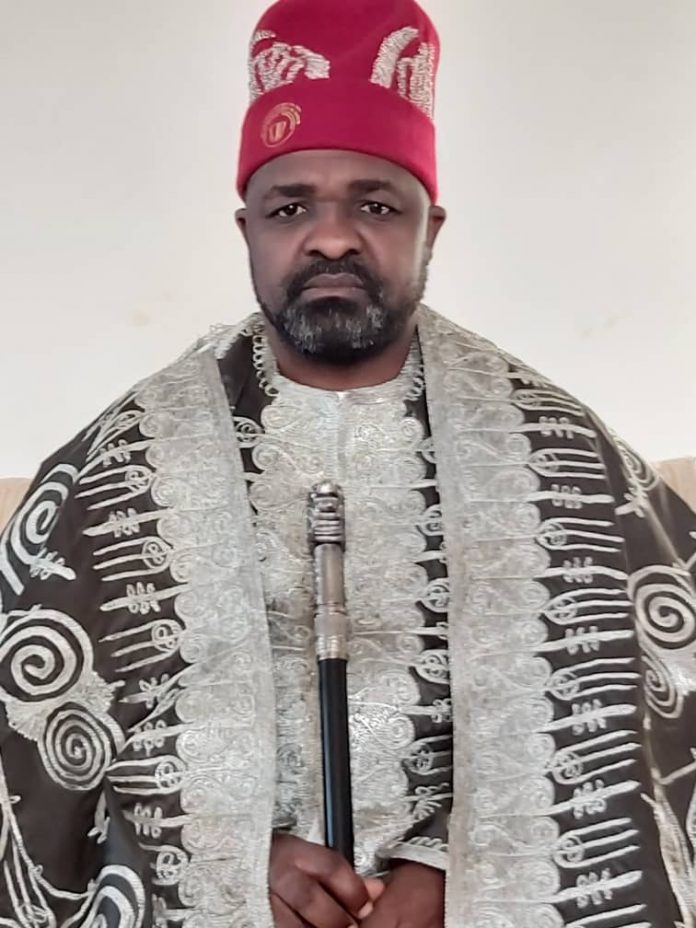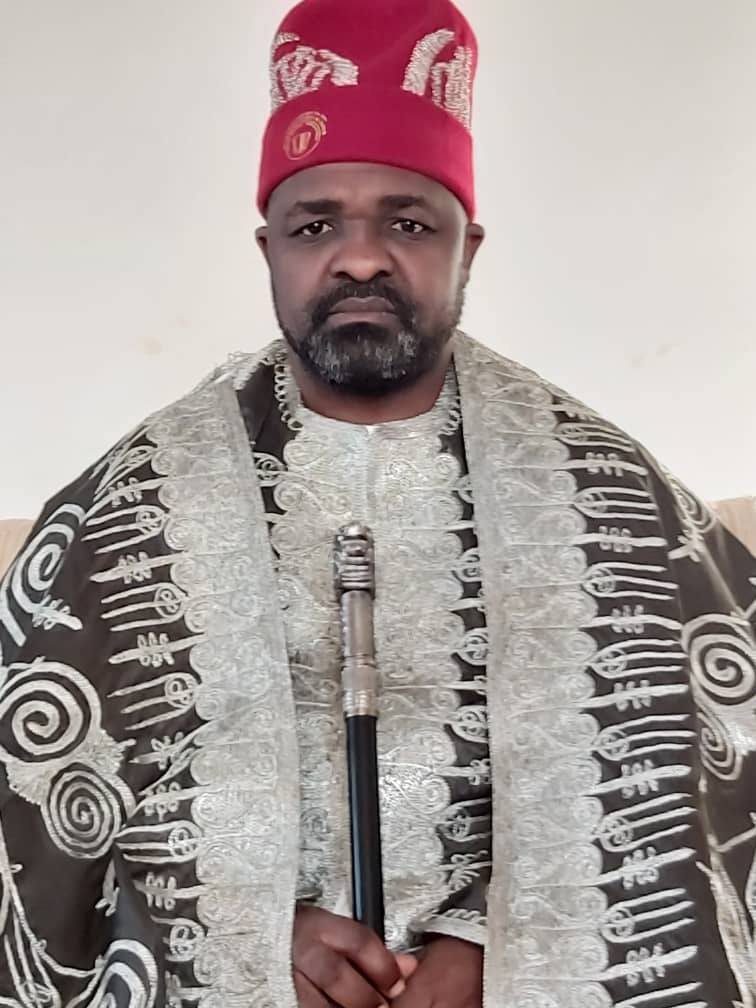 GOV ISHAKU IS A SAVIOUR,
Says the Kpang Sanwi of Sanwi Chiefdom
In this elaborate interview with our reporter, the Dah-Kpang Sanwi of Sanwi Chiefdom, HRH Pastor Haniel Hinlewheni Banti, and spoke on the impact of the Governor Darius led administration on his Chiefdom, security situation, agenda for his people and other issues of traditional interest. He spoke exclusively with Sylvanus Jen in his palace in Mayo Lope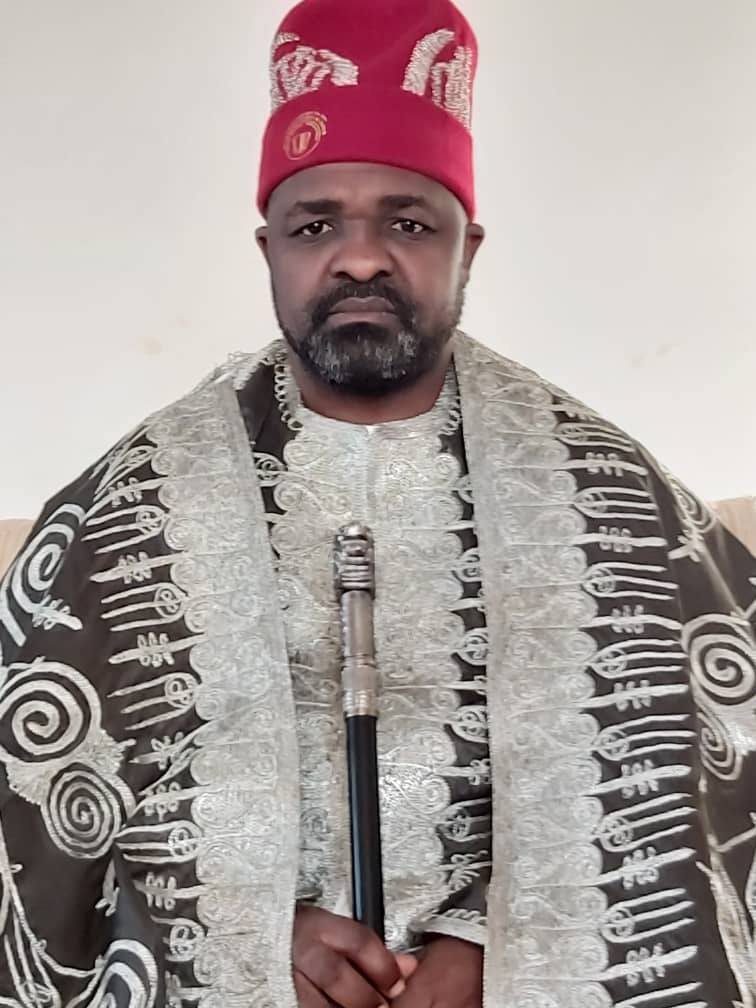 Recently the Government of Taraba state crowned you the Dah-Kpang Sanwi of Sanwi Chiefdom, how did you feel about this development?
Sanwi Chiefdom was not just created. The history has been there. My parents, specifically, the Late Mr Baraus and his elder brothers struggled for the kingship for a long time, having come from a royal family, my grandfather who was the first village head of Yangdang was coronated by the Muri Emirate in 1926, as the village head. He died in 1952. Since then, the stool of our family was misplaced. To the glory of God, Sanwi Chiefdom was restored as the result of the struggle and yearnings of our people. The Yangdang Youth Development Congress sat in my church where I sevred in jalingo and decided to make a courtesy visit to His Excellency. One of those requests we penned down was to ask His Excellency to give our people a Chiefdom. We put our request across and His Excellency obliged. He gave the Yangdang people a Chiefdom. The Sanwi Chiefdom was announced with other Chiefdoms that were created.
To me I have never dreamt of been a traditional ruler, I only desired to preach the word undiluted and win souls to the kingdom of God. A lot of people came out to contest for the position. To be frank, I was not among them. Even within my clan, about nine people contested. Lo and behold, one day, I was called by the elders of the family of my clan, they visited me in Jalingo and came with the good news that they were delegated by the family members to tell me to contest for the seat. I told them I was not interested. They told me that if you are not interested point out who should contest. Among the seven contestants I was the youngest. After deep consultation and prayer, I decided to contest for the seat. At the end of the day, here I am. So I feel elated when I was coronated and also grateful to His Excellency for having confidence in me even as he didn't know me well.
Looking at my resume and the history, the committee he set for the appointment of traditional rulers in the state and the stakeholders saw the need that among all the contestants, I was more qualified looking at my experience in federal service and the church. They feel that if the appointment is given to me, I could do better, looking at the contemporary times we are.
I am grateful to His Excellency for having confidence in me and appointing me as the first paramount ruler of Sanwi Chiefdom where the Yangdang people are over 80 or 90 % in population. For you to be singled out among your people to be honored, crowned and given the mantle of leadership to lead your people, it is something big. We are forever grateful to His Excellency. Creating Chiefdoms in Taraba is one singular act God brought Arc, Darius Ishaku to do. It is part of his agenda to rescue some tribes that were maligned. To me, Governor Darius is a savior.
There is a lingering crisis within your jurisdiction, what measures are you taking as the Dah-Kpang Sanwi to restore peace in the area?
There is nowhere in the world that is free from crisis. Crisis is a phenomenon. Anywhere you go, whether in your household, community LG or state you see crisis. As a federation, no state is free from crisis. My appointment as a paramount ruler of this Chiefdom came at a time the Sanwi Chiefdom was faced with a lot of problems. I want to believe the Taraba State Government has been trying to ensure that peace and normalcy returns to this kingdom. Among what they have done is providing security. We have soldiers, the mini barracks in Mako that was built by the Governor of Taraba state. We have military positions in Mayolope, Abare, Katibu etc. These are some of the efforts the Executive Governor of Taraba State is making to ensure he restores peace to these areas.
On my own part, you know peace is an essential and costly commodity that money cannot buy. There is no singular effort that can bring peace. We have been working around the clock to ensure that peace is brought back to Sanwi Chiefdom. We have been doing a lot as community leaders. We have been sensitizing people, educating them, teaching them to embrace peace and development. Unless everyone lays down their arms and embrace each other, go back to the old ways of loving each other unconditionally, normalcy will not return to Sanwi Chiefdom or anywhere in the world. God is however bigger that anybody, he has been giving us protection. Today, we are surviving and our people are returning home. But we will not sleep. We will continue to ensure that peace returns to this Chiefdom. I cannot do it alone, the stakeholders, political appointees and sons and daughters of Sanwi Chiefdom, we must join hands together irrespective of religion, ethnicity or color.
What gave your people the confidence to insist on your candidacy for the throne, despite that many people went out to contest?
If you ask every Yandang man on the streets, in Mayo Lope, in the remote areas and in Jalingo, the capital city, they will tell you that they have confidence in me because they know the type of person I am. What I do is, I try to give them quality representation. If my people are faced with any trouble or situation, I try to ensure that solutions are proffered in order to forge ahead. I want to believe that my people have confidence in me, not just because of my personality, but because my capability to bring them out of any entanglement.
Some people have postulated that there is no difference between Yangdang and Mumuye. Is there anything you can say about the traditional affinity of these ethnic groups?
Yandang people are not Mumuye and Mumuye are not Yandang. But the Yandang people migrated together with the Mumuye people and settled in the same place. What it means is that Yandang and Mumuye are neighbors and brothers. They have inter married right from ages past, so we have different dialects and the Mumuye have their own. So this Yandang name was given to us by the Mumuye people because we stayed in the same place in a place called Yakoko. If you go there they will show you where the Yandang people were stationed. So the Mumuye man called yandang man "ya dang" meaning, our brothers across the stream. The original name of the Yandang people is called "wenokog" which is a conglomeration of the local clans coming together as a larger house. In Wenokog we have the waka, the kumbe, serti etc but for a Mumuye to say that the Yandang man is a Mumuye is a fallacy, they are faking the history. I can give you one authority. Mr German Habila is an erudite scholar and a historian per excellence. He wrote the history of the Mumuye people and that of the Yandang people. In the history what I'm saying in a historical perspective. So any average mumuye man who doesn't know history to conclude that a Yandang man is Mumuye or a Mumuye man is Yandang is faking it.
While you pilot the affairs of this kingdom what are your expectations?
My expectations are enormous and numerous. This interview cannot permit to enumerate. I have a large dream concerning Sanwi Chiefdom. One of the greatest dreams I have is to lay a solid foundation that will stand the test of time. Having seen that I did not meet any foundation. Another thing I intend doing is to give quality education to the youth and also make sure that the economy of the people is transformed so that we will be economically independent. I wish to lay a foundation for a skill acquisition center in Mayo Lope, which is the headquarters of Sanwi Chiefdom. It is going to change a lot of lives. And this project I am telling you about, we are earmarking 20 to 30 million naira to construct a multi-purpose center.
Again, my dream as a traditional leader, is to see that peace is the order of the day. I want to see where people will respect each other's tradition, and I want to see where the younger generation will leave illicit behavior and study and become independent. I want to also build a world class Chiefdom where others can emulate. As the first citizen here, I have to give them the drive of what I want. I have to bring initiatives and discuss issues that will bring development. I want to also synergize with the State Government to build markets in Lau LGA, particularly in Sanwi Chiefdom. We also intend to woo people to invest here in Sanwi Chiefdom, particularly the State Government. They can help us build an international market because Mayo Lope is just at the entrance of the state. So one of the things we will beg the State Government to do is to connect our place with the national grid, if that is done, a lot of revenue can be generated here. The market is one of the biggest rice selling markets in the state.
What call do you have for the people of your jurisdiction about the Covid 19 pandemic?
Covid 19 is a global phenomenon that has engulfed the whole universe, not just the state or this Chiefdom. We thank the Governor for his effort to ensure that Taraba state does not record any causality or death from the covid-19. That I applaud him. He is a working Governor, an able Governor who doesn't sleep just to make sure the people's health is protected. Likewise, we from this angle are making sensitization from church to church, community to community; we call the ward heads and community leaders to talk to them about the Covid 19 guidelines. It is only by observing these guidelines that we can be free.
What can you say about the Rescue Mission of the Governor?
Like I said earlier, he is a savior, God brought him to save the minorities. The rescue agenda is working to alleviate the ordinary Taraban from subjugation, illicit treatment. As we speak, the face of Jalingo has changed. Work is going on. The dualization of the road, the fly over and the health sector, etc, are ongoing. It is only those who have a closed mind against the Governor that will say bad things about the government of Taraba state. I am not saying this because he gave me a title. I have seen it with my eyes. I have felt with my hands, and I am also an evidence. He has earned a lot of awards as a Governor and leader of the rescue mission. Even in terms of security, he is trying his best. The Governor alone cannot provide security, and security needs all hands to be on deck. Even if Gov. Darius will be asked to come for the third term, I will encourage my people to vote him.
What legacy do you want to leave behind for posterity?
I intend to leave behind a gallant, egalitarian society. A society that is God fearing, full of life and development, particularly in education. As a traditional leader, I still go to class and study. I intend to give my people education. Once you educate people, you have less to handle. There is no better gift to give younger ones than education. That is why I have started with laying a foundation for skills acquisition centre. My dream is to have a university in Sanwi Chiefdom, to build one of the best private Science and Technical school in Mayo Lope. I want to leave a mark that heavens and earth will remember