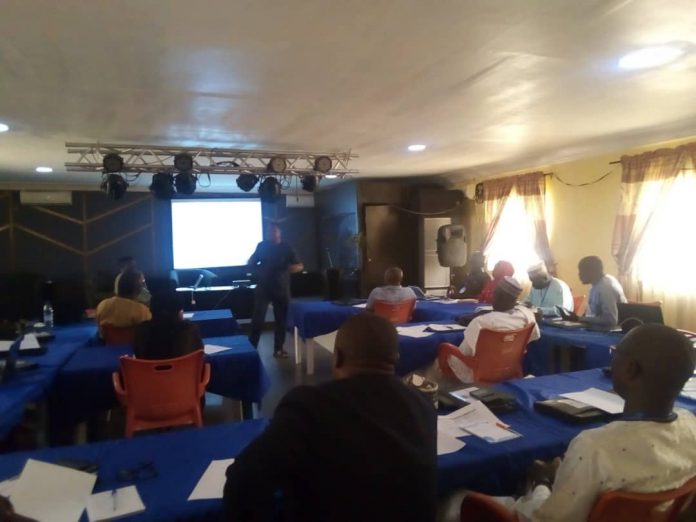 Daily Trust Foundation edifies journalists on multimedia journalism.
By Christiana Babayo
The Daily Trust Foundation, Corporate Social Responsibility arm of Daily trust Newspaper had recently trained journalists in the Northeast on Multimedia reporting.
The three day training which took place at the Eaglespath Hotel and Suites Yola, the capital city of Adamawa state had in attendance journalists from the north eastern region and resource persons who took the journalists through the workshop.
Speaking during the training, Dr Theophilus Abbah, the Director of the Daily Trust Foundation emphasized the need for the workshop and enjoined participants to pay keen attention in order to gain new knowledge from the training.
Dr Abbah said that multimedia journalism is an aspect that can no longer be ignored, while stating that writing for online platforms entails a lot of principles which journalists must adhere to.
He outlined the principles as, investing time in creating good titles, beginning with a summary, making writings digestible, using every day words, avoiding ambiguity, adding links to deepen your writing, among others.
He also charged journalists to take steps towards reporting the human angle of stories rather than the conventional patterns of just breaking the news.
"There are different angles to every story. And most times, the human angle which is very important is ignored. The human angle appeals more to the audience because they can relate easily" He said.
Still speaking, the Dr explained that the human angle of journalism could be stories about over coming adversity, raising awareness, tales of exceptional human achievement, acts of bravery or unsung heroes.
Explaining the audience wheel of needs, Mr Perry During, one of the resource persons said that different people have different news needs, hence the reporter must identify these needs and treat them accordingly.
The needs according to him could be, to educate, update, inspire, divert,give a perspective or even to keep the audience up on new trends.
Mr Akinrowo on his part, explained the technical aspect of the multimedia journalism and adviced journalists to consider it as it is very fast, effective and has a lot of impacts on the audience.
Our correspondent also spoke to one of the participants, Mrs Susan Edeh, a Correspondent of Daily Independent Bauchi state, she confessed that the workshop has been educative, interactive and very impactful.
"This time another aspect of journalism was brought to the fore. The training took a different dimension, not the normal style of journalism we use to know", She pointed.