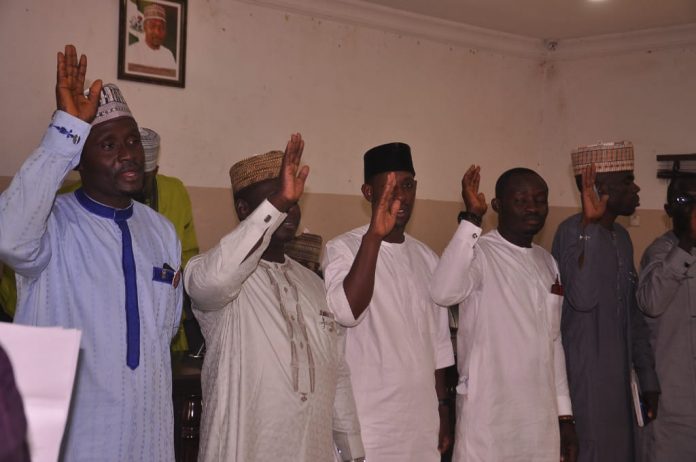 Councilors in Adamawa state have declared their support to the administration of Ahmadu Umaru Fintiri, to enable him achieve his target of providing massive dividends of democracy to the state.
ChairmanAdamawa State Chapter of the Nigerian Councilors Forum, Hon Michael Okopi revealed this in Yola, soon after he was elected as leader of the Forum. The election, which was generally transparent, took place at the NUT house, Yola.
Michael Okopi doubles as the Councilor of Karewa ward and Deputy Leader, Yola North Local government.
"Here in the state, we call Governor Fintiri the Fresh Air Governor. This is because; he has been doing well to the people of Adamawa State. Just go out and ask anyone on the street and the response you will get is, Governor Ahmadu Umaru Fintiri is the best! His impact is positively felt everywhere in the state and since he became Governor, the issue of none or late payment of salaries is a forgone matter. Education is now free and so many other projects which I lack time to point out are dotting the landscape of the state'" Hon. Okopi said.
Answering a question on the importance of the forum, the Chairman said the forum was a medium for the councilors to communicate directly with His Excellency, so as to enable them achieve their set goals. Governor Fintiri, as we all know is a man who wants to touch the life of the people at the grassroots and this forum stands better in the position to ensure that the Governor's quest for development is achieved"
On what the grassroots population will expect from his leadership, Hon Okopi said: "We are going to leave a legacy that will stand the test of time. We are set to ensure the empowerment of our people at the local level. To us, representatives of the local government areas, this is a necessity. The plight of our people is also our responsibility to fix. We will try as much as possible to support with little tokens for scholarships and also see to it that some of the challenges of social amenities like Boreholes are dug with the support of HE Ahmadu Umaru Fintiri, and we are sure HE will support".
Speaking earlier with our reporter, Hon. Suleiman Mohammed, Councilor representing Jada Local Government and Leader of the Association, expressed his gratitude and support for the administration of His Excellency Gov. Ahmadu Fintiri. Hon. Suleiman explained that they have witnessed changes in this administration, unlike what was obtainable before. "Local governments are receiving their money from the Federation Account. Even the joint account system now is fair and not like before where the local government has half autonomy and it was affecting their performances". He said.
The Councilor thanked the Governor for his meritorious deeds and encouraged him to continue these good deeds as it is giving the good people of the state a room to breathe in fresh air. In the same vein he encouraged the good people of Adamawa state , elected leaders and political office holders to support the Fintiri administration with their prayers, advice and all that they have so as to enable His Excellency execute the projects his administration has planned to carry out
Story by James Ugo