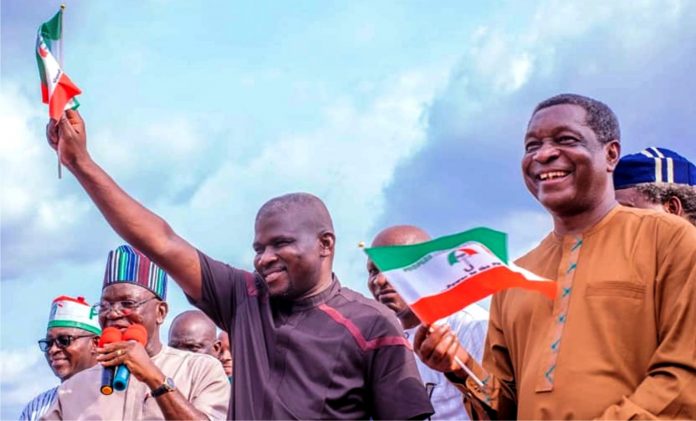 TERVER AKASE, CHANGING THE NARRATIVE
By Jethro Yerga, Jalingo
The history of Benue State Government House as regard media handlers may take another dimension in 2023 if all things work together for the good of Mr. Terver Akase, the Chief Press Secretary to Benue State Governor, His Excellency Dr. Samuel Ortom.
This is because, unlike other media handlers who quickly return to the newsroom shortly after the end of their assignment as Chief Press Secretary at the Government, Mr. Terver Akase is gradually making head way to succeed His Excellency Dr. Samuel Ortom come 2023.
Should Terver Akase eventually wins the heart of the Benue People come 2023, the gentleman will definitely stand prominently as the first media handler in the state to move from the office of the Chief Press Secretary to the office of the Executive Governor of Benue State.
Already, the energetic gentleman man has boldly made his intention clear to the good people of Benue State.
"I have joined the governorship race to seek the opportunity to further contribute to the development of our dear state. So I will appeal to you who are supporting me to always be civil and polite to all others who are seeking the same office". He told his supporters in Markurdi recently.
At least, no one can doubt the media icon's capacity to run the affairs of the state as governor. He had variously displayed high level intelligence and professional expertise that ex-rayed his competency in the course of his services in Benue state in particular and Nigeria at large.
For instance, when Benue people came under attacks by herdsmen in 2018, Mr. Terver Akase being the Governor's spokesman launched a wide campaign in all conventional and social media to tell the story of the mindless killings across the world to bring the crisis to an end.
Through his handling of information in collaboration with other media colleagues, he was able to project Governor Samuel Ortom's firm stand against the invasion by herdsmen and the attention of the world was indeed, drawn to Benue State and genuine efforts were made to stop the bloodletting.
His hard work, commitment and diligence had taken him to different tasteful and modest offices in and around the state. He served as FRCN Correspondent in Rivers State between 2008 and 2013, during which period he rose to become the Chairman, Correspondents' Chapel of Nigeria Union of Journalists (NUJ) in Rivers State. He later became the Federal Radio Corporation's Senior Editor in Enugu before his transfer to Abuja in January, 2014. Before his appointment as the Chief Press Secretary, Mr. Terver Akase was the Governor's Senior Special Assistant on Media between September 2015 and January 2016.
The numerous awards received by the media icon in different places and by different organizations also point to his administrative sagacity and gifted leadership potentials.
For instance, the National Association of Nigerian Students, (NANS) in September 2020 presented an award of excellence to Mr Akase for his support to all students and youths irrespective of their religious and ethnic backgrounds.
He also received several professional merit awards including Rotary Club of Enugu's award as Reporter of the Year in South East/South South 2008 and Best Broadcast Journalist in South South 2010 as well as winner of the maiden edition of Benue Celebrity Awards 2016 as Media Icon.
Though Mr. Akase desired the Governorship position to have an opportunity to further contribute to the development of his dear state, he had said it repeatedly to his supporters that it is not a do or die affair.
"For me, 2023 is not a do or die affair. Some of you were in Gboko yesterday and witnessed when the Governor presented me and other eminently qualified Benue sons as PDP's 2023 gubernatorial aspirants. That event marked the beginning of a new chapter in my life and I've committed the journey into the hands of Almighty God.
"The interest of our party and our dear state is more important than a small me. My prayer is for God to have mercy on Benue State and anoint someone who can stand firmly for Benue people as Governor Ortom has done". He made it clear to his supporters in makurdi recently.
Born on April 02, 1977 into the family of Mr and Mrs Pius Akase Ikpor of Agbeede, Gaav in Konshisha local government area of Benue State, Mr. Akase was trained in various institutions and crowned it up with a 2nd Class Upper Degree in Mass Communication from Benue State University, Makurdi (2004). Akase also holds an MSc in Mass Communication and he is currently working on his dissertation for a 2nd Master's degree in International Relations and Strategic Studies. He had attended the College of Advanced and Professional Studies, Makurdi before gaining admission into Benue State University.
He is an alumnus of the prestigious International Visitor Leadership Programme, IVLP of the United States of America. Akase a member of many professional bodies among which are the global network of journalists called Investigative Reporters and Editors, IRE, and Committee to Protect Journalists, CPJ, based in the United States.