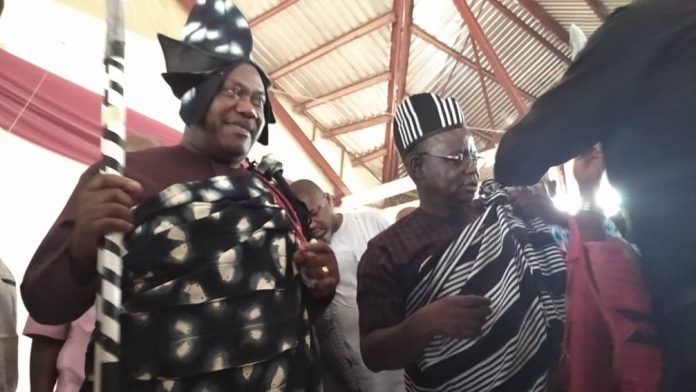 Special Duties and Inter-Governmental Affairs Minister George Akume, has urged the people of Sankera to consolidate on the peace that is gradually returning to the area.
Akume, who gave the charge during the occassion of reception/decamping ceremony of Rt. Hon. Emmanuel Udende to APC said a united Sankera will enhance the development of the area.
Scores of party members from APGA, PDP, SDP, Accord, PRP, ADC and LP accompanied Udende as he reunite with "the leader that recognises the people."
Akume, while acknowledging the people of Sankera as big contributors to the Food Basket of the Nation status of Benue State implored the people to shun termination of lives of their kins.
"Jealously guide the peace that you are experiencing at the moment," Akume said while reiterating the need for forgiveness and in sharing among themselves what they have.
"It's a big lie, if anybody tells you Akume does not like Sankera. I don't like you, yet I handed over power to you?," the former Governor questioned.
He commended Udende for returning to the APC fold, saying it is important to align with the central government in order to derive maximum benefits.
Last year, Akume took the message of peace and reconcilliation to Sankera, following rising criminal activities in the area and is now pleading for restraint on whatever differencea the people may have had.
Meanwhile, Udende has described the Honourable Minister as a man full with compassion and leader that recognises the people.
The erstwhile federal lawmaker noted that he has played party politics with different people, yet he did not get what to give to his people as with Akume. This he said informed his reason for his return to the broom party.
Chairman of the occassion Senator Jack Tilley-Gyado, also expressed satisfaction with the relative peace being experienced in the federal constituency.
He commended Udende for his thoughtfulness by returning back to his leader's party.
Sen. Gyado therefore, implored the people of Sankera to join forces with APC, saying, the party is poised for accelerated development of the country.