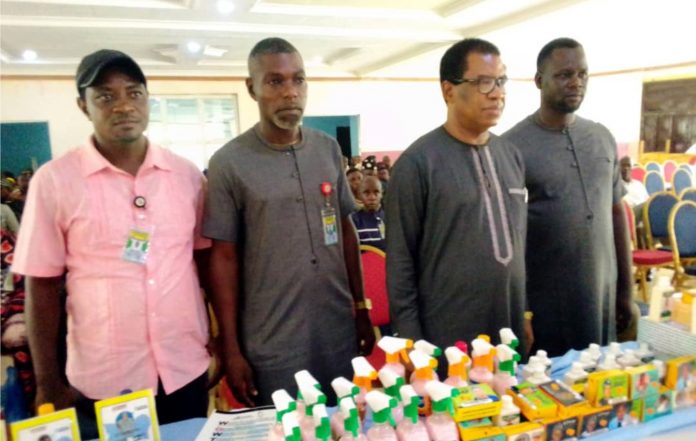 Benue Stakeholders task communities on skills acquisition
Aondohemba Tsav
Stakeholders in the Benue state community have called on the people, to acquire some entrepreneurial skills and also embrace businesses that will make them self sustainable.
They made this call during the graduation ceremony organized by Success Movement Training Center for their trainees and fund raising, targeted at mobilizing capital for them to start their businesses. The event took place in Gboko recently.
Success Movement Training Center has trained not fewer than 402 people in the production of detergents, toiletries as well as products that are necessary for domestic use.
Leading the chat, the First Lady of Benue State HE Mrs Unice Ortom said skills acquisition, which guarantees self sustainability is the gateway to economic growth of any society. The First Lady, who was represented by Mrs Winifred Kaaba as a Special Guest of honour, commended the efforts of the organization, even as she called on spirited individuals to support the initiative.
Earlier in his welcome address, the Ter Gboko, HRH Gabriel Shoshum, who is the Grand Patron of the Organisation expressed hope that with the development, the people would no longer go far places like Onitcha or kano to get their products. The Ter Gboko, who was represented by Mue Ter, HRH Engr Ikpa Ahua advised trainees to sustain their commitment to the project so that they can be so employed and boost their economic fortunes.
Chairman of the occasion, Dr Paul Orkuma Ubwa, CEO of Pleasure Travels Transport Company, while appreciating the graduates, advised on the need to partner with the Ibo business class so that they effectively market their products. While urging them to be committed and consistent in their business exploits, he expressed confidence that the event is a gateway to economic prosperity of the Tiv nation. He advised them to accessed loans so that they can fund their businesses. He also tasked them on specialization in order to register their products with NAFDAC.
From one speaker to another, opinions were expressed that skills acquisition and business orientation is the solution to economic progress of any society. Francis Anjie, who represented Sabastine Hon, a Senior Advocate of Nigeria, said he is impressed with the development. He advised the graduands to show commitment and live within their means.
The President of Ibo Community in Gboko, Chief Ambrose Oliri agreed with him, adding that commitment is key to business development, whether there is progress at the initial stage or not. He promised to partner with them in the area of marketing the products.
The greatest boost came from the Sarkin Hausawa in Gboko who offered to source for a distributor that will market their products.
Briefing the participants on the activities of the Organisation, the President, Mr Depuun Tyo, Said they had trained people across the state in products, such as liquid soap, Car fresher, Detol, Izal, powder, dusting powder, Vasline ointment Omo and others.
A highlight of the occasion was the presentation of certificate to the graduates.