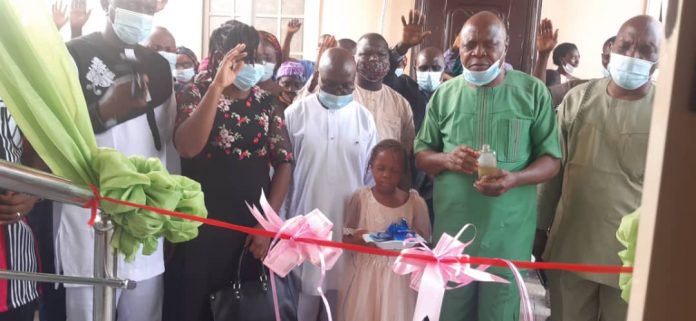 NOBIS EYE CENTER MOVES TO TAME BLINDNESS IN TARABA STATE
 By Jethro Yerga
The Management of Nobis, a Private Eye Care Centre situated in Jalingo, Taraba State has taken a very bold step towards reducing cases of blindness in Taraba State.
The Medical Director of the Eye Care Centre, Dr. Gideon Avar, disclosed the decisions of the Eye Care Centre where he dedicated to God a Very Important Persons (VIP) Storey Building which he added in the facility last Sunday.
The Director said the Centre is trying its best to see how it could establish partnership with other similar centers in order to maintain excellent services in our facility.
"We want to get so specialized so that people who travel from here to other places to access eye care services can have it treated here. We are at the moment discussing with Ecwa Hospital in Kano. As time goes on, we shall be engaging the services of Eyes Foundation Super Centres in Nigeria, and some specialists in India to help render superb Eye Care Services to our patience in Taraba State." He said.
Dr. Gideon Avar stated that the center was doing all it could to also train more personnel in various cadres for effective eye care of the good people of Taraba State.
He noted that the National Blindness and Vision Survey that was conducted sometimes in 2006/2007 showed clearly that Taraba State was one of the list states in terms of Eye Care Services as the state has only few Eye Care Facilities, few ophthalmologist and few personnel. The director identified cataract as the leading cause of blindness, but noted that it could be cured through surgery.
"Every year we do up to 3000 eye surgeries in Nobis out of which cataract accounts for about 2000 of these surgeries. There is also Glaucoma which is also one of the leading causes of irreversible blindness. Some people who have Glaucoma most at times don't even know that they carried it until they finally get blind. So the best thing is to access a good facility and have your eyes checked in order to prevent the silent killer, Glaucoma." He called. Dr. Avar charged governments at all levels to intensify efforts in fighting insecurity in the country in order to save many of the patients from total blindness as they finds it difficult to access the facility for treatment because of insecurity.
In his comment, the Chairman, Nigerian Medical Association (NMA), Dr. Nkantah Edet described Nobis as the best Eye Centre in the State so far in terms of facilities. He expressed satisfaction that Glaucoma which is the second major cause of blindness in the world has gotten a place in Taraba State to be diagnosed. The chairman called on the Medical Director (MD) of Nobis Eyes Centre to take advantage of the world Glaucoma Day of 2021 and assist in screening the vulnerable people to detect patients suffering from glaucoma.
During a brief exhortation in honour of the occasion, the District Overseer, Redeemed People's Mission Jalingo, Pastor Livinus Obi who dedicated the building to God, said the Eye Care Centre was of God. He appreciated the Medical Director, Gideon Avar for putting up such gigantic projects in just a few spate of time and called on people to patronize the facility.
Reading from the book of James 1:17, the man of God maintained that every good and perfect healing comes from God as such, he employed the Medical Director of the Eye Centre, his workers and all the patients in the Centre to always call on God even as they do their possible best through human endeavors.