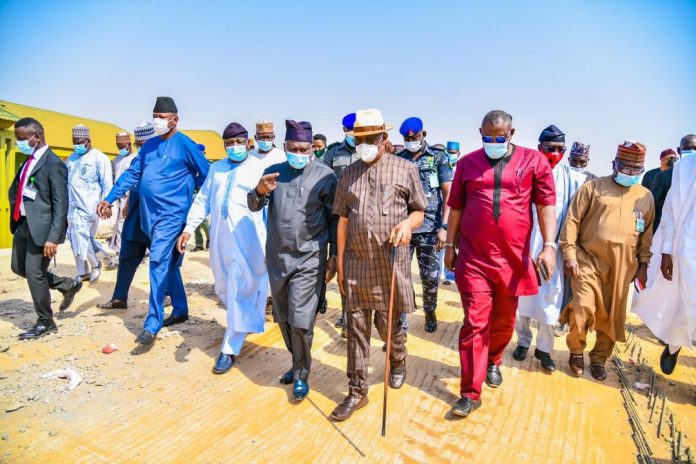 GOV WIKE HAILS FINTIRI OVER EXCELLENT PERFORMANCES
From Emmanuel Sanuul, Yola 
The Executive Governor of Rivers State, Dr. NyesomWike has expressed satisfaction over the ongoing roads Projects initiated and executed by the Adamawa State Governor, His Excellency Alh. Umar AhmaduFintiri, in Adamawa State.
The Rivers state Governor made this expression recently in a media chart with journalists in Yola, the Adamawa state capital.
Governor Wike who said he wondered where His Excellency AhmaduUmaruFintiri was getting all the resources for the numerous projects he had been executing in the state, noted that the Governor was performing excellently well in terms of infrastructural development despite the meager resources at his own disposal.
"I am impressed by Governor Fintiri's quantum of infrastructural projects in the state. In fact, I wonder where he is getting all the resources to execute such quantum of projects in the state despite the present economic crunch" he stated.
Wike encouraged Alh. UhmaduFintri to continue to provide more projects with direct bearing on his people and should not be distracted by the flimsy and baseless criticisms of his oppositions.
The Governor challenged the APC led administration for causing all sorts of afflictions on the generality of Nigerians by introducing bad policies and programs in the country.
He also accused the government of preferential treatment and jungle justice especially in its fight against corruption.
"Nigerians are not happy with APC performance and are prepared to show them the way out of government comes 2023 general elections." He stated.
Governor Wikefurther advised the media in the country always set formidable agenda for governments at the Federal and state levels so that public office holders could hold on to provide the teaming populace with the necessities of life.
Our correspondent in Yola reports that Governor Wike inspected the multi-Billion Naira Jimeta capital school and former police round about fly-overs and under pass interchange projects in the state.