Gov. Ishaku expresses worry over growing figure of out-of school Children
Jethro Yerga, Jalingo
The Executive Governor of Taraba State, Arc Darius Dickson Ishaku has said that the growing number of Out of School Children in Nigeria and its associated realities have painted an undesirable picture and a doom for the future of Nigerian children and thus require urgent attention.
The Governor stated this at the 65th National Council on Education (NCE) held at Camp View Event Centre Jalingo, the Taraba State Capital.
Represented at the occasion by the Deputy Governor, His Excellency Engr. Haruna Manu, the governor pointed out that if the growing number of Out-of School children in the country was not properly handled, it would soon reduce the country to a hub of vulnerable children with no access to quality education and thus make many children susceptible to being recruited into all manners of social vices.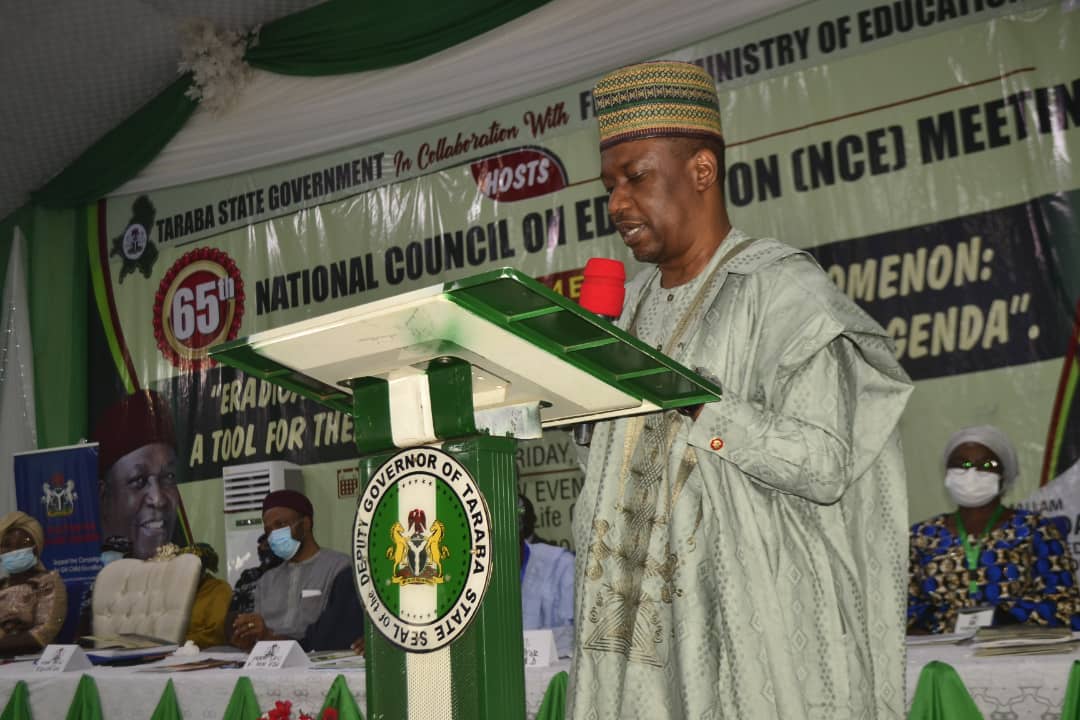 He stated that as a country regarded as Africa's largest economy and the giant of the continent, there was every reason for all Nigerians to put all hands on deck to ensure that the menace of Out of School Children was pushed out to save the future of a chunk of Nigerian children.
Identifying some plausible reasons for the increased figure of the Out of School children in the country, the governor said displacement due to conflict, insurgency, natural and man-made disasters, poverty, inadequate infrastructure and rising spate of kidnapping and armed robbery among others top the list of some of the causes of these menace.
The governor noted that his administration has taken the bull by its horns to lead the battle for the redemption of Nigerian children whom he emphasized are leaders of tomorrow.
"My administration has fully engaged critical stakeholders in the education sector and we are working assiduously to curtail this scourge". He stated.
Governor Ishaku who said his
administration had covered significant milestone towards taking Nigerian children out of street however pointed out that there is still more to be done.
He identified Funding of exchange programs for comprehensive Secondary Schools, Provision of office accommodation for WAEC, provision of counterpart fund to the United Nations' Children Education (UNICEF), recruitment of 3,000 Rescue Teachers, expansion of programmes at the Taraba State University (TSU) and periodic capacity building for principal officers of Post Primary Schools Management Board among many other areas as some of the giant steps his administration is making towards taking children out of the street in Taraba State.
The Governor noted that the giant steps taken by his administration to bring down education to Nigerian children particularly in Taraba State has yielded positive results as many students from Taraba State have claimed so many awards and a good percentage of them are performing excellently well within and outside the state.