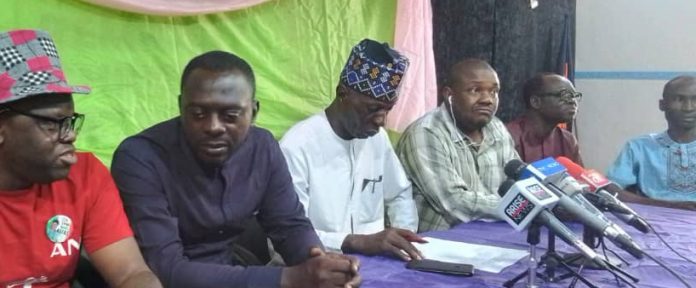 CBBN congratulates Taraba governor elect, says he has capacity to govern well
Jethro Yerga, Jalingo
The Taraba State chapter of Coalition for Better and Brighter Nigeria (CBBN), has congratulated the Taraba State governor elect, Col. Agbu Kefas (Rtd) on his victory at the March 18, 2023 polls.
The group in a press briefing led by its leader, Hon. Evang. Philip Munlip, expressed confidence in the governor elect, Col. Kefas Agbu, noting that the People's Democratic Party PDP, had offered Taraba State the most credible and qualified candidate who would turn around the fortunes of the state for the good of the people.
It noted that with Kefas Agbu at the driving seat, Taraba State would be back on tract in delivering good governance, robust economy and guaranteed justice for all manner of people in the state.
Commending the people of Taraba State for turning up en mass to vote for Kefas, the group particularly applauded the relentless efforts of Prophet Isa El-Buba and the entire members of the group across the 168 wards and 16 Local Government Areas including the two Development Areas for their tireless efforts and rising up to the occasion that brought their desired victory at the poll.
" We want to use this opportunity to congratulate the governor elect, Lt. Col. Agbu Kefas PhD (Rtd) on his resounding victory at the the March 18, 2023 polls. Without doubt, Lt. Col. Kefas swept the election with over 257, 000 votes to emerge winner. We extend our warm felicitation to him and the good people of Taraba State.
" We equally commend all Tarabans who turned up to vote for Col. Agbu Kefas despite all several persuasions and insults from the other parties. We appreciate your tireless efforts, sacrifices and collaborative efforts that eventually yielded positive results". The group stated.
Recall that CBBN is an umbrella organization comprising of Initiative for a Better Nigeria (IBBN), Nigerian Transformation Network (NTN), the Coalition of Peter Obi Support group (CPOs) under the leadership of Prophet Isa El-Buba.
The Taraba State Chapter of Coalition for Better and Brighter Nigeria (CBBN) is headed by Hon. Evangelist Philip Munlip
The group had, before the gubernatorial elections, endorsed Lt. Col. Agbu Kefas as its preferred candidate for the 2023 Gubernatorial election and had also, followed it up by intensive mobilization of members across the various communities in all the wards of the state and the Development Areas.