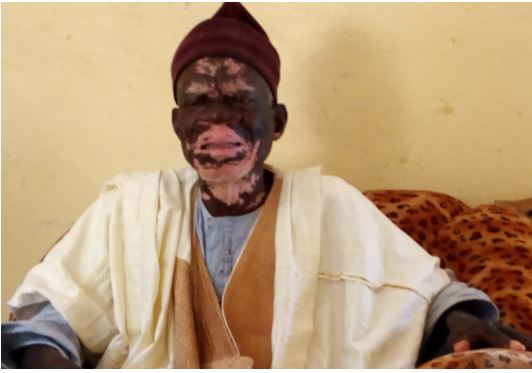 Gongon Maliki, a community's
War against kidnappers, bandits
Gongo Maliki a sleepy farming community, 13 kilometres North of Jalingo, Taraba State capital, was under the siege of a vicious gang of kidnappers and cattle rustlers. Many members of the community were kidnapped and some killed. Gongon Maliki was just a victim of a pervading trend of kidnapping in Taraba State. Rather than look up to Government for security, as most communities in the country are doing, the community used what they have to fight the criminal elements to a standstill. They apprehended some and handed then over to the police, while some are already on the run.
When our reporter visited the community last week for a fact finding mission, he was greeted with a mix glee by members of the community. They were still counting their lose, but on the other hand, they were happy that God has given them the capacity to fight back their enemy.
District Head of Kogi District, HRH Adamu Jagwa who received our reporter at his Palace in Gongo Maliki, was happy with the feat they have achieved as he shared his experience with our reporter.
"It is only this year that we started having some security challenges. The challenges range from kidnapping, cattle rustling and other acts of banditry. The activities of the criminals started with the kidnapping of a Pastor who is also a teacher in one of the schools in this community. They kept him until the ransom was paid before he was released. As we were still wondering why this has happened, my village head, Usman Makon of Gogon Gbata, was killed. They also killed one Christopher Makon. They killed him outside, but they pulled his body into his house and set the house ablaze.  There is another victim, Ezekiel. They went for him; they did not meet him at home then they set his grinding engine ablaze. We were so shocked at what was happening. We cannot imagine that somebody will be killed and then his corpse will be set ablaze. Even in Boko Haram operations, such incidents were not common." HRH Adamu Jagwa, told our reporter.
Worried by this situation, the District Head summoned the leadership of the community for a meeting. In the meeting they resolved to form a vigilante group. After which they wrote and obtain the permission security agencies in the state, including Commissioner of Police, Director of DSS, DPO. They also obtained the permission of the Chairman of the Local government and SSG, and the task of fighting the criminals commenced.
"A lot of progress has been made. Many of these criminals are arrested and handed over to the police for the law to take its course. The operation by the vigilante is ongoing. So far, we have arrested and handed over 16 these criminals to the police" The District Head told our reporter.
But how did they raise the funds to support the operations of this vigilante?
"After setting up the vigilante association, we decided that since no organization can function without money, we decided to task ourselves, N50, 000. 00 by each of the following groups, Mumuye, Nomadic Fulani, Fulani leaders, Muslim and Christian community. It is this money that we are feeding and motivating members of this vigilante committee to enable them perform their work effectively. They are doing their best." He said. In some instances, run away criminals would reorganize and attack those formulating policies for their arrest. The story of Gongon Maliki is no exception. "We have received several threats from some of them. One of them is on the run, we learnt that he is taking refuge somewhere in Adamawa State. We keep hearing rumours that he is planning to come and attack leaders of this community that are supporting the vigilante initiative. But we are not scared by his intimidation. Our confidence is in God and the Government. We will continue with our work and there is no level of intimation that can discourage us" he said. .
The District head also solicited the support of government in its ongoing war against kidnappers and cattle rustlers. "Government should provide us with adequate security. As said earlier, the perpetrators have been sending threats of returning to attack us. We cannot stand them unless we have security backup to deter their plans. We have about five security agents here but they are not armed. If they were well armed, the kidnaping of the missionary would not have succeeded." He said.
The District Head also used the opportunity to call on the Taraba State's intervention on bad condition of the road.  The community is a stone throw away from Jalingo, but road to this place is not motorable