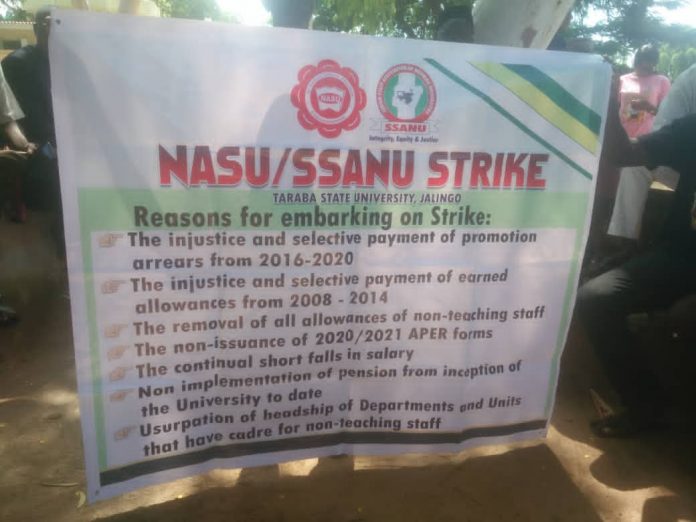 Taraba varsity Management and unions' rift deepens
Jethro Yerga, Jalingo
The strike embarked upon by non-academic staff of the Taraba State University Jalingo on Monday took a dramatic turn as the school management allegedly denied the unions access to the venue for their congress meeting.
The Senior Staff Association of Nigeria Universities (SSANU) and the Non-academic Staff Union of Nigerian Universities (NASU) under the umbrella of Joint Action Committee of the university have been on strike for almost two weeks over non payment of promotion arrears, earned allowances and other issues.
The unions are alleging several injustices meted against them by the school management, including selective payment of promotion arrears from 2016-2020, selective payment of earned allowances from 2008-2014, the removal of all allowances of non-teaching staff, and the non- issuance of 2020/2021 APER forms.
They also alleged continue short falls in salaries and non- implementation of pension from inception of the university to date among other issues. 
The unions members who converged under a tree for their congress insisted that there was no going back on the indefinite strike until all their demands are met.  
Displaying placards carrying several inscriptions such as, 'non-academic staff are not slaves,' 'give the government the proper information,' pay us our entitlements,' 'stop running the university as your private university' and stop politicizing our strike among many others, the unions called on the school management to do the needful else there would be an endless strike.
Addressing journalists shortly after the general congress, the chairman, of SSANU and Joint Action Committee (JAC), Taraba State University Branch, Comr. Linus Williams Naiman said the school management had continuously paid deaf ears to their plights.
"As you can see, we are under a tree. We have applied twice for a venue for our congress and any time we applied, our request is turned down by the management. 
"It has never happened in this university before. Even students do have access to some classes for their meetings. But here are we, as staff of this institution, been denied access to any building for our congress.
"They said we are in black attire and that is why they would not allow us have access to any hall for our congress. But We are mourning the number one monarch of Taraba State, His Royal Highness, Dr. Shakarau Angyu Masa-Ibi. We have some of his direct descendant as our members here. 
"Moreover, is it an offence for our unions to go on same attire as citizens of this country? It's quite unfortunate", he stated.
Comr. Williams noted that since the commencement of their strike, nobody had engaged them at any instance, only for them to receive a letter signed by the acting registrar of the university Prof. Joseph Bibinu seeking their approval to end the strike as the management has planned to attend to their issues on the 18th Day of December, 2021.
He alleged that the said date is the closing day of the school as such, they would not honour such a letter.
"The school will be closing on that day so who are we going to meet here for God's sake. The Vice Chancellor will be going on terminal leave in March, 2022. So all these are tricks and of course we cannot honour such request. As it is now, the Strike remains, until our demands are duly met.
"Today we are ranked number 17th among Nigerian Universities. This is as a result of our sweat and sacrifices and so we need to be appreciated not intimidation from our authorities." He stated.
Though the Vice Chancellor of the University was out of town as at the time of writing this report, the director of information of the University, Mallam Sanusi Sa'ad and the acting registrar of the university, Prof. Joseph Bibino who were around all declined their comments on the issues raised by the two unions. 
"I don't talk to journalists. It is not my responsibility to talk to journalists. Go and meet the director of information". The acting registrar told journalists