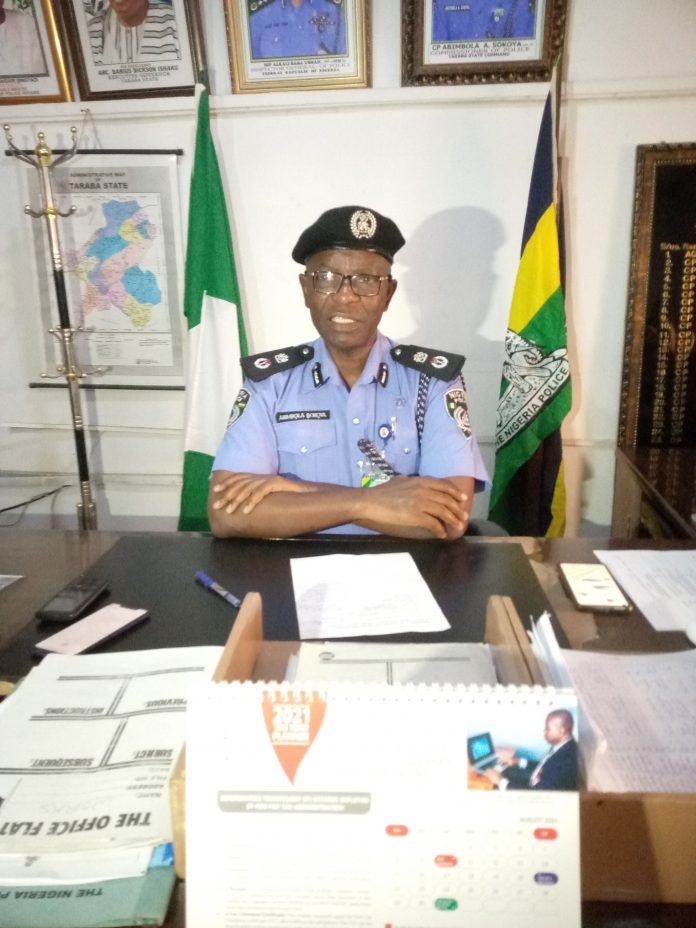 "Taraba will not be conducive for criminal elements" – Police Commissioner.
By Christiana Babayo
The Taraba State Commissioner of Police, CP Abimbola Sokoya has stated that Taraba will not be a conducive breeding ground for crimes and other anti social vices and elements.
The Commissioner said this in a media interaction with journalists during the courtesy call of the Worldview Magazine to the Headquarters in Jalingo on Thursday.
Abimbola who lamented the security situation in the state and country at large said the command will form synergy with the grassroots to arrest the ugly situation.
According to him, "No state or society can thrive without security. Nothing can be done, no achievements or investment can be made without security. If the environment is not safe even I as a Commissioner will not be comfortable. So security is very key in any given society" he said.
While proffering ways forward, Sokoya assured that the Command will base it's focus on connectivity and contacts with the grassroot to promote peace.
In his words, "If the contact is not there, there will be a gap and that will be detrimental to our course. Therefore we will embrace the public and allow them to embrace us to enable is dwell in an ecosystem of synergy"
The Commissioner also pledged the Command's unflinching support and cooperation towards the media in order to curb the issue of insecurity not only in the state but also in the country at large.
"The biro and guns will work together to ensure that Peace's abounds.The media plays a very vital role in our fight against crime and that role is something we do not take for granted" he said.
Reiterating his stand on criminality, Sokoya emphasised that the Command is working towards a Taraba where people will sleep with their two eyes closed, without having to watch their backs.
"Let me reiterate that this place will not harbour criminals, they either change or they should relocate because this state will not be conducive for their misconducts" he noted.