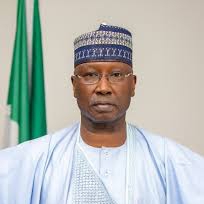 FG Threatens To Revoke N29 Billion Yola-Mubi Road Contract
From Emmanuel Samuel, Yola
The Federal Government of Nigeria has threatened to revoke the contract to rehabilitate Yola – Mubi road if the contractor fails to return to site within a period of one week.
The Federal Government speaking through the Secretary to the Government of the Federation (SGF) Bar. Boss Mustapha registered his displeasure on the way and manner the contractor, ÀG Vision was handling the work and vowed to terminate the contract within one weeks if he fails to resume work immediately.
The visibly displeased SGF, stated that despite the huge amount released for the project, the contractor was still displaying some level of of delay for reasons best known only by him.
"I am very disappointed with the level of work here. Normally it is government that owes contractors and not contractor owing government.
"This contract of Yola-Mubi road was awarded to AG Vision in 2017 for N 22 billion Naira because of the slow pace of work, there was a review and this year another N29 billion was approved, we do not want another review, the company must return to site or face the consequences", SGF Mustapha said.
Mustapha further assured that the Federal government remains committed to giving Nigerians good roads and other infrastructures, stressing that the NNPC would  inject funds into the project because of its strategic importance, linking Borno and Adamawa States.
Speaking in the same vein, the Minister of Transportation who oversees the Ministry of Works, Mua'zu Sambo Jaji told the contractor to stop exhibiting incompetence and do the needful.
While interacting with the media, the site engineer, Francis Musa however,  argued that "work stopped at the site because of the Salah brake but we'll be back to work next week.
"I want to also assure the Federal Government that the project will be completed as soon as funds comes in" he concluded.