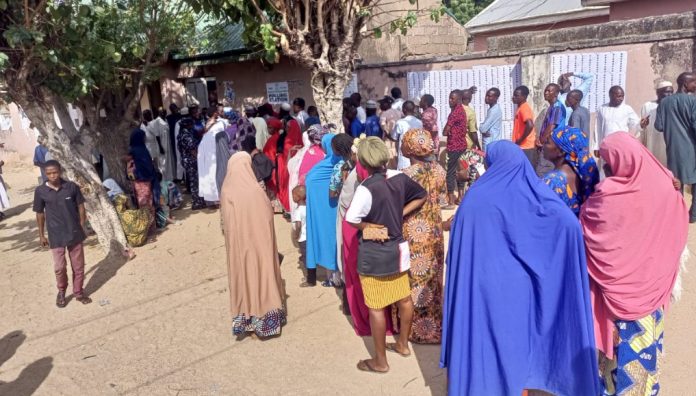 Polls: Stakeholders commend peaceful conduct of elections in Taraba.
By Christiana Babayo, Jalingo.
Stakeholders and Party chieftains across Taraba have commended the conduct of voters during the polls as well as the efforts of INEC and security agencies in ensuring peace and maintaining order during the exercise.
Addressing newsmen shortly after exercising his franchise, the Minister of Transportation, Alh Muazu Sambo Jaji, said he was highly impressed with the conduct and turn out of the voters.
"As you can see, the atmosphere is very peaceful and the turn out is quite impressive. I am happy with the good conduct of the people.
"In the same vein I must commend INEC and all the security agencies for their joint efforts in ensuring that this election goes as planned" he said.
AA Liman, NNPP Senatorial Candidate for Northern Taraba also applauded the serenity of the polls and urged all to remain patient and also vote wisely now and even during the next polls.
According to him, bad representation can only be flushed out when the electorates do the right thing by voting in the right people and maintaining good conduct as well.
Also speaking, at the Sintali ward, the PDP candidate for Member, House of Reps, Jalingo, Yorro and zing, Hon Ismaila Maihanci stated that the process is credible and fair, while advising the voters to vote and leave peacefully while they await the results.
Engr. Ahmed Yusuf, Federal Commissioner for Revenue Mobilization Allocation and Fiscal Commission also agreed that the polls were peaceful and all agencies involved have worked harmoniously to ensure success.
While expressing confidence in the victory of his Party, the All Progressives Congress in the elections, he called on the electorates to manage the post election period with intelligence.
"The general conduct of INEC, and security agencies is very good and I am happy that people are voting devoid of monetary influence and other biases. This shows that we know what we are doing as a people.
"However, electorates should manage the post election happenings because after results are announced, people tend to go haywire when their candidate doesn't win. So I urge people to remain calm in the post election period" He said.
For the former Nigerian Ambassador to the Republic of Trinidad and Tobago, Alh Hassan Jika Ardo, this election will stand as a legacy for all to look back on.
Jika who took a tour round town to observe the polls commended the joint efforts of security agencies, INEC and the electorates in maintaining professionalism and peace all through.
Our correspondent gathered that the exercise was conducted in an atmosphere of peace and agencies involved maintained a high level of professionalism.