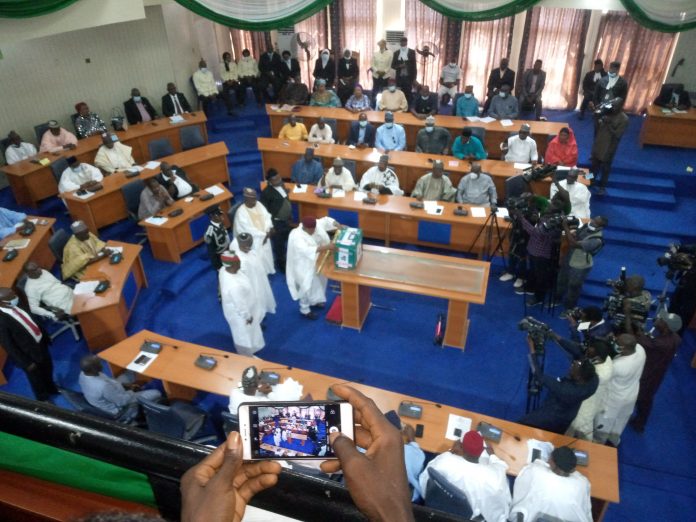 Gov Ishaku presents 146bn budget estimate for 2022 to State Assembly
By Christiana Babayo.
The Executive Governor of Taraba State, Arc Darius Dickson Ishaku, on Friday, presented the budget estimate for the year 2022 to the Taraba State House of Assembly.
The budget tagged "Budget of Hope and Consolidation" has been estimated to the tune of N146 781,653, 671, 82 with a 3.46% increase over the 2021 budget.
The capital expenditure stood at N68,709,991.92k representing 46.81% while reccurent expenditure is estimated to N78, 072, 587, 679.90k representing 53.19 % of the budget.
In his speech at the presentation of the budget, Governor Ishaku said the budget is guided by many salient factors among which are the National Oil Price of $57/ barrel, inflation rate of 13%, GDP growth rate and the United Nations dollar exchange rate.
He stated that as part of the Implementation plans, all agencies, Parastatals and Ministries must account for Internally Generated Revenue, be bold, decisive, act accordingly and also rationalize expenditure as waste is a luxury that cannot be afforded.
The governor assured the house that all ongoing projects embarked upon by his administration would be fast tracked so that no project would be left unfinished before he finally round up his tenure.
Earlier, the Speaker of the Taraba State House of Assembly, Prof Joseph Albasu Kunini, applauded the synergy between the Executive and the Legislative arms of Government in the state, stressing that it is the backbone of the progress made so far in the administration.
"The Executive have been very cooperative since the inception of this administration and this has allowed us to enjoy robust relationship over time.
"I must commend His Excellency Governor Darius Dickson Ishaku for all the supports he has been giving and we pray this continues so that we can continue to enjoy good working relationship and as well, give the good people of Taraba our very best". He said.