ELDER SHAAKAA BAGS DEFENDER OF CHRISTIAN FAITH AWARD
By our Correspondent
For his commitment to Christian activities and spreading of the gospel of the Lord Jesus Christ, Chief Tegh-Tegh Shaakaa Adagba JP, has been honoured with a Defender of Christian Faith Award.
The Award ceremony which took place on the 17th July, this year, was given by the Power House of Solution Church at its Headquarters in Gboko, Benue State.  The head Pastor of the church, Apostle Daniel Terna Yarkwan presented the award to Chief Shaakaa in a well-attended event.
The award ceremony was planned as a commemoration of the head pastor's birth day, succinctly captured as Birthday Thanksgiving of Apostle Daniel Yarkwan. Some industrious sons across the country were also given the award.
Apostle Daniel Yarkwan, who extolls the virtues, spiritual values of Chief Shaakaa and his contribution to the propagation of the gospel of the Lord Jesus Christ, said the award is a mark of recognition and encouragement.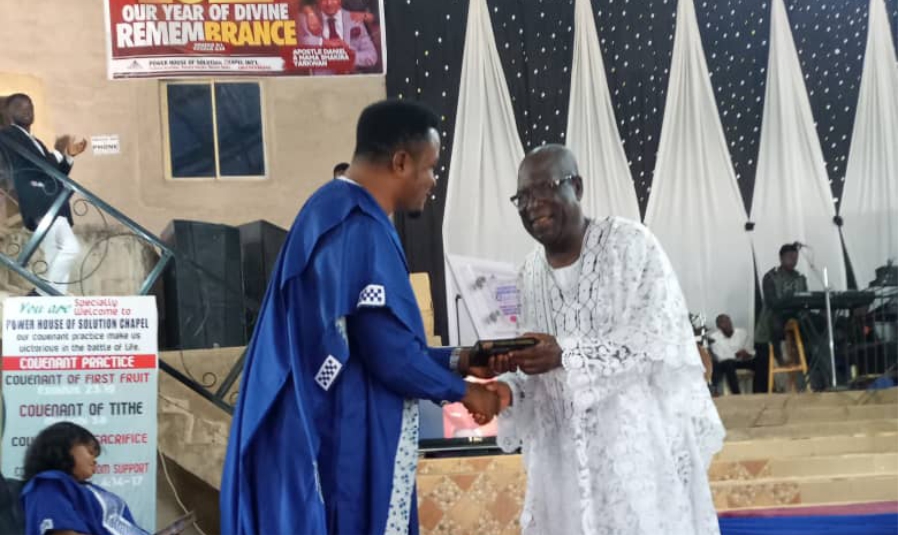 Speaking to Journalists soon after the award ceremony, the elder statesman said he is delighted that his contributions to the growth of the gospel has earned him recognition in the vineyard of God.
"I have received many awards in the past, but I must tell you that this one is very critical as it has connected me with the spirit of God.
"The award is a morale booster, it will encourage me to do more in playing such roles that will deepen my faith in God and propagate the gospel of the Lord within the sphere of my reach." He said.
Elder Shaakaa thanks Apostle Daniel Yarkwan in particular and the leadership of the Power House of Solution Church in general for considering him competent for the award.
Chief Tegh-Tegh Shaakaa Adagba, JP hails from Donga Local Government Area of Tararba State. Chief Shaakaa, who is a business man and politician, has received many awards in the past, including an Ambassador for Peace, by the Inter-Religious and International Federation for World Peace. He also bagged a prestigious award of Peace Maker of our time, awarded to him by the community of Tiv Students, University of Jos in April, 5th 2008. He is also a recipient of a Peace Maker award by the Kpav Development Association, in Katsina Ala, Benue State.
At present, he is a Special Adviser to the Governor of Taraba State, aside from which he is the Chairman, Taraba State Forum of Tiv Political Appointees.
Elder Shaakaa also served as a member, Centenary Committee of NKST in the Tiv nation. The event was organised to mark 100 years of the propagation of Christianity in Tiv land.