Plans to replace PDP Guber Candidate in Taraba thickens
By Jethro Yerga, Jalingo
The battle to replace the People's Democratic Party's gubernatorial candidate in Taraba State, Col. Agbu Kefas (Rtd) has deepened as two other aspirants for the exalted position in the state, including the Speaker, Taraba State House of Assembly, Right Hon. Professor Joseph Albasu Kunini, applied to join the suit challenging Col Agbu Kefas' nomination.
Professor Joseph Albasu and Dr Hilkiah Bubajoda Mafindi had filed an application in a suit through their counsel, Reuben Atabo (SAN) as interested parties in the suit earlier instituted by Professor Jerome Nyameh, an aspirant at the Primary Election that produced Col Kefas as the party's candidate.
Their applications to join the suit, which proceedings has being going on since June this year, is coming at the heels of an unconfirmed rumour that the leader of the party, the Executive Governor of the state, Architect Darius Ishaku has fallen apart with the PDP governorship flagbearer.
The new development has provoked a mix glee in the state's political circle, as some people are already saying that it's a conspiracy theory, aimed at ousting or replacing Agbu Kefas with another candidate that suits the interest of the Governor.
Some PDP stakeholders, who spoke with our reporter on condition of anonymity are accusing the Governor of complexity. They wondered why Prof. Albasu Kunini who said he bore no grudge on the primary election had suddenly gone to court, at a time that the cordiality between Kefas and Ishaku is questionable.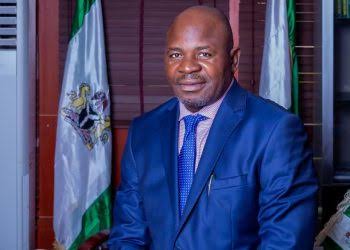 In his application for the joinder, Albasu is contending that having emerged second, he ought to be declared winner of the primary after Agbu's nomination is nullified.
Professor Jerome Nyameh had dragged the PDP candidate, Col. Agbu Kefas to court challenging his election over the violation of Part VII, Article 1 of the Electoral Guidelines for the Primary Elections of PDP, 2022, having failed to resign as the state party chairman.
Nyameh submitted that the primary was held on May 25, which was only six days after Agbu resigned, and many days after the screening of aspirants on April 28, when he was still the state party chairman.
Nyameh further submitted that Agbu only resigned via a letter dated May 17, 2022, which was received at the national headquarters on May 19.
Recall that the PDP candidate, Col. Agbu Kefas had polled 443 votes to come first in the Primary Election while Albasu and Nyameh got 31 and 24 votes respectively.