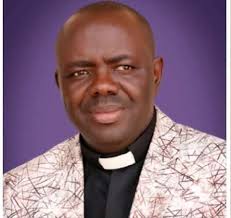 Bad leadership thrives because of the silence of good people-CAN Chairman
By Christiana Babayo
The Chairman of the Christian Association of Nigeria (CAN) Taraba state, Rev Isaiah Magaji Jirapye has lamented the silence of good people in the country especially in the areas of nation building, security and leadership related issues.
Jirapye who spoke to our correspondent in Jalingo also pointed out that one of the problems the country is facing is the fact that people are divided along religious and ethnic lines and even the religious bodies demonstrate hypocrisy in their approach to issues as it concerns the nation.
"Why we are dealing with some irregularities and leadership issues is because good people refuse to vote and they refuse to speak. And if good people keep silent, bad things will continue to happen.
"Why we are also not getting what we are looking for is because most of the preaching is not done sincerely. We do much of hypocrisy than sincerity. If today as a religious leader I preach peace in public then come back to my circle and drop some kind of words that will stir them to act the opposite, you will discover that we will not get any result.
According to him, leadership is a major determinant of how far a country can go and what will become of its people, which is why the issue of leadership is one that can never be overemphasized or even underrated if we want to do better as a country.
"You see people wanting to revolve round leadership. They don't want to give way for the younger generation. Leadership has been our serious challenge especially in building this nation Nigeria because it is done out of selfishness, greed. One side wants to hold on to power, when people get to the seat of power they don't think of fair sharing, they only think of themselves and their immediate families and that has been a challenge. And you have people on seats of authority without vision, they don't have the interest of the people at heart" he lamented.
Proffering ways forward, Rev Jirapye said what we need to do differently is to act with sincerity, when we speak, lets us back it up with sincerity while emphasizing that religion is supposed to bring people together and not tear them apart as it is in some cases.
"Besides religious divides, religion should teach us how to accept others that are not from our own parts. If you see somebody from the south, west or north, because of that dichotomy you see them as strangers and aliens. Religion should come in to teach us that we are brethren. There is no reason for divide just because we are not all from the same tribe.
He also advised that irrespective of what has happened in the past years, 2023 is by the corner and it is another time to vote in new leaders that will do better because the country needs to do better if the issues of insecurity and other irregularities have to be tackled once and for all.
"2023 is by the corner, if we crying that people are hungry, kidnapped, if we are crying of banditry, we caused it because we didn't vote in people that have us at heart, we voted along religious lines, we voted along ethnic lines, we voted because we were given money. Nigerians should watch, if anyone comes to campaign, is it the masses that nominate him or is it his money that has brought him?" Jirapye advised.
Rev Jirapye also enjoined all to pray for Nigeria and it's people so that we can enjoy God's favor, goodness, and normalcy in the coming years.