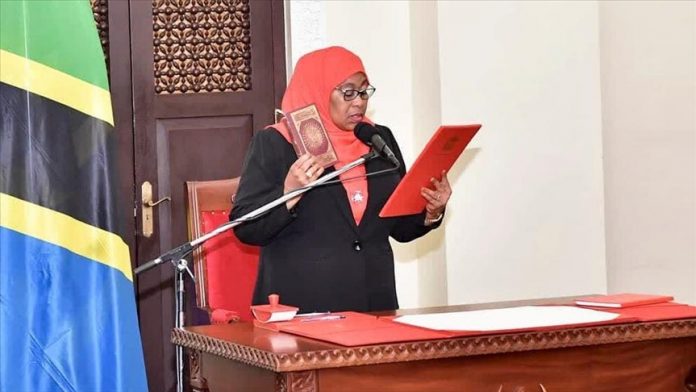 TEARS, JOY IN TANZANIA
Tanzanians are caught in an emotional web of mourning their former President, the late President John Magufuli and celebrating the new one, Samia Suluhu Hassan. In this report, Christiana Babayo wrote on what the future portends to Tanzanians.
Following the death of the President John Magufuli, his Vice, Samia Suluhu Hassan has been sworn in as Tanzanian President to lead the country for the four-and-a-half-year remainder of Magufuli's term, making her the first female President in the East African nation and the 6th President of Tanzania.
The former President John Magufuli who died of heart complications on the 17th of March 2021, was serving his second tenure in office with Samia as his vice before his demise. His demise was announced by Samia, the vice while also declaring a 21 day mourning for the irreparable loss.
"It is with deep regret that I inform you that today… we lost our brave leader, the president of the Republic of Tanzania, John Pombe Magufuli" Hassan said.
Samia Suluhu Hassan born 27 January 1960 is a politician from Tanzania and the sixth president of Tanzania having assumed office on 19 March 2021. She is a member of the ruling Chama Chan Mapinduzi (CCM) Party and the first woman to hold the position in Tanzania.
Having completed her secondary education in 1977 and began working, she subsequently pursued a number of short-courses on a part-time basis then in 1986, she graduated from the Institute of Development Management with an Advanced Diploma in Public Administration. Between 1992 and 1994, she attended the University of Manchester and graduated with a Post graduate Diploma in Economics after which in 2015, she obtained her MSc in Community Economic Development via a Joint-Programme between the Open University of Tanzania and Southern New Hampshire University.
Suluhu has also served the country in various capacities,  she served as a Minister in the semi-autonomous region during the administration of President Amani Karume then as Member of Parliament for Makunduchi constituency from 2010 to 2015, and was also the Minister of State in the Vice-President's Office for Union Affairs from 2010 to 2015.  Then in 2014, she was elected as the Vice Chairperson of the Constituent Assembly tasked with the drafting of the country's new constitution.
The sexagenarian became Tanzania's first female Vice-President following the 2015 general elections, after being elected on the CCM ticket with President Magufuli. Both were re-elected to a second term in 2020.
Meanwhile leaders and countries have continued to sympathize with Tanzanians over the great loss of John Magufuli who a lot have termed as a legacy that cannot be forgotten in a hurry. Officials in countries including Uganda and Rwanda also sent condolences.
Neighboring Kenya marked his death by flying flags at half-staff and observing a seven-day national mourning period. President Uhuru Kenyatta, who chairs the East African Community, of which Tanzania is a member, praised the late leader for the work he did for the country. In his words,
"Africa and the world have lost a lustrous leader whose vision, passion and immense leadership propelled the nation of Tanzania forward and also steered the East African Community to closer integration. On the continental stage, the late President Magufuli was a champion of pan-Africanism and the passing on President Magufuli — I have lost a friend, a colleague and a visionary ally."
Former Nigerian President Goodluck Jonathan called Mr Magufuli a "partner in democracy" and a "patriot who loved his country".
The Late Magufuli who won his second term in office last October after an election marred by opposition group intimidation came to power in 2015 on a platform of fighting corruption. It was reported that he would appear in government offices unannounced to catch employees not serving the public. In a Nigerian slang, his death can be described as "an Iroko tree that has fallen" and he will be remembered for his good deeds and his service to his country despite a few complains here and there.
Although Opposition politicians said last week that he had contracted Covid-19, but this has not been confirmed even though Mr Magufuli was one of Africa's most prominent coronavirus sceptics, and called for prayers and herbal-infused steam therapy to counter the virus.
The newly sworn in President, Samia is a high ranking woman in the politics of Tanzania despite been looked down upon by her male colleagues because of her gender. It will be little wonder if she is been looked down upon or belittled now that she is occupying the number on seat in the country, the first of her kind in the history of the country. But given her antecedents and reputation in politics, she is likely to thrive and survive the "gender-stereoptype" infected waters of politics in Africa.
Judging from the comments of people who have watched her closely, she is the right woman for the job. One MP, January Makamba, who worked with her in the vice-president's office, has called her "the most underrated politician in Tanzania"."I have observed at close quarters her work ethic, decision-making and temperament. She is a very capable leader," he noted.
Samia, against all odds is now the Commander-in-Chief of armed forces according to constitutional rights. The 61-year-old is affectionately known as Mama Samia – in Tanzanian culture that reflects the respect she is held in, rather than reducing her to a gendered role. With the support and cooperation of the good people of Tanzania, she could do for them what they never imagined. After all, it has been said that "we can either work together as brothers or perish together as fools". The ball now lies in the court of Tanzanians.