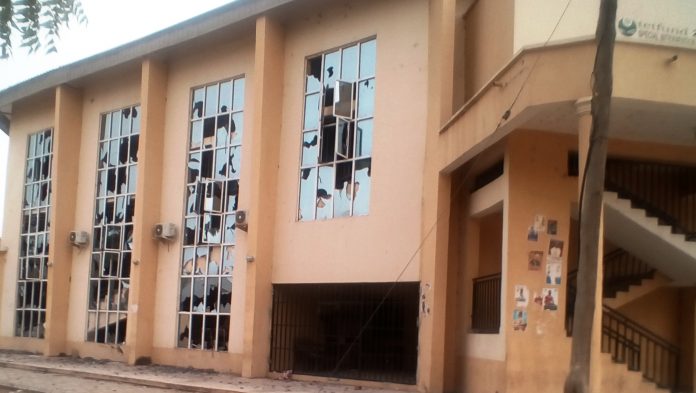 ADAMAWA STATE POLYTECHNIC CLOSED DOWN INDEFINITELY
From Emmanuel Samuel, Yola
The Adamawa State Polytechnic Yola (SPY) has been closed down indefinitely following a students' violent demonstration.  The Rector of the State Polytechnic, Professor Ibrahim Umar disclosed this development during a press interview with Journalists in Yola Thursday saying that the institution has been close down till further notice.
"We decided to close down the institution till further notice till we complete our investigations."
Speaking further, he said "this morning when we came in, the students from crime department started celebrating around 10 am. Our security department, the Civil Defence, the Police told them to stop, so they started throwing stones, The Police mobilized themselves and went out. When the securities tried to stop them they refused and started chasing the securities using stones, so the police chased them using tear gas.
I asked them to call the union leaders of that department and they came, II told them what they were doing was illegal  so they should inform they colleagues to stop. The students Affairs Department issued a circular that there should be no more signing out". He explained"
Narrating the  unfortunate incident, Professor Ibrahim Umar said that it happened as a result of the signing out celebration by students who just concluded their final National Diploma Examination on Wednesday's night. They (students) call it "signing out" while wearing a white T-shirt as a tradition of the students.
"The students were going round the camp. The department of crime and strategy stated this morning after finishing their exams they went to the football pitch to celebrate before signing out. The security brought the report that they saw what the students were doing and that it could lead to problem because they were seen with bottles of bear and some were smoking and taking drugs".
He explained that the crime Management and strategy studies students went wild and started attacking and destroying people and properties in the campus.
"The police were only 4 in number so they went to mobilized and before they could come back, the students have  damaged our multipurpose  Students Union Government (SUG) building,500 Capacity Multi-purpose hall, Block E.  Male hostel block,Block A among others, burnt down the car of the student union president, and also burnt down part of block E  and luckily  the fire services arrived and arrested the situation on ground. Some students were arrested by the Police ".
When contacted on the matter, the Adamawa state police command spokesman, DSP Suleiman Nguroje said police has arrested some students in connection to the riot.