The Benue Bloodbath and Garba Shehu's Baffling Ignorance
By Aondover Emmanuel
It is no longer news, that Chief Samuel Ortom will complete his second term as Governor of Benue State on May 29, 2023. It is equally incontestable that the Governor will go into the history books as one of the most criticized (rightly or wrongly), abused and vilified depending on the standpoint of each school of thought. The summary of the current Government of Benue state would be that it has seen it all.
It will be therefore proper to say it has had to witness the good, the bad and the ugly. It has had to make the people endure and enjoy a mixed feeling.
The grand summary will be that the Governor Ortom regime means different things to different people and this has sufficiently captured the many sides of this outgoing administration in Benue State. To use one shade of the Ortom's administration in nearly 8 years to make conclusions will therefore be a wrong methodology, but to place it on the peculiarity and situationality will be the most appropriate.
His inability to keep a clean sheet on worker's salary payments and entitlements of retired civil servants in the State is clearly unacceptable, but to use that as the only yardstick will also be uncharitable and lazy assessment given the myriads of challenges he has had to contend with.
That this unacceptable situation could not witness mass protests from the relevant labour unions also means the situation was well explained and fully understood that it was not deliberate.
This, by a way of digression explains and underscores the essence of communications and constructive engagements he has deployed to maximum use. We therefore recommend that people in Government must adopt. What that tells us is that at every point, leaders must be judged on the peculiarity of the time.
Leaders who emerged in times of peace must account for what they used the peace to do. Likewise, leaders who emerged in times of war should explain how many battles they had won. And for Governor Ortom, the battles he has won in defence of his people, their land, property etc, should be the yardstick.
He assumed office and worked in times of war and internal conspiracies. Then on the heels of his emergence and situationality, the Benue Governor will equally go down into history as the most outspoken on the key issues of the protection of the lives and property of the Benue people when it mattered the most.
The position of his traducers and cohorts, of those who have vowed to take-over the Benue land or better still, turn it into an open grazing field will then need to take the back seat when history books are flagged open.
The Anti-Open Grazing and Ranches Establishment law in Benue State becomes the proper start point. It is no-doubt that this hasn't sat well with pastoralists and their sponsors who claims their source of livelihood must be guaranteed only when they are free to feed their herds on other people's farm lands and and farm yields or be licensed to unleash violence and killings of the resistant farmers.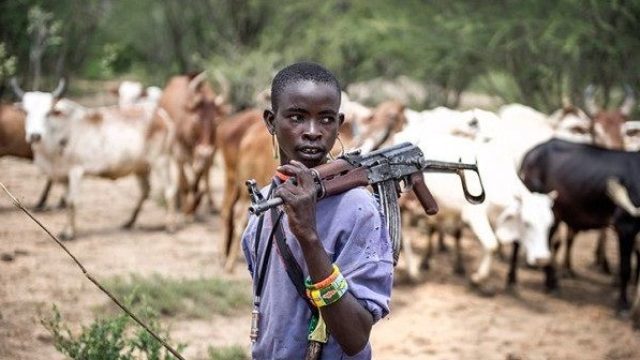 A pictorial impression of the killer herdsmen
This mindset refuses to take into consideration that they could be infringing on the rights of others whose means of livelihood is farming. The pastoralists claim they are not aware that feeding on the farmer's farms will trigger a resistance and violent confrontation. That's the mindset and thoughts of a potential conquest agenda.
This group of people have failed to realize that the law is a product of thoughtfulness and was designed not only to reduce the headers and farmers clashes, but to also encourage ranching as a new global order. They saw it as anything antagonistic. But even if it were antagonistic, the antagonists have a sound case. Farmers cannot be slaves in their own country.
These rampaging herders deliberately argue on reopening cattle-routes, but will not accept that development have caught up with cattle-routes across Nigeria. They are ignorant that modern research has shown that ranched cattle are healthier and attracts more monetary value. They apparently will not understand that beef is undoubtedly a huge market globally and fat and healthy cows produces more valuable and highly priced beef.
They have similarly refused to appreciate the fact that the law seeks to even provide security of their cattle against rustlers and equally protects the headers whose chances of wondering into dangerous bushes are quite high and consequent upon this, there are those who strongly believe that the venom of the pastoralists and their sponsors is wrongly expressed and completely misplaced.
It is okay for the Presidency, through Mallam Garba Shehu, the villa Spokesman to be joyful over the inability of Governor Ortom who have become the 'sharp nail' in their ribs to win his senatorial election. But the Presidency must equally understand that the governor's loss was a product of other political factors well known to everybody and has nothing to do with been outspoken against the carnage in Benue.
Let the Presidency make no mistakes to assume that the people of Benue State will clap for any Governor that fails to speak up against these unprovoked killings and bloodbath. The result of that senatorial election only enforces my conclusion, and perhaps many others that politics and victory are far from seeming public opinion. The summary would be that intra-party bad behaviour and in-fighting may have cost Ortom his senatorial election. He played dangerous politics so daring that only the courageous in his mould would engage in.
Unfortunately, he didn't guard his territory well and even some of his close allies stabbed him at the back.
Ortom's disposition during the last elections was a clear manifestation of African's transitional leadership challenges. So for Garba Shehu to lump it up as he did is just laughable and shows his baffling ignorance.
Suffice to say that the primary essence of Government as enshrined in the Nigerian Constitution of 1999 as amended is the protection of lives and property.
In this regards, Governor Ortom takes the credit as one who have stood firm in the protection of the people who elected him against external aggressions and attacks. And it is preposterous to assume that Ortom will be responsible for the killings of the Benue people who have been kind to him. He would stand to gain nothing politically, morally and religiously by so doing.
The Miyetti Allah and its affiliates that threatened blood bath in Benue State if the Anti-Open Grazing Law dully passed by the Benue State House of Assembly and signed into law by the Benue State Governor was not proscribed should be arrested and prosecuted because, they have no powers to adopt self-help measures over a law dully passed and signed.
This again makes the position of Mallam Garba childish. He should have known that only an ineffective President will blame a state Governor as standing against an end to killings in a State that makes the country he or she presides over.
For avoidance of doubts, there is still blood bath in Benue State. As we speak, women, men, children including pregnant women are been slaughtered on a daily basis and there can't be no worse culprit than the Commander in Chief of the Armed Forces and President of Nigeria.
There could be issues and the lack of professionalism on the part of the Livestock guards floated by the Benue State Government to enforce the Anti-Open Grazing Law, but to blame the Guards will only make sense if the Federal Government will be first blamed for inability to stop the killings. There won't be any Livestock Guards if the central Government acts swiftly and put its foot on the ground.
The Governor himself escaped attacks from the enemies a couple of times. He had to conduct mass burials in his first term. His local Government of Guma has fallen to herdsmen attacks many times. Just recently, Otukpo Local Government was attacked.
Farming in Benue state have become the big risk. Priests have been murdered in churches by herdsmen. There is no-local Government in Benue State including Makurdi the State capital that is an exception. It is a total blood bath as promised by Miyetti Allah, yet the Government of the day and other protagonists of open grazing are of the myopic illusion that the Government of Benue State should be blamed for the attacks.
Profiling and marking the Benue State Governor for his courage and boldness to protect the people of his state against external attacks is even the reason he's loved by his people. And to imagine a Benue without the Anti-Open Grazing Law and refusal of the Governor to speak out is a huge nightmare. In all of these, Garba Shehu should know that Governor Ortom will be remembered for his boldness, courage and stand against oppression.
Aondover is a Public Affairs Analyst and writes from Abuja