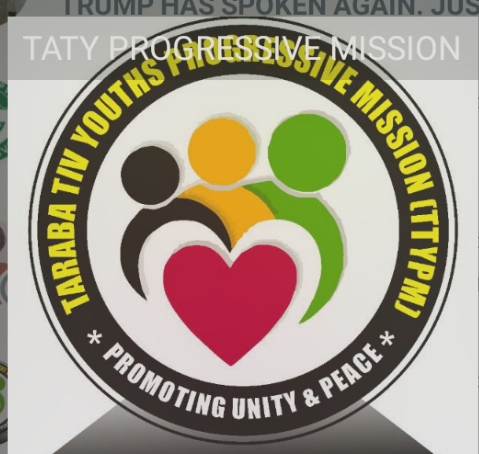 Taraba Tiv Youths distant selves from purported endorsement of Sen. Bwacha
By Worldview Magazine
The Tiv youths of Taraba State under the aegis of Taraba Tiv Youth Progressive Mission (TTYPM), have distant themselves from the publication of one Mr Torhile Tor-Agbidye been circulated on social media stating that the Tiv youth of Taraba State have endorsed Senator Emmanuel Bwacha as the governor of Taraba State come 2023.
In a press release signed by the chairman of the association, Mr. Fanen Kaduna and issued to journalists in Jalingo, the group described the action of Mr Torhile Tor-Agbidye as a desperate move to achieve his personal political ambitions.
According to the release, a decision of such magnitude should have reflects the consent of the entire youths of the Tiv community in Taraba State and not a self serving agenda of an individual.
The group also cautioned some members of the Tiv Community who have abandoned their assignments and responsibilities, going after candidates in the state using the name of Tiv Community to get personal material benefits from them against the collective benefits of the Tiv people of the state to desist from such unrealistic statements especially now that campaigns are about to commenced so as not to heat the polity in the state.
Part of the release reads; "We want our people to know that everybody has the right to write for or endorse any candidate of his or her choice but nobody should ever use our name without our consent to endorse a candidate to achieve his personal ambition.
"If we may asked, where did the youth that endorsed Sen. Bwacha held their meetings and arrive at the decision of endorsing Senator Emmanuel Bwacha? who and who where there and what was the yardsticks that led them to take the decision?
"The Tiv youth of Taraba State are not against Sen. Emmanuel Bwacha, any other candidate or even any political party in the state. However, We have not endorsed anybody and as youth of Taraba State, we should have a sense of decorum inorder to earn the respect of our elders and consolidate our collective efforts in making Taraba State a better place for all of us."
The release furthermore advised that instead of taking isolated stands, the youths of Tiv Community in the state should work collectively under the platform of TTYPM, which embraces all Tiv youths in the state and had long been projecting the collective interest of the Tiv community in the State.