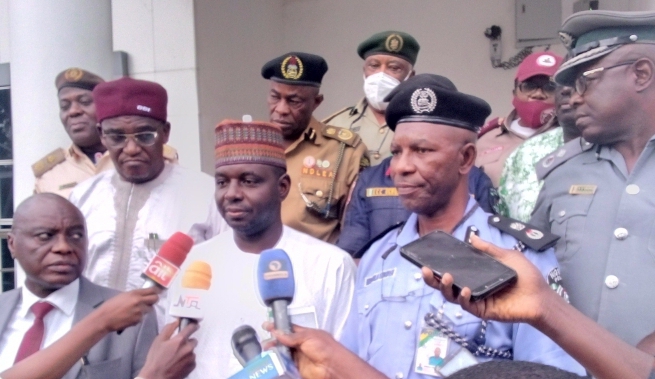 Taraba: Security Agencies assure Muslims of peaceful salah celebration
Jethro Yerga, Jalingo
In spite of the various security challenges bedeviling the country, Security Agencies have assured muslim faithful and the people of Taraba State that they are combatant and well prepared to secure the State and properties of the people to enable the Muslim faithful to once again, have a secured and peaceful salah celebration in the state.
The Taraba State Commissioner of Police, CP Abimbola A. Sokoya, gave this assurance Tuesday, on behalf of all the Security Agencies operating in the State shortly after their State Security meeting in Jalingo, the Taraba State Capital.
The commissioner stated that, the Taraba State Police Command had already prepared over 3,500 officers, ready to be deployed across the state, aside other officers of the other Security Agencies to secure the State for the festive period.
"Our officers are ready for the task. We are assuring the good people of Taraba State that we have put in place all the Security majors that will guarantee a very peaceful Salah celebration". He stated.
The Commissioner who regretted that hoodlums had continued to device different means of disrupting the relative peace of the good people of Taraba State, emphasized that Security Agencies in the state would never rest on their oars till hoodlums in the State are forced to either leave the state or turned over new leaves.
He revealed that recently, the Police Command in the state arrested two other suspects connected to the recent explosion incidence in Jalingo who are now undergoing interrogations and would soon be arraigned in the state.
The Commissioner called on members of the public to cooperate with the Police
and other Security Agencies in the fight against crime in the state.
In a remark, the Taraba State Commissioner of Justice, Honerable (Chief) Samuel Baba Ada, said the Taraba State Government would not hesitate to invoke legal action against any individual or group find wanting of any act, capable of disrupting the peace of the people during and after the festive period.
He also assured the people of the state that the Taraba State Government would do every thing possible to grant amnesty to inmates in the state if there are deserving ones among them as the act had become common during the festive period.