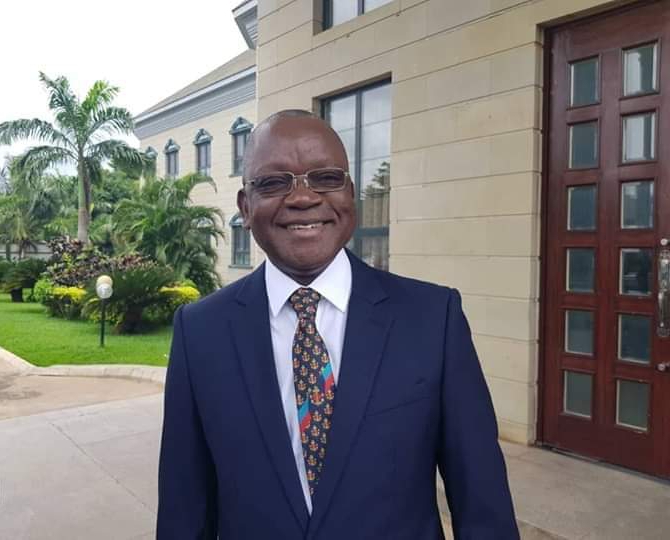 By Williams Ayooso Aliah
The prolonged legal battle between APC's Governorship Candidate, Emmanuel Jime and the PDP's Governor Samuel Ioraer Ortom has come to a climax, as the Supreme Court affirmed the election of Samuel Ortom as the governor of Benue State. With this judgment, the coast is clear, with nothing for now, to threaten Samuel Ortom's ambition to serve his second term as Governor of Benue State as the apex court has cleared every electoral constitutional hurdle on his way to 2023.
With this feat, his name is listed as the state's most powerful politician. But Governor Ortom has fought series of bitter and often acrimonious battles to clinch this title. But he has fought even more formidable battles to break free from the shackles of poverty.
It all started in 1979 when Ortom dropped out of Idah Secondary Commercial College, Idah, the present Kogi State. His father's retirement from the Nigeria Police Force in 1979 brought an abrupt end to his dream of completing formal secondary school education on account of inability to pay school fees.
This marked the starting point of the then young Ortom's life as a hustler, fighter and winner. Instead of succumbing to defeat, staying at home and maybe delving into peasant farming with the attendant rustic life in the rural community, as is the culture of the Tiv rural dwellers, he moved into the Gboko motor park as a tout. His burning passion to carve a decent life for himself propelled him to learn driving a motor vehicle and became a commercial vehicle driver. But he did not give up on his dream for education. While he was still in the commercial motor driving business, he enrolled by correspondence into the National School of Salesmanship, Manchester. He proceeded and obtained the General Certificate of Education, (GCE) as well as Diploma in Salesmanship. This effort opened a new vista in Ortom's life, thereby redirecting his future on the path of academic knowledge. Inspired by his new found knowledge, he acquired more certificates such as Diploma in Journalism, Advanced Diploma in Personnel Management and Master's Degree in Public Administration, respectively. Ortom crowned his academic excellence with a Doctor of Philosophy, Ph.D, from the Commonwealth University, Belize, through a distant learning programme, bagging a Doctorate Degree in Conflict Management.
Prior to these academic conquests, in 1991, Ortom launched himself into the world of politics, when he was elected to the exalted seat as Executive Chairman of Guma Local Government. From his first taste of elective office he gradually ascended the ladder of politics with its attendant intrigues and horse trading, he scaled hurdles, overcome challenges and deservedly earned himself a place in the mainstream political leadership circle, when he was appointed by the Goodluck Jonathan administration to serve the country as the Minister of State, Industry, Trade and Investment in July 2011 and later Supervising Minister of Aviation. Before then, he was the National Auditor of the then ruling People's Democratic Party, just as he served as the Director of Administration and Logistics in the Goodluck/Sambo Presidential Campaign Council from 2009 to 2011.
In the business sector, Ortom made his bold marks blazing a trail in printing, manufacturing and commercial agriculture. He was the Founder and Pioneer chairman, Oracle Business Limited the firm that owns Goshen Water which produces bottled and sachet water; Oracle Oil Mills, Oracle Printing Press, Oracle Plastic Industry as well as Oracle Farms Limited which handles mechanized farming and animal husbandry.
However, the man did not make it on a bed of roses. At the highest altitude of his political success, Ortom started encountering more challenges. The atmosphere was stormy, rough and treacherous in the political mine field rigged with booby traps. Yet, somehow, someway by dint of his often-professed rugged faith in God, unwavering determination and driven by the fear of failure, he broke through mountainous obstacles and made his way into a victorious future. Many times, he found himself on the crossroad of political aggression and many times he survived miraculously the orchestrated and formidable challenges that confronted him. Instead of constituting a stumbling block, circumstances and perhaps fate arranged these battles as a stepping stone to actualize his lofty ambitions. The irony of Governor Ortom's struggles in the school of leadership is that, most of his steps towards problem resolution initially seem unpopular with the people, but they often yield such results that he aspires to achieve, sometimes to the benefit of the people who initially opposed his initiatives. His fighting spirit appears to be inborn and like a proverbial cat with nine lives, he is yet to lose any political battle. Curiously, the god of politics is always by his side as at times certain defeat appears to be staring him in the face but he often finds a way to emerge triumphant.
In 2015, when he lost out at the 2015 PDP gubernatorial primary election, he courageously called the bluff of the party leaders and switched over to the All Progressives Congress, APC. He got the ticket of the party in circumstances that were considered by a section of the party to be controversial. Emmanuel Jime, who was a frontline aspirant on the platform and who ended up as the party's candidate in 2019, challenged his emergence in the law court. But Jime, even as an astute lawyer got his say and Ortom got his way. Thereafter, he went into a keenly contested election, against former Governor Gabriel Suswam's anointed candidates who wielded enormous power of incumbency with a huge war chest at his disposal coupled with his access to the instruments of state power which the PDP then wielded at the federal level. Here, he teamed up with his political allies and tactically clipped the wings of the then incumbent Suswam. His anointed Governorship Candidate, Rt. Hon. Terhemen Tarzoor was floored and he, Suswam, lost his bid to get elected into the Red Chambers of the Senate.
During his first tenure in office, Ortom courted a lot of controversies. It was obvious that his hands were blistered in handling affairs of the state. He accused his predecessor, Gabriel Suswam of not only looting the treasury but leaving the state with a liability of over N170b. Suswam who is also considered as an experienced hand in the martial arts of politics fought back with every arsenal at his disposal from his vantage platform of an opposition figure being hounded and haunted by his successor. It was a fierce battle that left both sides bruised with 'political casualties' on both sides. At the end, Ortom deftly enlisted the support of some security agencies and again, Suswam was overwhelmed and succumbed to the superior firepower of Governor Ortom with his hands on the levers of power.
For the better part of late 2017, the state was asphyxiated by a vicious and coordinated attack by the Fulani herdsmen worldwide. The attacks were heightened by the promulgation of the Prohibition of Open Grazing and Ranches Establishment Law which the administration of Governor Ortom enacted through the Benue State House of Assembly to checkmate the menace of farmer – herder clashes in the state. The situation climaxed with the killing of 73 Benue people. But this was just but the beginning of another battle, as his insistence to conduct the mass burial for the victims of this pogrom set him on a collision course with the Federal Government. It was a serious battle, but in the end, the Federal Government succumbed to the pressure from Ortom and mobilised what it called Operation Ayem Akpatuma to check the menace of herdsmen and other related crimes in the sub region. It is a known fact that the raging anti-open grazing debate in the country is provoked and promoted by Governor Ortom's firm and uncompromising position to stand by his people irrespective of his personal political interests.
Ortom's next challenge emerged in the form of the battle for the soul of Benue State where the Guma born farmer had set his sight for a second term to terminate in 2023. There was a formidable coalition led by a former benefactor who called most of the shots in his first term. This coalition's objective was to humiliate Ortom out of office. The coalition, which comprise of the herdsmen leadership and some forces from the Federal Government, had the popular Senator George Akume as its arrow head. Here too, Ortom fought back, using all that he had and all the political skills he had learnt in his eventful political career.
When the heat became too much to bear and it appeared the forces arrayed against him were in no mood for compromise, he quickly decamped to the opposition PDP for political sanctuary, a move that many described as a huge political calculation. But he did not care. He used the platform of PDP, not only as a buffer zone of his political warfare but also a destination of his ultimate ambition, which is to anchor his political ship safely in 2023. In the end, he contested and won his second term as governor against all odds and against all permutations from political analysts who were of the view that he would definitely throw in the towel against a formidable display of the so called 'federal might' being used by his traducers to intimidate him.
With the judgment by the Supreme Court, the storm is over. He has given a good fight and scaled all the hurdles that were planted on his path and paved way for his greatness. Today, he has fulfilled his ambition as the strongest politician in the state. A politician that ventured into the 'lion's den' and came out to tell the story.
Governor Samuel Ortom's story is a metaphor of resilience and destiny. It is a story of a man who dropped out of school, served as motor park tout, endured the indignity of being labeled as such, yet, he was not deterred by the hard blows which life has dealt on him. Through difficult means, he acquired education, just as he navigated himself through the country's difficult terrain to make way to greatness. He is an epitome of an African child, who through focus and determination transformed himself from grass to grace.
Williams Ayooso Aliah, Executive Editor, WORLDVIEW MAGAZINE, writes from Jalingo.