TIV ELDER CHIDES CAMPAIGNERS OF CALUMNY AGAINST AGBU KEFAS
By Joseph Ternongo
A Taraba State elder and CHIEF TEGHTEGH SHAAKAA ADAGBA, has reiterated his call on the Tiv people of Taraba state to vote for the PDP candidate, Lt. Col. Agbu Kefas rtd, in the Saturday governorship election. He also chides some Tiv youths who are inciting the Tiv electorate against Kefas on the basis of tribalism.
Elder Teghtegh Shaakaa who hail from Kadarko Ward of Donga LGA, stated this in an exclusive chat with Worldview Magazine in Jalingo recently. Elder Shaakaa, who is also a Special Adviser to the Governor of Taraba State, as well as Chairman, Forum of Taraba State Tiv Political Appointees said a vote for Kefas Agbu is a vote for the Tiv socio-political renaissance in the state.
Elder Shaakaa also described what he termed as the campaign of calumny by some Tiv youths, against Agbu Kefas as a dangerous precedence against the Tiv people in the state.
'Some of our youths have embarked on a dirty political voyage, inciting innocent Tiv electorates that they should not vote Agbu Kefas on the basis that he is a Jukun man. I want to state categorically that they are not only on their own, but they are doing this either ignorantly or selfishly, or both.
'I want to use to this medium to state categorically that the perception and activities of these few youths is not a reflection of Tiv ideology on Taraba politics. Their action is self-serving. Their target is to weave sentiments in the physic of electorate and attract votes of our people on the side of a governorship candidate of their choice.
'On behalf of elders and the peace loving Tiv people of the state, we disassociate ourselves from the antics of those desperate political actors, who are seeing nothing wrong in deploying tribal sentiments and ethnic bigotry to achieve political goals. The Tiv people of the state have a good background on voter education as well as the state's political dynamics, even as they are resolute in the promotion of harmonious relationship between them and their neighbours. Therefore, such perceptions, oscillating these politically ambitious young men is a dangerous precedence that elders must stand up against.'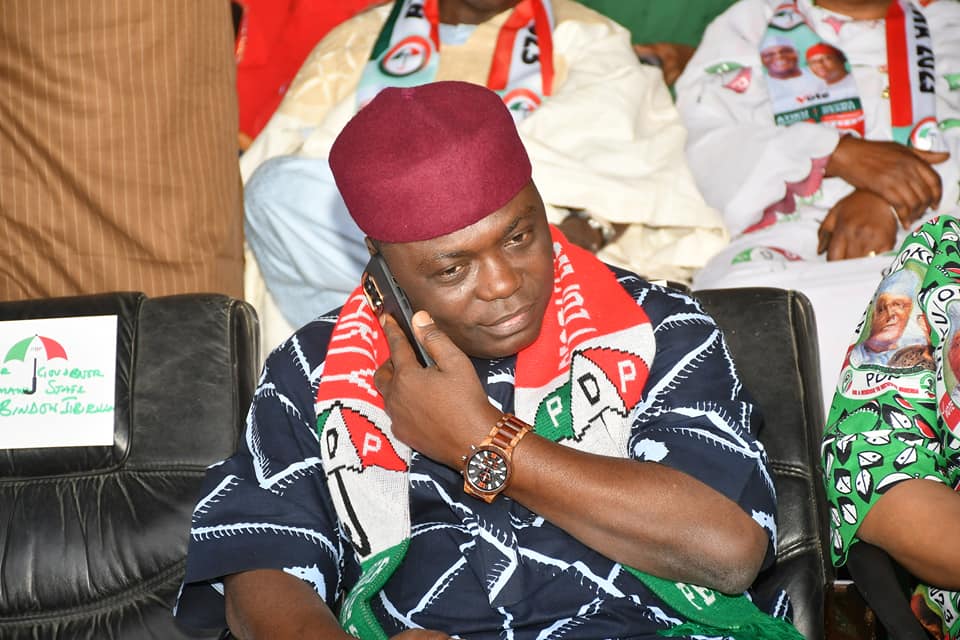 The octogenarian politician stated.
He further reiterated that in the exercise of freedom of political association, actors should not drag the good name of the Tiv people of Taraba State, which they have earned on the state socio-political space over the time, into the pit of their shallow political ambition.
'Whether we like it or not, Jukuns are our neighbours. The Bible also told me that we should love our neighbour as ourselves. If there are grievances between us, the best approach is to continue in the exploration of short term and long-term   measures to resolve it. Formulating a sentiment-soaked ideology that Tiv should not vote Jukun, is of all the ideas, the most uncivilised.' He stated.
The elder stateman and politician, thereafter went on and adduced more points on why the Tiv people of Taraba state must vote Lt. Col. Agbu Kefas of the PDP.
'Kefas is the hope for a better Taraba.  Agbu Kefas has a lot of friends in Tiv. He studied in the same school with lots of Tiv people. At the peak of the last Jukun Tiv crisis, he was one of those Jukun people that were synergizing with concerned Tiv people to search for solution.
Aside this, he is a devote Christian. One of the cardinal commandments of God is that, thou shall not kill. I'm sure that with this background, a Tiv man will never be killed for whatever reason under his watch. Aside these, the young man has a vibrant intellectual background. He was an intelligent officer during his service in the Nigerian Army. He is well educated and very principled.
Looking in his face, you would notice desire, hunger and taste for service to his people. Ironically, you cannot see desperation on his face and in his attitude.
'You cannot manipulate the conscience of such a person. You cannot mislead such a person and such a person cannot descend so low to serve as a tribal or religious bigot. For me, Agbu Kefas symbolizes these virtues. He deserves our vote.'
He stated