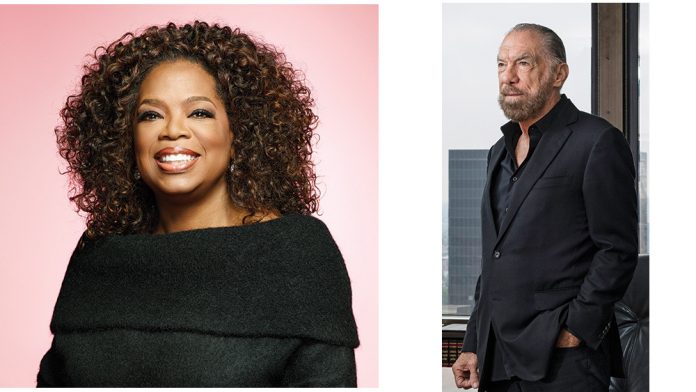 Billionaires make up an elite class. There are only about 2,208 billionaires in the world, with America leading the way. Many in this exclusive club had a running start on wealth thanks to affluent families and a first-class education.
But there is a tough and mighty breed of self-made billionaires who stand out from the rest. They are the ones who started at rock bottom and found a way to propel themselves beyond their wildest dreams, all through their wits and sheer force of will.
The stories of how they turned adversity into billions are inspiring and motivating. They show that anything is possible with creative thinking, hard work and maybe a little luck.
Oprah Winfrey
From a poor Mississippi farm, Oprah Winfrey became a legendary talk show host. The woman now known as the "Queen of All Media" rose from poverty to become the most-watched daytime television show host. Oprah Winfrey was born on a small farm in Mississippi to a single mother, and was initially raised by her grandmother, who could only afford to dress her in potato sacks.
She had a difficult, unstable childhood, often with little supervision, and was molested by family members. In her teen years, her father made education a focus. She won a speaking contest and subsequently a full scholarship to Tennessee State University. She began working in local media as a teenager and eventually landed a job as an anchor on A.M. Chicago, a morning talk show.
Her style captivated audiences and she turned the show, which was quickly syndicated, into a smash hit. Soon she was offered an acting role in the screen adaptation of The Color Purple, which catapulted the start of her acting career. The Oprah Winfrey Show became her signature success, with 10 million viewers daily. She is the third woman in history to own and produce her own show. Her name has become an empire. Forbes estimates her net worth to be $2.8 billion (2018).
Larry Ellison
Larry Ellison dropped out of college twice before finding his true calling at Oracle. Larry Ellison, the founder of Oracle Corporation, was born to a single mother and dropped out of college twice before he found his way. His multinational database software and technology corporation has annual revenues of over $37 billion, and Forbes estimates Ellison's net worth to be $56.5 billion (2018). Yet Ellison began life as a sickly child. He was adopted by his mother's aunt and uncle after he came down with pneumonia as a baby.
Ellison initially did well in college, and was named science student of the year, but he dropped out after his adoptive mother passed away. He enrolled at a different college, but left after one semester.
With little money to his name, he moved to Berkeley, California, where he spent a decade bouncing from job to job. He on the first IBM-compatible mainframe system. From there he and two colleagues founded Software Development Labs, and landed a contract to build a database management system for the CIA, which they called Oracle. He has been ranked the fifth wealthiest person on the planet. eventually became a computer programmer at Amdahl, and worked on the first IBM-compatible mainframe system. From there he and two colleagues founded Software Development Labs, and landed a contract to build a database management system for the CIA, which they called Oracle. He has been ranked the fifth wealthiest person on the planet.
Jan Koum
Jan Koum worked as a janitor and collected food stamps before launching WhatsApp. WhatsApp founder Jan Koum went from living on welfare and working as a janitor to creating one of the most globally popular messaging apps. Koum was born in the Ukraine. He and his mother immigrated to the U.S. when he was 16, settling in Mountain View, California.
His mother babysat and Koum worked in a grocery store. He taught himself computer networking by reading old manuals, and eventually landed a job at Yahoo. There he met Brian Acton, who would later become a co-founder of WhatsApp. Koum was inspired to launch WhatsApp after buying an iPhone and realizing the potential of the growing app industry. His net worth is now estimated to be $9.1 billion by Forbes (2018).
be $9.1 billion by Forbes (2018).
John Paul DeJoria
John Paul DeJoria was homeless before he found his niche in hair care. Imagine living out of your car and selling shampoo and conditioner with the hopes of one day making it big. Sounds like a pipe dream, right? But John Paul DeJoria did just that, founding the hair-care company John Paul Mitchell Systems with his partner when the two pooled $700 to launch their business.
DeJoria went on to co-found Patron Spirits Company and the House of Blues nightclub chain, as well as having interests in a number of other businesses. He is worth an estimated $3.4 billion, according to Forbes (2018).
As a child, DeJoria lived for a time in a foster home in East Los Angeles and joined a street gang as a teenager. He endured being homeless several times, including when his then-wife abandoned DeJoria and their toddler son, taking all their money with her. He ended up working for several different hair-care companies and became an adept salesperson.
However, he kept getting fired, often because he didn't fit in with the company. He and a hairdresser friend, Paul Mitchell, decided to launch a business together, with the goal of selling luxury products at affordable prices. The business struggled for two years before it started to take off. His organization became the first beauty company to take a stand against animal testing.
Howard Schultz
Howard Schultz sold his blood to pay for college before launching Starbucks. The man who revolutionized the coffee industry and is worth an estimated $2.8 billion (Forbes 2018) grew up in a housing project in Brooklyn. When Schultz was 7, his father, a truck driver, broke his ankle on the job. He had no health insurance or worker's compensation and the family was left with no income. It was a defining moment for Schultz, who has said he saw the hopelessness and despair his parents went through during that time.
To pay for college, Schultz worked as a bartender and even sold his own blood. In the early 1980s he joined Starbucks, which had just a few stores in the Seattle area. He saw the potential for the small brand to grow nationally while maintaining a quality product. Unable to convince the company of his vision, he ended up leaving the company, only to acquire the brand in 1987. America quickly developed a taste for Starbucks, and the company went public in 1992. By 2000, Starbucks had grown into a globally recognized brand with more than 3,500 stores and $2.2 billion in annual revenues WV
EVENT OF THE MONTH
One of the events that decorated the social landscape of the country, is the solemnization of the Holy matrimony between Mercy Iwuese Emmanuel Anongo & Kingsley Msen Swende. The event took place on 31st March, 2019 @NKST Church, Mayo Dasa, Jalingo, Taraba state.