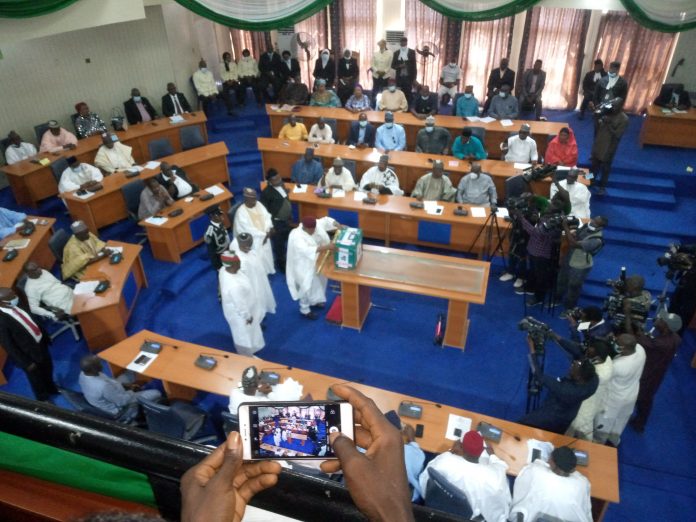 Taraba Assembly Passes 2022 appropriation bill into law
Jethro Yerga, Jalingo
The Taraba State House of Assembly has passed the 2022 approprietion bill into law.
This followed a motion moved by the Majority Leader, Hon. Dauglas Yahaya Ndatse, Member representing Donga constituency and seconded by the Minority Leader, Hon. Abubakar Yahuza, member representing Jalingo 1 constituency.
The bill which was passed into law, is jacked up by three billion naira against the earlier figure presented before the House of Assembly by the Executive Governor of Taraba State, Arc Darius Dickson Ishaku.
Recalled that the Governor had on 19th Nov; 2021 presented a "Budget of Hope and Consolidation", estimated at one hundred and forty six billion, seven hundred and eighty one million, six hundred and fifty three thousand, six hundred and seventy one naira, eighty two kobo. (N146, 781, 653, 671, 82) for the year 2022 with a 3.46% increase over the 2021 budget to the Taraba State House of Assembly.
But after close examination and scrutiny, the House considered one hundred and forty nine billion, seven hundred and eighty four million, eight hundred and ninety six thousand eighty two kobo (149, 784, 896, 396: 82) as most appropriate and passed it into law.
The 2022 budget now has recurrent expenditure of N78,072,587,679,90 and a capital expenditure of N71,712,308,716,82.
Briefing newsmen shortly after the sitting, The Speaker, Taraba State House of Assembly, Hon Joseph Albasu Kunini said the budget was jacked up because some sectors of the State were not given the desired allocations.
"During our examination of the budget submitted to us by the Executive Governor of Taraba, Arc Darius Dickson Ishaku, we discovered that some sectors did excellently well in the previous year and so we believed that they will performed better if they have more allocation.
"So the House decided to increase the the amount allocated to such sectors to enable them perform even better and to capture other areas". He stated.
Meanwhile, the House during the sitting observed a special session to honor General Theophilus Yakubu Danjuma's (rtd) birthday.
In their separate speeches, members eulogized Gen TY Danjuma's contributions to the development of the state, Nigeria and the whole world in general. They congratulated the general and wish him God's protection and long life.
Also, the Taraba State Audit Service Commission bill being consider by the House of Assembly, passed second reading during the sitting.