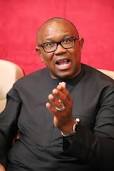 Obi flaunts capacity to fix Nigeria's economy if elected president
Jethro Yerga, Jalingo
A former governor of Anambera State and presidential aspirant on the Platform of the People's Democratic Party (PDP), Mr. Peter Obi has said that he has all the necessary requirements to fix Nigeria's economy if he is elected President of the Federal Republic of Nigeria.
Obi stated this in Jalingo, the Taraba State Capital during his tour in the state to interact with deligates ahead of the party's primary elections.
The former governor who made several comparisons between Nigeria and other countries including Kenya, Morocco, South Africa, Egypt and Vietnamz among others remarked that the GDP growth of these countries has grown far above Nigeria and something needs to be done urgently to fix the economy.
He maintained that Nigeria needs somebody with a versatile knowledge of the dynamisms of economy to be able to fixed the economy, maintaining that he was the best person for the job.
Mr Peter Obi who frowned at the helpless security challenges bedeviling the country under the APC administration urges Taraba State delegates to consider the future of their children and vote wisely, especially that what they do now would definitely affect their generation.
While responding, Governor Darius Dickson Ishaku assured the presidential hopeful that the state would give him the necessary support he desired.
Ishaku who lamented the security challenges of the country described Peter Obi as one of the best brains in the party who are capable and willing to take the country out of the jaws of poverty.
He disclosed that the knowledge of Mr Peter Obi on the economy is excellence and with him at the helm of affairs the country would no doubt be revived.
"Nigeria is just a big elephant that can not produce anything for her self. We as a party must put our ass together to get a formidable force in other to salvage Nigeria. Our party, PDP is the only party that can change the present narratives in the country". He stated.