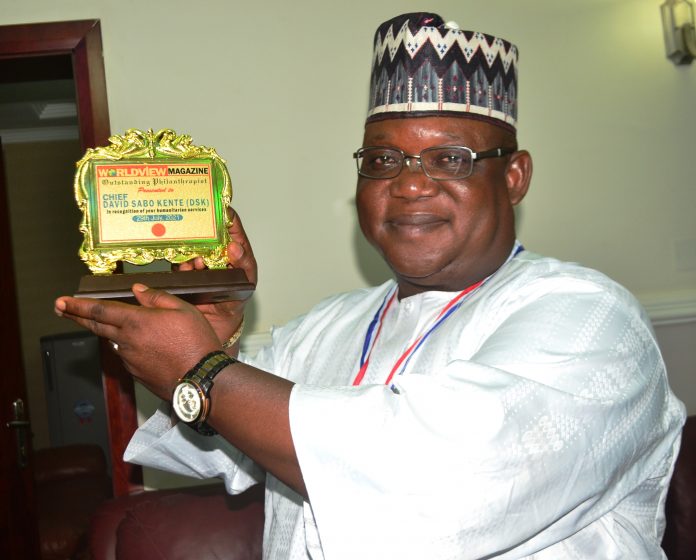 LAURELS FOR A VISIONARY PHILANTHROPIST
FOR HIS UNFLINCHING AND UNWAVERING HUMANITARIAN SERVICES TO THE PEOPLE AND HIS INNOVATIVE EFFORTS IN CAPACITY BUILDING, CHIEF DAVID SABO KENTE HAS WON WORLDVIEW MAGAZINE, MOST OUTSTANDING PHILANTHROPY AWARD; WRITES SARAH MUDWA, WHO WITNESSED THE CEREMONY.
Few days ago, Chief David Sabo Kente, known as DSK, has bowed his head to be draped with the award of the most outstanding Philanthropist by Worldview Magazine team. The event took place at his Wukari country home. While explaining the reason for the award, Williams Ayooso, Editor in Chief who led the management team to perform the ceremony said, the award was in recognition to the Chief's unflinching support and capacity building initiatives to the people in his state and beyond.
He stated that although, Chief David Kente did not need any introduction on the landscape of Taraba State in Particular and the North East region in general, the need has arisen to bestow on him a special recognition. Emphasizing on the precious nature of the Award, the team leader said, since the establishment of the company seven years ago, it has given awards three times, two of which is to the awardee. He eulogized the consistency in the Chief's humanitarian strides, which he said, has rescued many people from the abyss of economic retardation.
While calling on other leaders in the region to emulate the qualities of the Taraba born philanthropist, Mr Ayooso said Chief Kente is like Octopus, having his hands in many successful areas of human endeavour.
"As we celebrate Chief David Sabo Kente for his humanitarian services, others are celebration his entrepreneurial drives that is generation employment within and outside Nigeria. He is not only a philanthropist; he is also a technocrat and a principled politician. We need more of him in the country, to transform our economy and grow our democracy." He said.
While Worldview magazine team was making the presentation, Kwararafa University community was waiting to present their Award. And it came to past as a befitting coincidence that theirs was also for his outstanding Philanthropist gestures.
In his presentation, Mr Jacob Sesugh Angahar rolled out the support and intervention measures that Chief Kente has provided to the University, particularly in the General Studies Unit. He stated that the award was not only a signpost of appreciating his humanitarian and capacity building gestures to the University and larger community, but a pillar of recognition and profile of integrity. While praying to God for his protection, he urged the Awardee not to relent in his efforts.
In his response, Chief David Sabo Kente said he has negative perception of awards as a pampering and flattery instruments, nevertheless, he found the awards from Worldview magazine and the Kwararafa University very compelling. Adding that they are community based and from sources that have a versatile knowledge of his antecedents.
While appreciating the worldview magazine for their resilience and consistency in the media environment, he encouraged the team to remain glued to the ethics of the profession be stead fast in the promotion of ideas and issues that will attract development in North East geo-political region and Taraba State in particular.
To the Kwararafa University, Chief Kente said, he will continue to support the institution through his personal efforts as well as recommending it to North East Development Commission, so that they too can benefit from the several intervention projects that are outlined by the Commission.
Highlight of the event was the presentation of the awards, reading of the citation and group photography.
Chief David Sabo Kente was born on the 3rd of March in 1965, in Wukari town, Wukari LGA of Taraba State, he has consistently shown and demonstrated a rare combination of courage and toughness of a lion, innocent and softness of a dove. He had his earlier education at the Local Education Authority Primary School from 1972-1978. Armed with First School Leaving Certificate, he proceeded to Mbiya Government Secondary School Takum from 1978-1983 where he obtained West African Examination Council certificate (WASC).
Realizing that education is the gravitating factor that swings the pendulum of other human endeavors, he enrolled into the school of basic studies (SBS) program of the prestigious Ahmadu Bello University (ABU). He successfully completed the SBS in flying colours and was admitted into the full programme of the university where he graduated in 1988 with Bsc Accountancy. Chief David Sabo Kente served the mandatory National Youth Service Corps (NYSC) programme in Kebbi Local Government Secretariat, in the old Sokoto State as monitoring and Evaluating Officer with the then Directorate of Food, Road and Rural Infrastructure (DFRI).
After his NYSC in 1989, he joined the services of the then Gongola State Government in the Ministry of Agriculture as an Accountant under the Man-Power Reserved Scheme till September 1989.
Chief David Sabo Kente was absorbed into full state civil service as an Accountant Expenditure in the Ministry of Agriculture and later seconded to the then Gongola Agricultural Development Programme (GADP) headquarters, Yola in July 1999. Chief David Sabo Kente was promoted to the position of Financial Accountant in the same organization and later became the zonal Accountant, Mubi zone in the same programme.
Following the Creation of Taraba State in 1991, Chief David Sabo Kente transferred his services to his new state and consequently, was made the zonal Accountant for Wukari/Takum zones of Taraba Agricultural Development Programme (TADP) and was transfered to Gembu in the same capacity. In 2002, he studied for Masters Degree in Business Administration at the Federal University of Technology Yola (FUTY) not before he was admitted into the membership of the Association of National Accountant of Nigeria (ANAN), an institute that he is currently a Fellow of. From 1994-1997, he served as an Accountant in charge of Computer Support Service in TADP at the headquarters in Jalingo.
Chief David Sabo Kente's wealth of experience necessitated his movement to Ministry of Agriculture as Deputy Head of Finance between December 1997 and June 1998. He was appointed the programme Accountant Taraba State Rural Water Supply and Environmental Sanitation programme (UNICEF funded project) between January-June 1998. He enrolled on a part time practice with Stephen Onukungu and Co as a certified National Accountant from January 1998 to 2004. He was appointed Financial Controller TADP, a position he held for eight years from 1998-2005.
In May 2005, Chief David Sabo Kente joined the Federal Civil Service and was appointed Assistant Director of Finance National Assembly; he served as Head of Internal Audit Division, Assistant Director Senate Accounts, and Assistant Director Finance legislative Aides.
Chief David Sabo Kente was promoted to Deputy Director of Finance in January 2010, by 2014 he was appointed Director Finance. However, his unflinching and burning desire to bring hope to the hopeless and voice to the voiceless propelled Chief David Sabo Kente to resign and join partisan politics where he ran for a political position more specifically he contested for the governorship seat in Taraba State in the 2015 general elections.
Recognizing the need to assist and jump starts our people towards economic prosperity and development, Chief David Sabo Kente founded DSK Foundation in 2012 while in service. Thus far, DSK Foundation has answered the call of the down trodden, hewers of Wood and fetchers of water in Taraba State. The Foundation has done a lot, and a lot more is being done.
Chief DSK has received several meritorious awards for his tremendous administrative acumen, skills and sagacity.