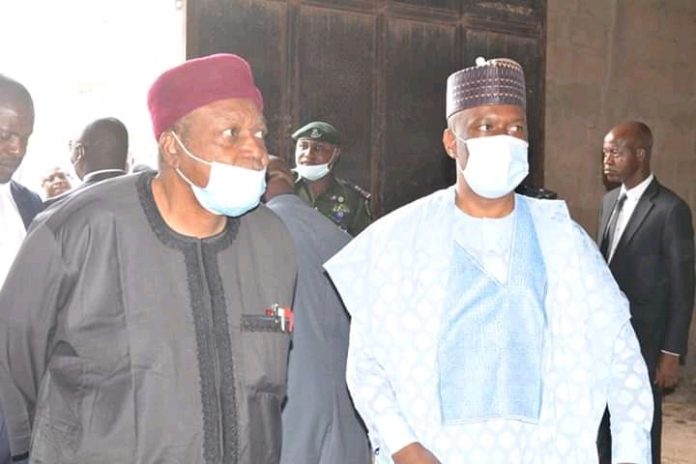 Endsars: Gov Ishaku decries damage to State
By Christiana Babayo
Gov Ishaku on Tuesday decried the devastating level of damage done in the state by the EndSars protesters, emphasing that it had caused a major setback to the state especially now that the state is just struggling from the effects of COVID-19 global pandemic.
The Governor who had been away from the state shortly after the destruction of some places by hoodlums who had hijack the peaceful Endsars protest of some youth in the state stated this while taking a tour around the state capital city to ascertain the level of damage caused by looters in the wake of the EndSARS protesters
The Governor regretted that hoodlums hijacked the peaceful protest and turned it to a looting spree.
"It is a colossal damage and talking about repairing it, I don't know because the scarce resources we have is what we are using to keep the state functioning. With this setback, I don't know when we will revive. The country is also going into recession so this is sad" he lamented.
Governor Ishaku  stated that in a democratic society, people are allowed to express themselves but advised that it should not be done in a destructive manner that will affect every body, thereby causing a major setback for the state and everyone in Government. The Governor also expressed concerns about the State Governors not been in control of the state police, pointing out that the constitution had to be amended to serve its purpose.
"We copied the constitution defectively. We removed the power of the Governor from running the state police and of course you will expect this chaos. So when it happened, the police stood and looked. It's really sad. The constitution has to be amended to serve its purpose because if it can't serve its purpose, it becomes useless"
Speaking on the way forward, Governor Ishaku said that the state government cannot do this alone because resources are scarce.
" In a poor state like Taraba where we thrive from paying salaries, at this point, when we pay salaries there will be nothing more left to do other things, so the Federal Government has to intervene" he said.
NewMission Magazine reports that the Governor and his entourage visited the warehouse at Veterinary clinic, opposite CAN Secretariat,the Hope Afresh Foundation and biotech centre among others.