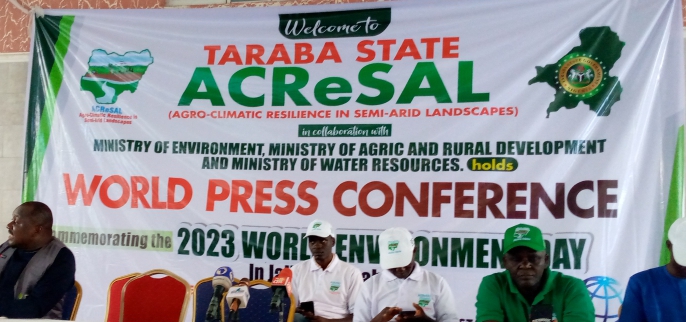 World Environment Day:Taraba ACReSAL move to curb environmental menace.
By Christiana Babayo
As part of efforts to curb environmental menace, Taraba Agro-Climatic Resilience in Semi-Arid Landscapes, (ACReSAL) has joined the rest of the world to celebrate World environment day through planting of trees and sensitization programs.
ACReSAL with the state ministries of environment, water resources and agriculture, all joined in celebration while working to tackle environmental crisis in the state.
Addressing a world press conference in Jalingo this Monday, the state Coordinator of ACReSAL, Mr Joshua Samaila Damuti said the day is very key to every one as it concerns the environment where all living things thrive.


In line with the theme of this year's celebration, "Beat plastic solution" he explained that the ACReSAL project aimed at protecting the country's environment from degradation and increase the adoption of sustainable landscape management practices in targeted watersheds in Northern Nigeria.
"The project also aims at improving agricultural landscapes, ensuring the safeguard of lives, enhancing livelihood, and providing erosion control measures in the project areas.
"Based on its multi-sectorial approach, ACReSAL will help the affected States in the implementation of sustainable dry land management solutions, erosion control, deforestation, dune stabilization, and water storage.
"It will also support the adaptation of agriculture and natural resources management practices at the community level to strengthen the climate resilience of rural communities" he explained.
Damuti also revealed that the State Projects Management Unit of Taraba State ACReSAL has come up with a work plan to address these environmental challenges in the state and has completed arrangement for the take-off of the project in the State.
"Engineering designs are already in place to embark on the projects in the State capital. Samunaka, Mile Six and Gadan Bobboji are the communities to benefit from the project. While the General Hospital and Fete Bridge Ndiban in Takum Local Government Area, as well as Angwan Garin Buba Community in Gashaka will also be given a facelift. This will be done in the last quarter (3 months) from the beginning of the project" he said.
He also stated that Taraba State Government under the leadership of the former Governor, Arc. Darius Dickson Ishaku, contributed 1 billion Naira for Taraba State to qualify as participant.
The coordinator further explained that because of the State Government's involvement and contribution, Taraba State received the first installment of 200 million USD as part payment for the first quarter.
The World environment day was characterized by planting of trees, sensitizations and it was supported by safe Environment and Community Health Initiative,SECHI, ministries and other organizations.