Taraba Deputy Governor calls for calm as voting commenced peacefully in Gassol
Jethro Yerga, Jalingo 
The Taraba State Deputy Governor, Engr Haruna Manu has called on youth of Gassol Local Government Area in particular and Taraba State in general, to eschew all forms of violence and accept results of both Presidential and National Assembly in good faith as would be announced by INEC at the end of the first Phase of the 2023 general elections.
The deputy governor made the call while addressing press shortly after casting his Vote at Isa II, Mutum Biyu Ward A, Gassol Local Government Area, Taraba State.
Manu who appreciated the turn up of voters at the various Polling Unit in the area however, expressed dissatisfaction with the time voting commenced at his polling unit.
"I feel excited with the way the process is moving. I however, wants to urged INEC to brace-up to start at the schedule time in the next election. I also understand that most of the newly created polling units have not gotten their electoral materials to commence their voting especially Namnen Ward in Gassol Local Government and Kungana Ward in Bali Local Government Area.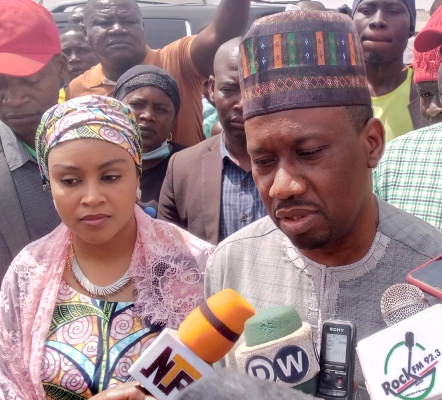 "We are very happy because at present, there is no any report of violence anywhere. I do hope that the peace will continue like that across the state till end of the exercise". He added.
Engr. Manu further called on the youths in the state to eschew all forms of electoral malpractices, stating that anywhere there was violence, votes would not be counted at at the polling unit.
Recalled that Gassol Local Government Area comprises of Yerima Ward, Gassol Ward, Wuryo Ward, Sandurje Ward Sansani Ward and Sabongida Ward which made Gassol 1 with Hon. Kaura A. Abdullahi as the serving House of Assembly member under the platform of PDP.
There is also Mutum Biyu Ward A, Mutum Biyu Ward B, Namnen Ward, Shira Ward, Gunduma Ward and Tutare Ward making Gassol 11 with Hon. Suleiman Abbas as the serving assembly member on the platform of APC respectively.
The election at the Local Government which is so far, moving peacefully, may be competitive especially that the gubernatorial Candidates of the NNPP, Prof. Sani Yahaya is also from the area.