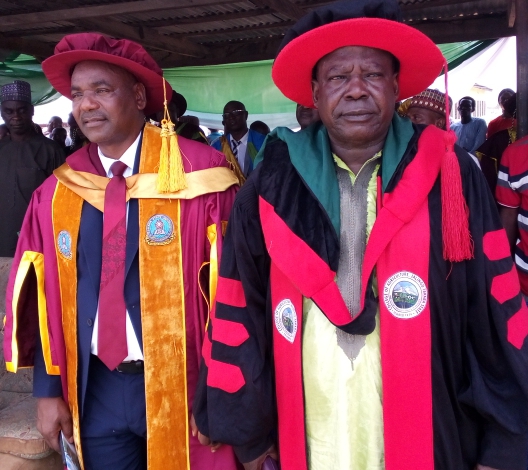 Provost laments decay infrastructure as College matriculates 900 students in Taraba
Jethro Yerga, Jalingo
The provost, College of Agriculture Jalingo, Dr. Yakubu Ali Garjila has cried out to the Taraba State Government to come to the aid of the institution following what he described as poor and decayed infrastructure in the school.
The provost was speaking at the occasion of the 2021/2022 matriculation Ceremony held on Thursday, 12th May, 2022 at the College Sports Ground.
He stated that in the early part of April, wind storm destroyed some buildings and other infrastructural facilities of the college and since then, the College Management had been making frantic efforts to see how it could rehabilitate the structures.
The Provost also pointed out that the deplorable condition of Internal Road Network in the college, ranging from the college main gate to the school and access to other facilities had also called for serious concerned.
He stated that apart from those challenges, his administration has inherited a Sum of Ten Million naira (N10 M) as outstanding debt against the college in respect to energy consumption and electricity supply by the Electricity Distribution Company PLC, Yola, a situation he said, had led to disconnection of light to the college.
Dr. Yakubu noted that the absence of electricity supply in the school was affecting both academic and administrative duties especially on the part of courses that entails practical aspects that require the use of electricity supply.
In his word, "we are calling on the State Government to help us off-set the outstanding debt of the electricity on the college, construct and tar the College Road Network and to help us rehabilitate the structures destroyed by the wind storm, especially that we shall be hosting the National Board for Technical Education (NBTE) in August and the Horticultural Society of Nigeria (HORTSON) in November, this year.
"We also appeal to the State Government to allocate an official car to the Provost and other vehicles for administrative, academic and other Circular Services in the college to enhance effective operations". He added.
The provost noted that despite all the challenges facing the college, the management has been able to introduce Post Graduate Diploma in Agriculture (PGDA) and is almost completing affiliation processes with Federal University Wukari to run several other programs and called on the HND graduates of the college to make use of the opportunity.
Dr. Yaku applauded the Executive Governor of Taraba State Arc. Darius Dickson Ishaku for appointing him as the College Provost and for allocating tractors to the college pledging that the institution would make judicious use of the tractors to achieve the desired aim.
While congratulating the newly matriculated students, the provost urged them to shun all forms of social vices and remain security conscious, praying that God should see them through during their period of studies at the college.
Meanwhile, the occasion which saw the matriculation of 900 students across the different faculties of the College featured traditional dances and cultural display by the students of the college.