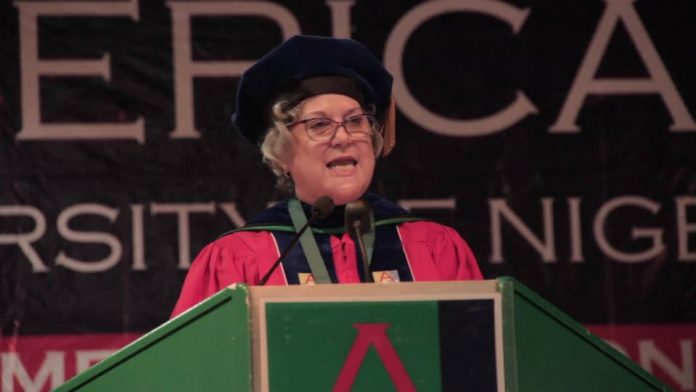 2023: US AMBASSADOR CHARGES NIGERIANS TO MAKE A DIFFERENCE THROUGH VOTING
From Emmanuel Samuel, Yola
As Nigerians gears up towards the general elections come 2023, the United States Ambassador to Nigeria, Mary Beth Leonard said that the only way Nigerians voices can be heard is by participating in elections through voting.
Ambassador Beth who was the Guest Speaker at the 13th Commencement Ceremony of the American University of Nigeria (AUN), said participating in elections is the only way youths and citizens can ensure that matters concerning their communities become a priority for law makers and elected officers.
"It is you and your generation that has the future of Nigeria in your hands as you become the most significant demographic in Nigerian elections, and you owe it to yourself and to your country to demand an elected leader who will govern and provide security, justice, and services for all Nigerians. This is the call to action for 2023″. She stated.
Beth called on all citizens to come out in mass come during the 2023 general elections, adding that voter apathy is a scourge that must be eliminated through sensitisation of citizens on their rights.
"I see this in my own country all the time, I know it's easy to get discouraged and to doubt that your vote will make a difference but again, please remember that voting is your voice, it is only through voting that you can hold those for whom you vote accountable," she emphasized.
Addressing graduating Students, the Ambassador told them that they are graduating at a time when Nigeria is faced with myriad of challenges and is looking for solutions from its abundant youth population.
She therefore,  charged them to be the solutions that Nigeria is looking for and be good ambassadors of the AUN.
"The third critical service is service to your country. Arguably, success in personal growth and community service automatically also serves the national interest, but there's more. Seeing the big picture and how you fit into it is part of being a responsible and caring deck democratic citizen.
"With your background and experience, it will be up to you to recognize the passive service that fits you best, but don't forget that service to your country can take many forms.
"Some of you might become entrepreneurs whose quest for efficiency and advancement will create meaningful employment and sustainable economic growth.
"Your ingenious generation will no doubt lead to round breaking inventions to address climate change and health challenges. Some AUN students are already making their mark. She stressed.
Speaking. earlier the President of the University, Margee Ensign while delivering her welcome address earlier, appreciated the founder, Alhaji Atiku Abubakar for his foresight and vision for the university which has been a pacesetter since its establishment in 2004.
Margee disclosed that the American University of Nigeria (AUN) has during the 13th Commencement Ceremony, graduated 266 students in different fields with 33 first class graduates.
Dr. Ensign charged the graduating students to use their experiences, knowledge, and skills learned during their years at AUN and be the solution to the problems facing Nigeria and the world at large.
"Nigeria has one of the fastest growing populations on earth. That means that in the in no distant future, Nigeria will be the third largest country in the world after China and India. Nigeria is also a democratic country and in this world, democracy is always under threat, tyrants and potential tyrants abound.
"So the future of Nigeria, despite its many natural and human resources, the future here is a challenging one. Problems of poverty, violence, illiteracy, environmental degradation, unemployment, sustainability, good governance–all these and many other challenges loom.
"So this is the future into which you now graduate. And this is the future through which you must help to lead us as you have been trained.