I will implement 'know your neighbour innitiative' to tackle insecurity-Taraba Gov
Jethro Yerga, Jalingo
The newly inaugurated governor of Taraba State, Col. Agbu Dantala Kefas (rtd) has pledged to work assiduously to tackle insecurity through implementation of 'know your neighbour initiative' in order to return Taraba State to its old nature of being a haven of peace.
The governor made this pledge in Jalingo shortly after taking oath of office administered on him by Chief Justice of the State,  Justice Joel F. Agya, as the fourth democratically elected governor of Taraba State.
He said his administration would demonstrate a high sense of urgency, transparency, justice and innovation to tackle and solve the problems of welfare, Insecurity, poverty, illiteracy, disease, and poor infrastructure in the State.
In his word "We will embark on a security sector reform that will target crime prevention, detection, neighborhood policing and better synergy among security agencies.
"The Taraba Marshal will be revived and be strengthened while our administration will ensure operational linkage between local hunters and Taraba Marshal.
A "Know Your Neighbor" security initiative will be implemented. By the grace of God, and very soon, Taraba will return to its old nature of being a haven of peace.
"Your Governor will be a people's Governor. I will be accessible, responsive, consultative and proactive in handling small and big matters of State Governance". He added.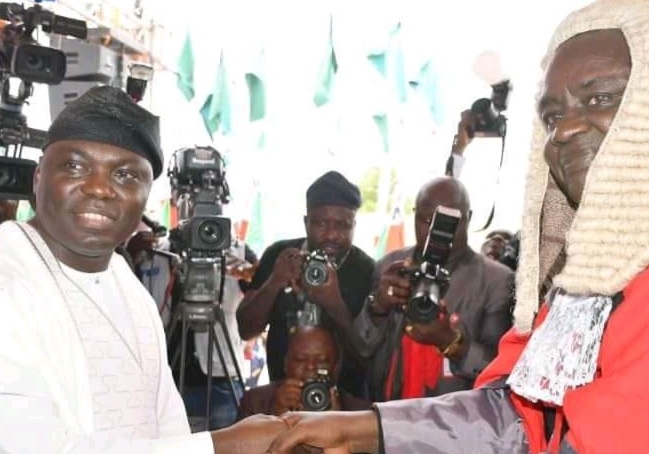 He also pledged to restore the lost glory of local governments in the state, through reviewing policies that are not favorable to the growth of effective local government administration so as to make them more responsive to the needs of the people at the grassroots.
In the area of education, the governor pledged that his administration would as a matter of urgency, commenced a reform to salvage the Taraba State University from collapsing and to focus on improvement of learning environment through welfare, training of staff and engagement of the Parents-Teachers Association in school administration system in the state.
While assuring women of inclusiveness in his government, Governor Kefas said he would be gender – sensitive in all appointments during his administration and would work hand in hand with Youth Organizations in the State to produce an impressive blueprint for youth development and speedy implementation of their recommendations.
He said he would provide reforms in the various areas of Agriculture, Tourism, Health and Public Service to improve the welfare of the generality of the people in the state.
Meanwhile, the inaugural ceremony was conducted safely with tight security, match pass by para-military officers and traditional dance. There was also heavy presence of the state political bigwigs and stakeholders including the eldest retired military general in the state, General TY Danjuma (rtd).