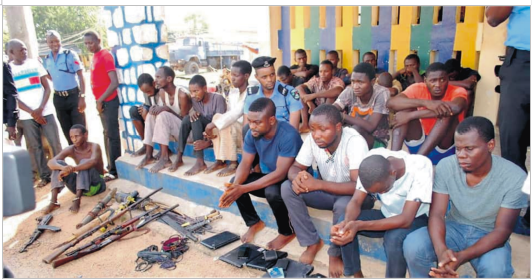 Criminality surges into Jalingo town
It started like usual pockets of criminality being experienced in any urban settings, but it has grown into a monster that can hardly be tamed. Israel Aliah looks into the surging trend of criminality in Jalingo metropolis
Jalingo, the capital city of Taraba State is fast losing its time hounoured glory of a peaceful and crime free city. Some criminal elements are hell bent on defiling the hard earned values of the town and dragging it into the abyss of infamy.
Kidnaping, which hitherto was a strange thing in Jalingo town, has become a prevalent phenomenon. Also glowing on alarming level, are incidents of knife attacks, rapes, burglary, car theft and a whole lot of other vices that were hitherto alien to Jalingo town. Today, Jalingo metropolis is under the siege of hoodlums.
Recently, some heavily armed men kidnap the immediate past Chairman of the Nigerian Bar Association NBA Taraba state chapter at his residence in Jalingo Taraba state capital. Joel Daniel Ubandoma the former NBA chairman was kidnapped at his residence located at Maadasa, Jalingo/Kona road while he was in his house with his wife and kids. An undisclosed amount of money was paid as ransom before he was released. Few days after, kidnappers also Alhaji… of the Taraba State Primary education board was kidnapped. These opened the floodgate of kidnaping activities in the capital city.
Among the unlucky victims of criminality in the Jalingo is Mercy Victor. Mercy Victor was attacked by hoodlums; she later died of the injuries she sustained, two days after the attack. Reports had it that Miss Mercy ran into the hands of the evil gang on her way to school on Sunday night while returning from a weekend. She was on a tricycle she boarded when she was attacked. The incident happened close to the bridge after the State Specialist Hospital Jalingo. She was beaten, raped and abandoned by the road side. A Good Samaritan rushed her to the State Specialist Hospital where she died, two days after. The event took place on the night of June 3rd. She was a final year student of College of Nursing and Midwifery Jalingo,
Miss Linda was lucky, although she suffered, but she survived to tell her story. She was standing by the main road with her friend, waiting for a means to go home when a tricycle stopped and the attackers rushed at her with knives and stabbed her twice before taking off, right in the public glare. Also last year, Slyvanus, Taraba State correspondent with the Sun Newspapers, almost lost his life to knives attackers. He left town at about 10 pm and was inching closer to his house opposite Federal Government College, near CAN Secretariat, when the knives wielding youths swooped on him. He was picked in the pool of his blood and revived to life at the Jalingo Specialist Hospital.
Now, no part of the town seems safe. Places like the popular FGGC road, Roadblock, Angwan Kasa, ATC bye pass, Mile six bye pass, Welcome to Jalingo bye pass, Mayo Gwoi, Sabon Gari, Angwan Sarki are now major flashpoints of the crime surge.
Another dimension of the criminality that is more appalling, is the surging trend of thuggery, where thugs wear branded T-shirts with politician's inscription as a sign of loyalty. Such youths evoke violence at the slightest provocation, especially when the interest of their favoured political figure is at stake. This aspect of insecurity took an appalling toll on the state before and after the general elections, where the state had a serious post-election crisis.
Alhaji Sani Abubakar, Governorship Candidate of the APC, who has always being accused of breeding political thugs, passed the bug to Governor Darius Ishaku. In a press briefing in Jalingo, few months before the election, Sani Abubakar accused Governor Darius led administration of promoting thuggery in the state. "I will give one instance, quote me anywhere. The current governor moves about with a criminal in his car, people are aware of it but nobody is questioning it." He told news men. He also accused the government of releasing money to the youths through the office of the Bureau for Local Government, to disrupt his activities. Sani Abubakar further warned that if the Darius led administration did not stop arming thugs to disrupt the APC programmes in the state; they (Gov Ishaku and his men) too will not carry out any programme in Taraba State.
Barely one month after the statement, had the APC candidate become a victim of the political violence, when his convoy was attacked at a campaign rally at Wukari. About nine vehicles were razed down.
Worldview findings revealed that most of the criminal elements in Jalingo metropolis operate on the platforms of: Black Scorpions, Red Diamonds, Wicked Banana, Sugar Boy, Independent Marketers, and a host of others. While most of the boys who are mostly under 25, allegedly come from four major parts of the Jalingo metropolis: Mayo Gwoi, Sabon Gari, Sabon Layi and Bakin kasuwan Jalingo, their violent activities have a clear mark on most parts of the city. Most of them, the Jalingo youths, now move about with dangerous weapons even during the day time and seem thirsty for violence. A simple misunderstanding, arising from a balance of a tricycle fare could precipitate violence and brandishing of knives.
Worried by the glowing trend of thuggery and the escalating moral decadence in the state, especially in Jalingo, the Emir of Muri, Alhaji Abbas Ndjidda Tafida called for caution. In his Sallah message recently, the Emir called on parents to be vigilant of their children's activities. He also urged the youths not to allow themselves to be used as thugs by selfish politicians. "It is worrisome how our youths are becoming violent and aggressive. We must watch our children closely to make sure they are not influenced wrongly. Our youths must work hard towards self-reliance rather than allowing themselves to be used as political thugs only to be dumped in destitution at the end of the day." the Monarch warned.
Historically, Jalingo has been a town with rare incidents of criminality, but the return to civil rule in 1999 created an avenue for political power struggle and Jalingo started experiencing an enhanced level of criminality. In 2003, when a youths' group called "Bani Isra'ila" was formed by the then government supporters to terrorize political opponents. This group indulged in all sorts of violent activities that their hands can reach. Ballots Box snatching, intimidation and assassination of political rivals, took the centre stage. The late Joshua Kala, one time popular politician in Taraba state, was one of the victims.
However, in 2007 when Danbaba Suntai was elected governor, he banned political thuggery in the state (within Jalingo metropolis) giving executive order to arrest anybody expressing and presenting himself as a political thug. However, after his unfortunate plane crash in 2010, the ensuing political war led to the resurgence of even more violent groups.
But where did the state really have it wrong, or how did the vices surge successfully into the social fabrics of a once upon peaceful town without notice? According to Emmanuel Bassey, who has been in Jalingo for over a decade, the influx of very young persons from Michika and other Boko Haram ravaged areas in the region is the reason for the raising wave of criminality in the state in general and Jalingo in particular.
"No one really paid any serious attention to the kind of people that were coming into Jalingo at the peak of the crisis. Young boys who were already exposed to violence were coming in from Boko Haram ravaged areas and they came in with very bitter minds. They quickly integrated and blended into the Jalingo community. Most of them are into profitable ventures but some are into drugs, cultism and other things" He said.
The image maker of the state police command David Misal told our reporter that the Jalingo Police Command is doing its best, raiding hideouts of the criminals and their drugs havens, making arrests and recoveries. However, the police efforts seem a drop in the ocean, as more and more young people are being recruited into the league of hoodlums and drugs peddlers on a daily basis WV